Will Ferrell Kept A Prop From One Of Step Brothers' Funniest Scenes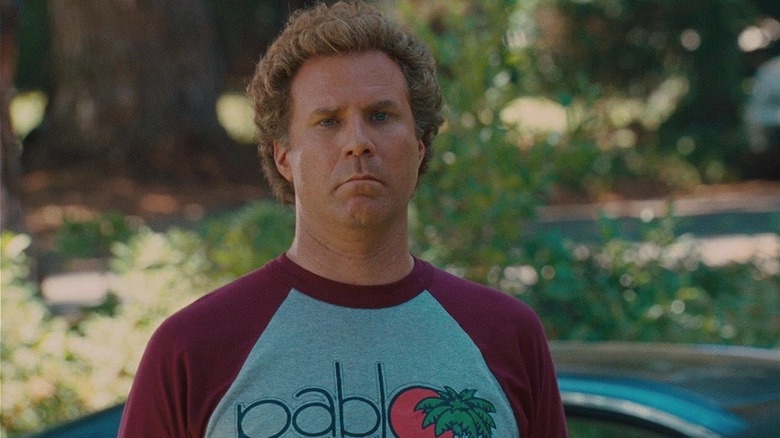 Sony Pictures
Will Ferrell is a familiar face to comedy fans, from his time on the sketch comedy show "Saturday Night Live" to his work on films such as "Zoolander," "Elf," and "The Other Guys."
In an interview with the U.K. talk show "This Morning" (via People), Ferrell was questioned on whether he had ever kept any props from the numerous movies he had been in. Ferrell responded that he had kept quite a few props, but the one he was most fond of was the prop testicles that had been created for the 2008 comedy film "Step Brothers." The testicles are familiar to audiences from a scene where Ferrell's character Brennan Huff defiles a drum set belonging to his stepbrother Dale Doback, played by John C. Reilly.
Previously on "The Graham Norton Show", Ferrell displayed the testicles, as well as a special cardboard box that he uses to store them. He also noted that he enjoys bringing them out at dinner parties held in his house, often shocking his guests when he presents them.
The film's prop master made sure the prosthetics would work in a close-up
In an oral history of the film published by The Ringer, John C. Reilly spoke in more detail about the scene, pointing out that drummers tend to be protective of their drum kits, something he knew of from his brother.
Will Ferrell spoke again about how proud he was of holding on to the testicles. This led the film's prop master, Scott Maginnis, to expand more on the process behind making the props. He noted that he spoke to a producer to get some money to make the testicles, putting forward a budget of a few thousand dollars to make them as good as possible, good enough to pass muster in a close-up.
Maginnis continued that he went to a company that specialized in prosthetics, though generally they are used to make replicas of the faces of performers. The companies, however, have worked with making latex replicas of other body parts as well, as the prop master noted that the basic principle of making them remains the same.
Maginnis went on to say that Ferrell wasn't the only person in the film who was impressed with the prosthetics, with many crew members asking to feel them. "He's like, 'Scott, can I keep 'em?' I'm like, "Yeah, I'm not gonna say no. I'm not even gonna ask why," he recalled.