1923: Helen Mirren Pitched Her Own Change To Cara Dutton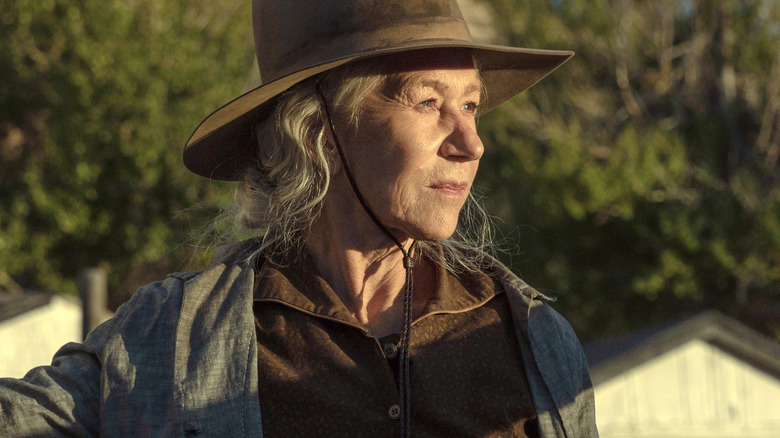 Emerson Miller/Paramount+
"1923" is, like so many of the Taylor Sheridan-created projects that have come before it, an ensemble drama. However, while "1923" features a large and diverse cast of characters, Harrison Ford and Helen Mirren's Jacob and Cara Dutton are very much the two elder statesmen of the series. Their characters are, in typical Sheridan fashion, both wise and fierce, which are two attributes that only help them fit in that much better in the cutthroat, established world of the "Yellowstone" franchise.
That said, even though Sheridan's authorial mark on Ford's Jacob and Mirren's Cara can be explicitly felt in every one of their scenes, that doesn't mean the two actors didn't get to make certain creative decisions about their "1923" characters. As a matter of fact, in an interview with Deadline, Helen Mirren revealed that it was her idea, not Sheridan's, to make Cara Dutton an Irish immigrant in the Paramount+ original series.
While reflecting back on what it was like to read Sheridan's "1923" scripts for the first time, Mirren said, "[Taylor] had written specifically to my strengths, if you like. I thought of making her Irish because America very much in those days was a country of immigrants. I wanted to heighten that fact."
According to Mirren, her suggestion was received with open arms by Sheridan, who didn't hesitate to let her bring some of her own input to her "1923" matriarch.
Helen Mirren agreed to star in 1923 without reading a script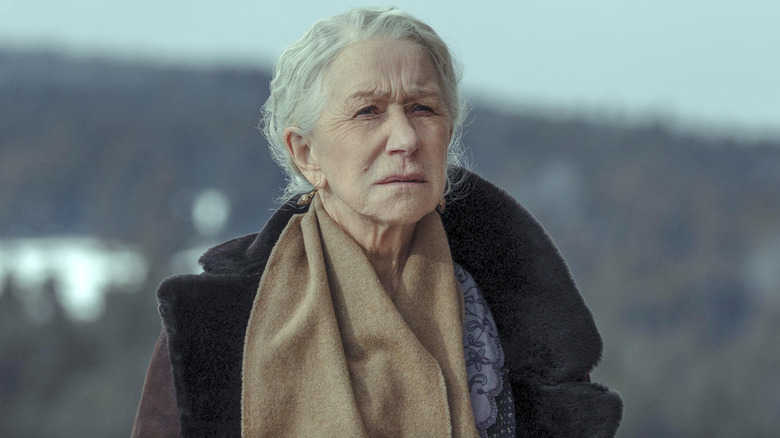 Emerson Miller/Paramount+
As those who have watched "1923" Season 1 will likely attest, Cara Dutton's Irish backstory is one of the most memorable and defining aspects of her character. The origin of Cara's Irish roots isn't the only surprising aspect of the character's creation, though. Indeed, Helen Mirren revealed to Deadline that Sheridan hadn't even written a script for "1923" yet when he approached her to star in the series.
As a result, Mirren admits that she was initially taken aback when she was offered her "1923" role. It was only after she learned more about Sheridan's process that she began to understand why she had been approached so early on in the development stage. "The answer came back, 'Well, Sheridan likes to write for the people he knows who are playing the roles,' which seemed to me a very sensible way of approaching it," Mirren recalled. "So I said, 'If that's the case then I should meet Sheridan' because maybe after he met me, he won't want to write a role for me at all. He should know who I am."
Mirren ultimately ended up signing on to the project, and in an interview with The Wrap, she revealed that she partly did so because of the involvement of her "Mosquito Coast" co-star, Harrison Ford. "That immediately raised the stakes enormously high," Mirren noted. While agreeing to star in "1923" may have required a bit of a leap of faith on Mirren's part, too, she seems happy now with the decision she made.
Mirren revealed as much to The Wrap, telling the outlet, "Now [that] I'm in the middle of it, I'm so grateful for the fact that I'm involved and that this will become a very important part of my filmography."