Aeon Flux Getting Live-Action Reboot At MTV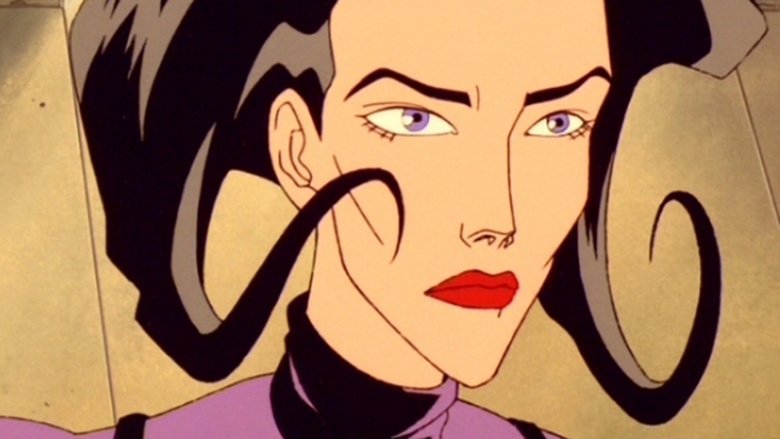 Aeon Flux is making a comeback. 
MTV has put into development a live-action reboot of the animated series that aired for three seasons on the network in the 1990s, The Hollywood Reporter has confirmed. The live-action Aeon Flux takes place in a futuristic dystopian state and centers around the titular acrobatic assassin Aeon Flux, who partners with a rag-tag crew of biohacking scoundrels in efforts to save humanity. 
Jeff Davis, the showrunner of MTV's Teen Wolf, is attached to write the series' script and will executive produce alongside Gale Anne Hurd. Known for her work on The Walking Dead, Hurd was actually the producer of the 2005 Aeon Flux feature film starring Charlize Theron. Though the film bombed hard at the box office and got roasted like chestnuts over an open fire by critics, MTV tapping Hurd to help usher the property to the small screen might be a wise choice, as she can likely use her insider knowledge of what went wrong to prevent the live-action series from suffering the same fate. 
The original MTV animated Aeon Flux show, created by animator Peter Chung, first debuted in 1991 as a six-part series of shorts. A year later, in 1992, Aeon Flux circled back around for five short-form episodes. In 1995, it yet again returned for 10 half-hour episodes. 
Industry insiders have indicated that MTV is preparing to open a studio to "help further monetize its library" as its parent company Viacom breathes new life into its brands. Rebooting Aeon Flux is the newest effort in Viacom's grand plan, which also saw Jersey Shore, TRL, and Yo MTV Raps land revivals. 
When it comes to reboot series, creatives and networks run the risk of it turning out terribly. Fox's 24 reboot 24: Legacy fell flat fast, lasting just one season. NBC's Heroes reboot, Heroes Reborn, was slammed as "a stinging disappointment." CBS' The Odd Couple didn't pan out well either, with critics calling it "stale" and "only intermittently funny." Perhaps the worst television reboot in recent memory was ABC's Charlie's Angels, which holds a 0 percent rating on Rotten Tomatoes and a consensus that reads, "A thoroughly mediocre reboot of a fondly remembered series, this new Charlie's Angels lacks even the camp value needed to make it a guilty pleasure."
Aeon Flux could crash and burn like these aforementioned series, or it could wind up joining the ranks of reboots that genuinely worked – like Netflix's Queer Eye, a more modern take on Queer Eye for the Straight Guy, One Day at a Time, and even the surprisingly successful Full House refresh Fuller House. 
No additional details on the live-action Aeon Flux series were given, but we suspect it won't be long before some formal announcements about the project start rolling out.