How Accurately Is Ian Gibbons' Death Portrayed On Hulu's The Dropout?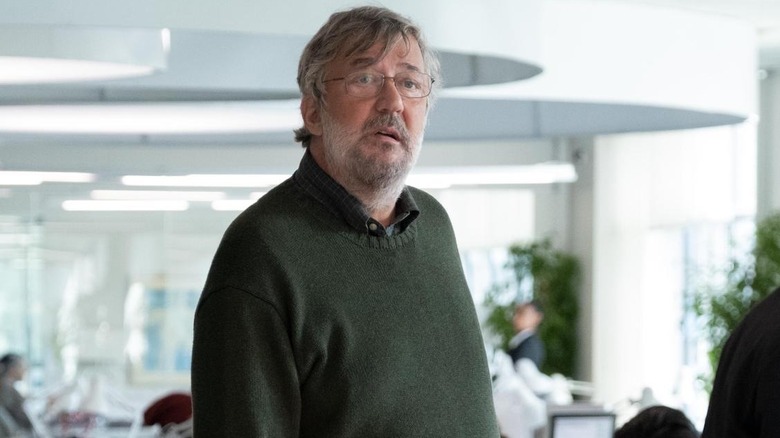 Beth Dubber/Hulu
Hulu's "The Dropout" was praised for its depiction of Elizabeth Holmes, played by Amanda Seyfried, as well as the rise and fall of her disgraced biotechnology company Theranos. Alongside Holmes, the show featured all of the key players involved in Theranos, such as Holmes' longtime romantic partner and the company's COO Sunny Balwani (Naveen Andrews).
Additionally, the show shines the spotlight on Ian Gibbons (Stephen Fry), the chief scientist of Theranos. On the series, Ian is introduced in Episode 2 when he comes into the mix as chief scientist; he believes both in Elizabeth and in Theranos. However, as the series goes on, Ian becomes suspicious of the way that Elizabeth and Sunny are running the company. And when Ian expresses concern over Elizabeth meeting with investors without a working prototype, Elizabeth fires Ian; her plan backfires when the rest of the engineering team threatens to quit in solidarity. Elizabeth brings Ian back but gives him a menial desk job. 
Ian then gets subpoenaed for a suit involving Richard Fuisz (William H. Macy) but is pressured not to testify — despite any legal ramifications — by Elizabeth's legal team and by the fact that he needs the job for his health insurance. All of this culminates in Ian dying by suicide the day before he is scheduled to testify; Elizabeth shows no remorse for her role in his death. In the aftermath, Ian's widow, Rochelle (Kate Burton), contacts the Wall Street Journal reporting looking into Theranos to help expose its fraud.
So how accurate is the depiction of Gibbons' death in "The Dropout"?
If you or anyone you know is having suicidal thoughts, please call the National Suicide Prevention Lifeline​ by dialing 988 or by calling 1-800-273-TALK (8255)​.
The Dropout presents a pretty accurate depiction of Gibbons' death
Beth Dubber/Hulu
In September 2016, Vanity Fair published an in-depth investigative account of what exactly went on at Theranos, including Ian Gibbons' involvement and his eventual death. The piece details the fact that Gibbons, who was diagnosed with cancer shortly after joining the company, was determined to make Holmes' invention work; he put in countless hours in the lab, often showing up prior to 7 a.m.
Just like in the series, Gibbons was eventually subpoenaed by Richard Fuisz. Gibbons did not want to testify because he knew he would have to admit that the technology didn't work — which would affect his workplace — and, if he lied, then he would be complacent in potentially harming the health of consumers. His widow, Rochelle, told Vanity Fair, "Ian felt like he would lose his job if he told the truth. Ian was a real obstacle for Elizabeth. He started to be very vocal. They kept him around to keep him quiet."
On May 16, 2013, Holmes called Gibbons at home and asked him to come in the next day. He asked Rochelle if she thought Holmes was going to fire him and she answered yes. Later that evening, he tried to take his own life and was rushed to the hospital. He then died a week later — on the show, he dies immediately. After he died, just as "The Dropout" depicted, Theranos offered no condolences to Rochelle, instead coldly insisting that she return any company property.