HBO's Harry Potter Series To Reveal All New Cast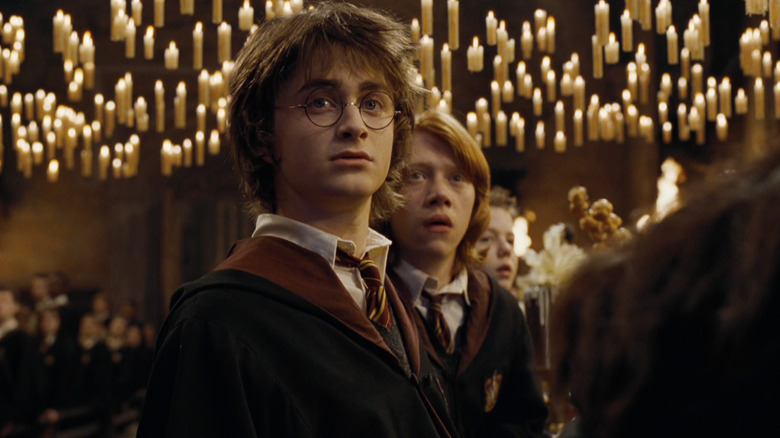 Warner Bros.
A whole new group of kids will learn how to perform "Expelliarmus" on Max — thanks to a new "Harry Potter" series coming to a streamer.
In an announcement made to various outlets including The Hollywood Reporter, David Zaslav, who's overseeing the merger between HBO Max and Discovery+, revealed that a Harry Potter reboot will feature a brand-new cast, run for ten years, and adapt all of Joanne Rowling's books. A statement from Max read, "The stories from each of Rowling's 'Harry Potter' books will become a decade-long series produced with the same epic craft, love and care this global franchise is known for. The series will feature a new cast to lead a new generation of fandom, full of the fantastic detail, much loved characters and dramatic locations that Harry Potter fans have loved for over 25 years. Each season will be authentic to the original books and bring Harry Potter and these incredible adventures to new audiences around the world, while the original, classic and beloved films will remain at the core of the franchise and available to watch globally."
Rowling will be a part of the series as an executive producer, which is definitely a complicated situation. Throughout the past few years, the author has been involved in a number of controversies due to her views on transgender rights, leading fans to disavow her or her work entirely. Her role, as well as any further details about the series, remains to be seen.
The Harry Potter reboot will feature a new cast to bring the story to life.
Warner Bros.
Casey Bloys, head of programming at HBO, echoed Zaslav's sentiments in another statement: "We are delighted to give audiences the opportunity to discover Hogwarts in a whole new way," said Casey Bloys, Chairman and CEO, HBO & Max Content. "Harry Potter is a cultural phenomenon and it is clear there is such an enduring love and thirst for the Wizarding World." Rowling also provided a statement that she's happy to work with the streamer.
Back when the original movies were being made, the producers underwent an enormous search to find young actors to embody the main trio, and eventually found their perfect Harry, Ron, and Hermione in Daniel Radcliffe, Rupert Grint, and Emma Watson, respectively. Clearly, after fans grew up with those actors — who are way too long in the tooth to return, obviously — it's going to be tough to top that, but whether or not they can pull it off remains to be seen.
The original eight "Harry Potter" movies are available to stream on Max now.