Law & Order: SVU: Kelli Giddish Will Make A Season Finale Return With Big News For Amanda Rollins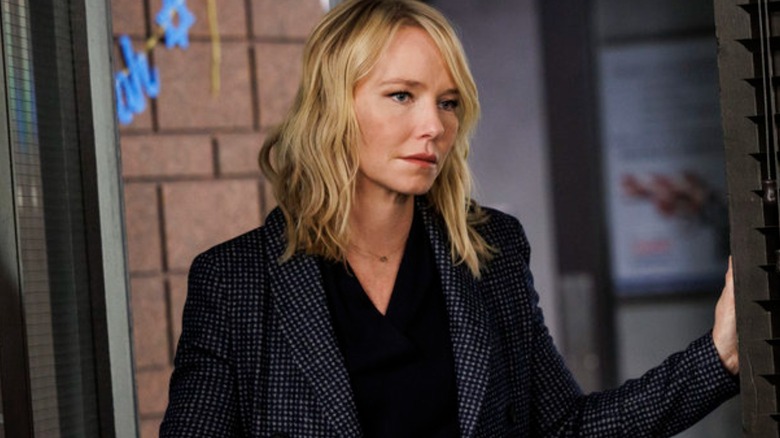 Peter Kramer/NBC
This article contains spoilers for the "Law & Order: Special Victims Unit" Season 24 finale
During Season 24 of "Law & Order: Special Victims Unit," fans had to bid one of the series' frequent faces farewell. Kelli Giddish, the actor behind Detective Amanda Rollins, elected to leave the show behind for professional reasons. Giddish made her debut as Rollins back in Season 13's "Scorched Earth" after previously appearing as minor character Kara Bawson in the Season 8 episode titled "Outsider." It goes without saying that Giddish had a great run on the program, and much to the surprise of just about everyone, it seems that it's not over just yet.
As the Season 24 finale approaches, it has come to light that Giddish will return to the role of Detective Rollins one more time. TVLine shared the news on April 11, 2023, noting that she's set to pop up on both the "Law & Order: SVU" season finale as well as the second to last installment of "Law & Order: Organized Crime" Season 3. Additionally, fans will learn of a major life change for Rollins: she's pregnant. This comes shortly after she and longtime fellow investigator and romantic partner Dominick "Sonny" Carisi (Peter Scanavino) finally got married.
Even though Giddish hasn't been gone long, this is huge news that has fans ecstatic.
The SVU fandom can't wait to see Giddish return as Rollins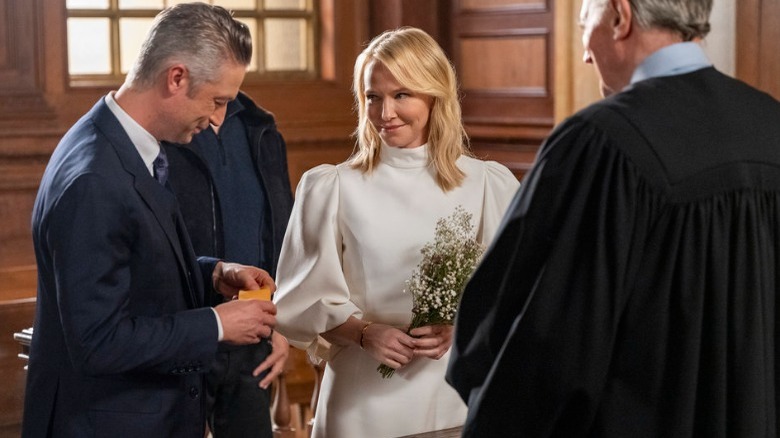 Scott Gries/NBC
Shortly after the news broke that Kelli Giddish is set to make her "Law & Order: SVU" return, fans flooded the comments of TVLine's report to express their excitement.
"Amazing!!! i have missed her character so much this is wonderful news," wrote Kevin, with Angle Austin agreeing and calling her irreplaceable. Commenter Bensler was also blown away by the news, noting that the "SVU" fandom is going to be over the moon once Amanda Rollins' pregnancy comes to the forefront. As for Deb, they're hopeful that Giddish will decide to return to the program full-time someday — a sentiment that numerous others voiced with their comments as well.
For example, Susan Martin commented, "They need to bring her back. Maybe as a PT consultant," and G wrote, "Hope she is returning for good but not holding my breath. She is greatly missed." G's comment also mentions some of the newer "SVU" cast members, who several commenters compare to Giddish in a less than flattering manner. If some could have their way, they would bring her back and write off some of the franchise newcomers in a heartbeat.
Though they haven't had much time to do so, "Law & Order" fans certainly seem to miss Kelli Giddish and her portrayal of Amanda Rollins on the small screen. Hopefully, her appearances on "SVU" and "Organized Crime" live up to expectations.