Big Bang Theory's Penny And Amy Painting Had The Actresses Crying Laughing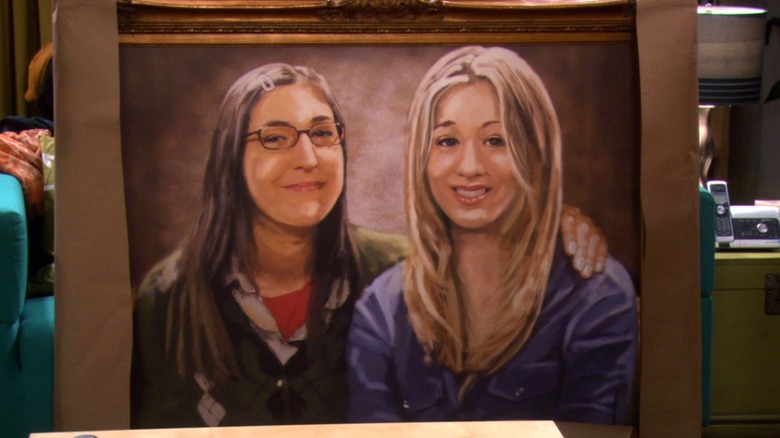 CBS
Amy Farrah Fowler (Mayim Bialik) didn't have a lot (well, any) friends growing up. So, when she finds a bestie in the beautiful and blonde Penny (Kaley Cuoco), she wants to ensure their unlikely connection lasts. What better way to do this than by gifting her a massive, painted portrait of Penny cringe-smiling beside her new gal pal?
In "The Big Bang Theory" Season 5, Episode 17 ("The Rothman Disintegration"), Penny is not thrilled about her apartment's latest decoration and even tries to hide it when Amy leaves. But in real life, Cuoco and Bialik had a blast filming the painting scenes, and could barely hold it together on set.
During the 2019 special "Unraveling the Mystery: A Big Bang Farewell," Cuoco reflected on the creation of the episode to Johnny Galecki, who plays Leonard Hofstadter. She said, "We were laughing so hard, it took us about a good two minutes until we could actually say the dialogue. The tears were, like, coming down. That painting will haunt me." One detail in particular truly got the actresses cracking up. 
Amy's overly-large hand makes the painting even funnier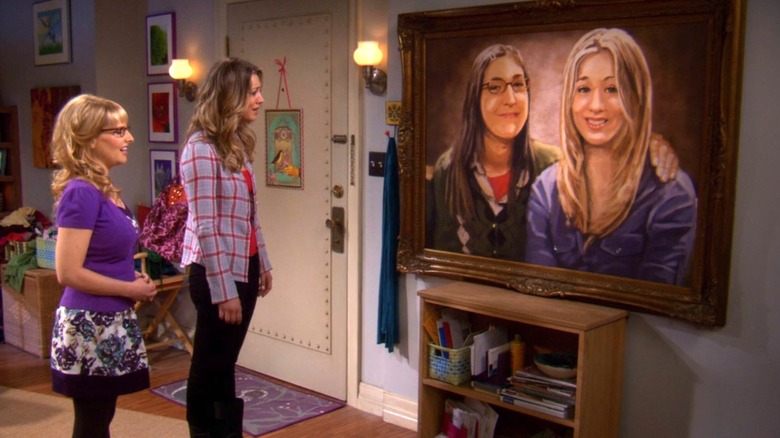 CBS
According to Mayim Bialik, aside from the dialogue and Penny's pained expression in the painting, there's another aspect of the masterpiece that had the actresses laughing: the unproportionately large hand of Amy Farrah Fowler.
In "The Big Bang Theory: The Definitive, Inside Story of the Epic Hit Series" by Jessica Radloff, Bialik revealed, "Kaley [Cuoco] and I posed for some photos that the painter based it on, but my hand was not over her shoulder originally, so that was added in. But for whatever reason, if you look super close, it definitely doesn't look like a woman's hand. It's certainly not my hand. And so every time I look at it, all I can see is this giant hand."
The subject of Bialik and Cuoco's laughter lives on at Warner Bros. Studios, with the former even visiting and taking a selfie in front of it in October 2020. The painting is even reaching the next generation, with "Young Sheldon" star Iain Armitage snapping a photo in front of the portrait with the caption, "Just the three of us ... hanging around ..."