Who Plays Alex In Netflix's Chupa?
As far as 2023 goes, Netflix has several motion pictures that subscribers should have on their must-watch list, and "Chupa" is quickly becoming one of them, gaining some serious traction with fans after its debut on April 7. The fantasy-adventure film reimagines the Chupacabra folklore to offer viewers a must-see family-friendly experience with a solid cast. 
Demián Bichir and Christian Slater are the big names attached to the film, but the movie's star may look familiar to some considering his work history. The main character is Alex (Evan Whitten), a 13-year-old '90s kid who moves to Mexico after his father's death. Here, Alex befriends the legendary winged creature known as the Chupacabra, and the main plot kicks off. While he is young, Whitten wasted no time adding many stellar credits to his resume leading up to his first starring role in a feature.
His TV endeavors include episodes of "Penny Dreadful: City of Angels," "The Rookie," and "Big Sky;" however, Whitten is probably better known for his time as Henry Barnett on "The Resident" and Ethan Salazar on the series "Next." In fact, "Chupa" isn't the first time he's worked with Christian Slater as the two had several scenes together on the hit USA series "Mr. Robot," where Whitten played a younger version of Rami Malek's character, Elliot. "Chupa" also isn't his first motion picture as he was in "Mona Lisa and The Blood Moon" with Craig Robinson, Jeon Jong-seo, and Kate Hudson.
Whitten has an impressive number of credits, including "Chupa." He also isn't afraid to share his opinion on what he thought about the movie's take on the mythical being.
Evan Whitten thinks the Chupa is groundbreaking stuff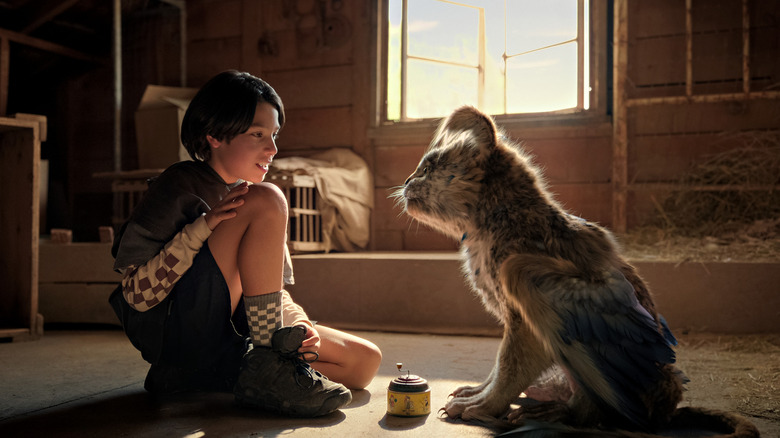 Netflix
Before Netflix unleashed the kid-friendly version of this monster, the Chupacabra has been widely known in folklore as a reptilian-like monster with a thirst for blood. The nightmare-inducing creature eats goats and sometimes people, making it the kind of thing that shouldn't be around children. 
Netflix, however, flipped the script on the scary legend, which actor Evan Whitten considered to be innovative. When asked about his prior knowledge of the Chupacabra, he made it clear that the creature everyone saw in the film was different from how it was first explained to him prior to production. 
"My grandparents ... told me about the chupacabras and stuff, but they put it in more of a scary light because that's how it was," Whitten said in an interview with PopCulture. "This is more of a groundbreaker because no one's ever seen Chupacabra as a cute, little, fluffy creature." 
Whitten couldn't be more correct with his assessment of the idea being a novel one, and the movie's appearance in Netflix's top ten indicates it was a bold move that paid off. The new Chupacabra isn't the only remarkable experience for the actor that went down in the '90s period piece. 
"I'll never forget that Game Boy. That was really cool," Whitten said. "It had real games on it, and it was just fun. Sometimes I wouldn't even focus because I was playing the game." Between seeing the Chupacabra in a new light and learning that vintage Game Boy still rocks in 2023, it's safe to say that the hit Netflix feature "Chupa" has been a rewarding experience for many, including its star.