Kim Kardashian Is Joining American Horror Story Season 12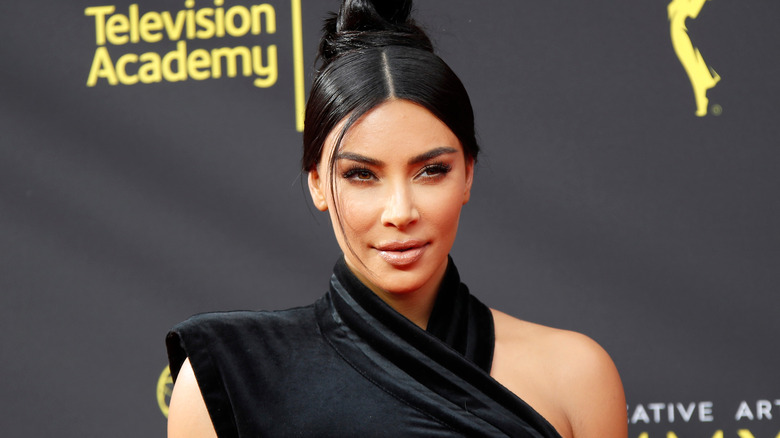 Kathy Hutchins/Shutterstock
"American Horror Story" just got more interesting.
Kim Kardashian has confirmed on Instagram that she will be joining "American Horror Story" Season 12. The reality star and business mogul made the announcement via a spooky video that should leave her 352 million fans in fear. The announcement also confirmed that Kardashian will spearhead the next "American Horror Story" chapter alongside franchise regular Emma Roberts. It will debut later this summer.
"AHS" Season 12 is Kardashian's latest effort to spread her talents. While she's most known for appearing as herself, she recently voiced Dolores in the "Paw Patrol" film. She also made a brief but welcome appearance in "CSI: NY." The upcoming "AHS" season will be Kardashian's largest role yet as she's expected to be a series regular. The Hollywood Reporter says that Kardashian and series co-creator Ryan Murphy are friends. Murphy was impressed with Kardashian's 2021 hosting duties on "Saturday Night Live." The duo began to cook things up last summer.
American Horror Story Season 12 will adapt an upcoming novel
Details on Season 12 of the FX anthology series are slim, but it appears that season has been dubbed "Delicate." THR notes that the upcoming iteration of "American Horror Story" will adapt Danielle Valentine's forthcoming novel "Delicate Condition," a first for the series. Previous seasons haven't relied on source material. The book will release in August. "Delicate Condition" has been teased as a thriller that focuses on a woman who believes a nefarious force is stopping her from being pregnant. The upcoming novel's cover features a blurb that hypes it up as "the feminist update to 'Rosemary's Baby' we all needed."
"AHS" Season 12 will be shepherded by Halley Feiffer, who previously helped pen Ryan Murphy's "Impeachment: American Crime Story." In a statement to THR, Murphy welcomed Kim Kardashian to the "AHS" family and praised Feiffer's abilities as a writer. "Kim is among the biggest and brightest television stars in the world and we are thrilled to welcome her to the AHS family," Murphy said. "Halley Feiffer has written a fun, stylish and ultimately terrifying role especially for Kim, and this season is ambitious and unlike anything we have ever done."