El Camino: The Double Meaning Behind A Breaking Bad Movie's Title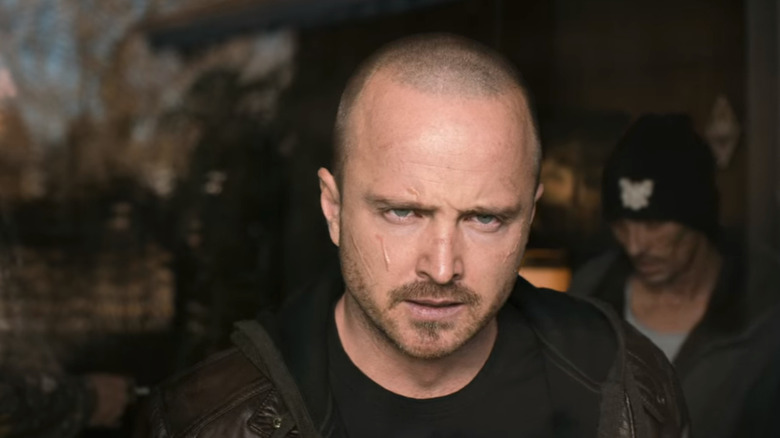 Netflix
"Breaking Bad" concluded in 2013 with Walter White (Bryan Cranston) dying on the floor of the empty meth lab set up by Neo-Nazi leader Jack Welker (Michael Bowen) and his gang. Six years later, series creator Vince Gilligan brought audiences some closure for Jesse Pinkman (Aaron Paul) in the form of "El Camino: A Breaking Bad Movie." The Netflix film chronicles Jesse's escape from the gang's compound and his flight to freedom.
The film's title has a barely hidden double meaning, as Jesse not only flees in the Chevy El Camino once owned by Jack's nephew Todd Alquist (Jesse Plemons), but the phrase in Spanish means "the road," "the path," or "the way" — all translations which have relevance to Jesse's story throughout the movie.
In a 2013 interview with Entertainment Weekly about the "Breaking Bad" finale, Gilligan said Jesse had "a long road to recovery ahead, in a sense of being held prisoner in a dungeon for the last six months and being beaten to within an inch of his life and watching Andrea be shot. All these terrible things he's witnessed are going to scar him as well, but the romantic in me wants to believe that he gets away with it and moves to Alaska and has a peaceful life communing with nature."
Since Gilligan was in charge of Jesse's ultimate fate, that's exactly where he ends up, with the help of Best Choice Vacuum store owner and new identity provider Ed (Robert Forster).
In El Camino, Jesse finds his way to freedom of body and soul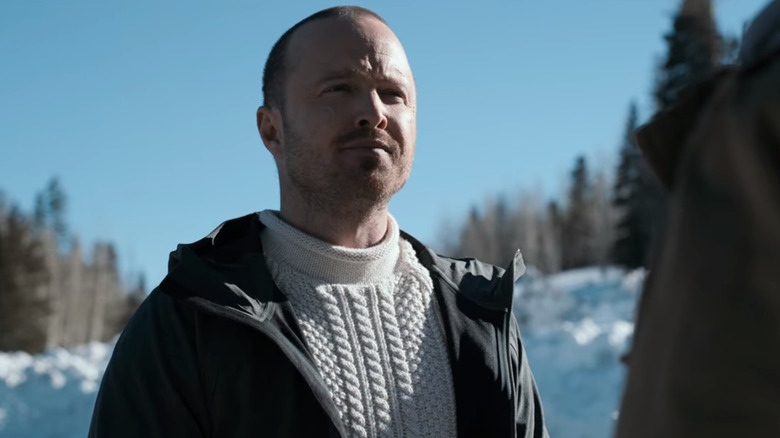 Netflix
In a 2019 Jalopnik interview, "Breaking Bad" transportation coordinator Dennis Milliken credited the thoughtful matching of characters to their vehicles to creator Vince Gilligan. "As much as I'd like to take all the credit for this, I have to proudly admit that the cars on 'Breaking Bad' have Vince Gilligan's fingerprints all over them," Milliken said. "The process always started with the script. At times he would be very specific about what he wanted for a character. When the description wasn't defined, I would post a variety of options for him to consider."
The article mentions Walt's Pontiac Aztec, "one of the worst cars [ever] made," the inconspicuous blue Volvo station wagon driven by Gus Fring (Giancarlo Esposito), and the decidedly cop-like Chrysler Fifth Avenue that Mike Ehrmantraut (Jonathan Banks) drives throughout "Breaking Bad."
While none of those vehicles' monikers offered the chance for Gilligan to make a literal script tie-in, they each fit the characters to which they were assigned perfectly. Jesse's use of Todd's El Camino to break free and start on the way to freedom was a dramatic punctuation mark to his relationship with Todd and reflects a conversation he had in rehab back in "Breaking Bad" Season 3, Episode 1, "No Mas," where his counselor (Jere Burns) tells him, "Self-hatred, guilt, it accomplishes nothing, it just stands in the way."
Jesse asks, "Stands in the way of what?" and the counselor answers simply, "True change." By the end of "El Camino," in finding the literal road to freedom and self-realization for the first time since partnering with Walt, Jesse has also found the path to true change and a new life.