How Breaking Bad's Series Premiere Time Slot Backfired On The Show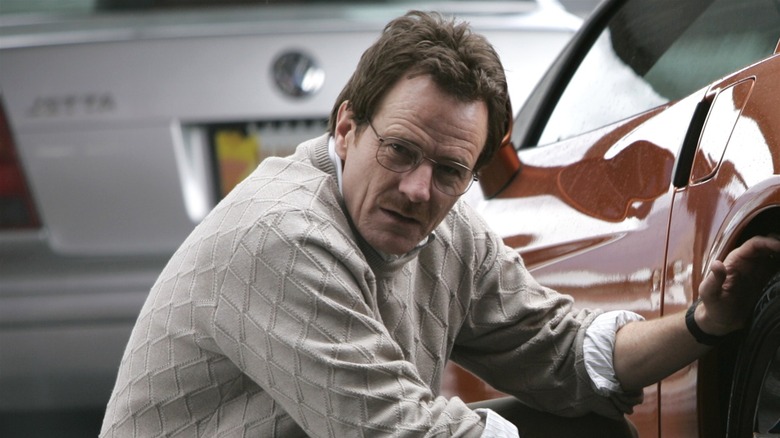 Doug Hyun/AMC
Looking back on the five-season run of "Breaking Bad" on AMC, it can seem like the show was always destined for greatness. It hits the ground running, storytelling-wise, from its instantly iconic pilot episode through its season finale. But just like any other TV show, it had to face hurdles and challenges in order to build an audience, and it even hit one potentially fatal stumbling block right off the bat with that series premiere episode.
Charlie Collier, the head of AMC when the network was putting out "Breaking Bad," revealed in an Esquire piece covering the history of the show that there was an improbable time slot difficulty faced by the heavily advertised series premiere. "On premiere night, we did all the planning in the world to launch the show. We scheduled the pilot for the night of the NFC championship game, which was typically the highest non-Super Bowl event in sports," revealed Collier. "We thought the show would be male-skewing, so there's 40 to 50 million men who will be coming off this event, and this is what we would launch 'Breaking Bad' into."
It was sound TV executive reasoning, but just as Walter White (Bryan Cranston) has a habit of learning on "Breaking Bad," even the most meticulous plans can be put in jeopardy when one unexpected thing goes wrong. Collier recounts: "Lo and behold, the Giants played the Packers, and the game went into overtime."
Many of the show's early viewers missed the first 15 minutes of the first episode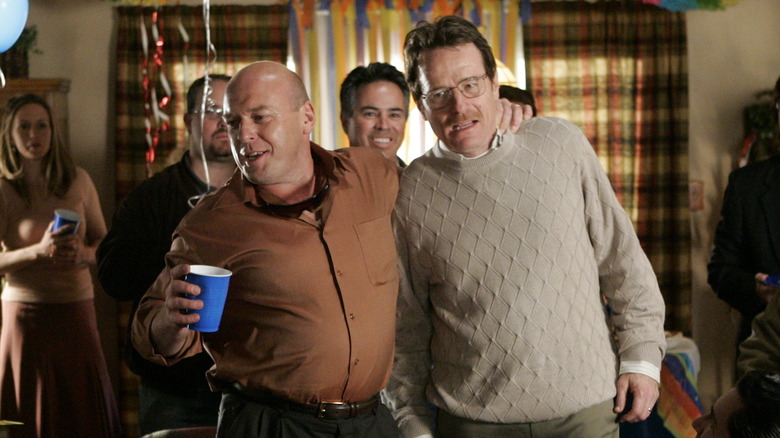 Doug Hyun/AMC
Charlie Collier, the former president of AMC, told Esquire that the "Breaking Bad" premiere was hobbled by a Giants-Packers game going into overtime. "So for the first 15 minutes of the premiere, most of America was still watching the game," Collier remembered. It's the kind of TV biz snafu that is sometimes credited with why certain surefire successes don't work out. However, as we all know now, "Breaking Bad" managed to overcome it. And, according to Collier, it was the quality of the show that allowed it to succeed despite such problems. "Looking back, there were countless moments like that where 'Breaking Bad' shouldn't have succeeded, but the material was strong enough to overcome it," Collier said.
Some of those "moments" include the 2007-2008 Writers Guild of America strike and surprisingly low ratings for much of its initial run going into Seasons 4 and 5. But now, it's all a part of TV history, with "Breaking Bad" recognized as a true television classic. And nowadays it's a little hard to find people willing to admit that they skipped the first 15 minutes of the premiere in order to watch the end of some football game.