Star Wars' Andy Serkis & Ian McDiarmid Were Inspired By A Fellow Franchise Villain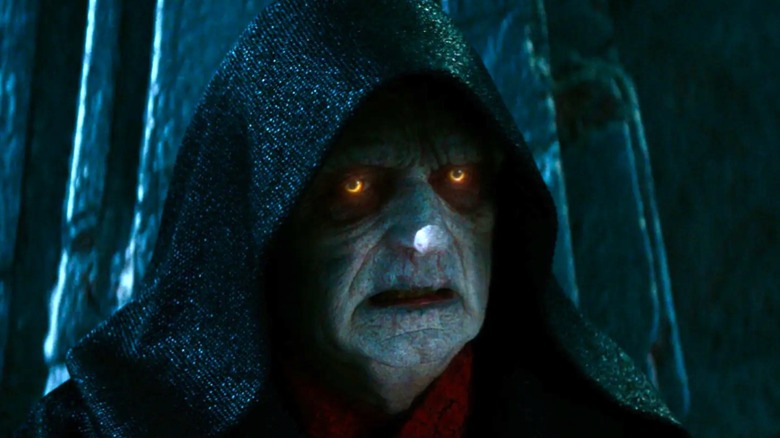 Lucasfilm/Disney
It turns out that bringing Supreme Leader Snoke and Emperor Palpatine to life was an effort bound in blood. 
During the April 2023 "Star Wars Celebration," Andy Serkis and Ian McDiarmid revealed that when it came to being bad, there was an iteration of Dracula that had a massive influence on them both. Not just any particular Prince of Darkness, though. This one was brought to life by another "Star Wars" legend that applied his talents to the Dark Side and rattled both actors to their core in their younger years.
"I've been mentally scarred by many characters in my childhood," said Serkis, laughing over what quickly became a moment of admiration for a horror legend. "But I think the one which really imprinted itself on me was Christopher Lee's Dracula. I grew up being absolutely entranced, terrified, mesmerized but also kind of wanted to be him in a strange way." As a man who has played a variety of monsters over the years through motion capture, Serkis paid his respects to an OG bit of nightmare fuel he never forgot. "I found him climbing inside my head and soul and mind," he explained. "Making me question what it was like to live that life, and so I was at the same time terrified of him and weirdly kind of fascinated, wanting to be him." 
He wasn't alone, though, as McDiarmid revealed that his iconic antagonist was also cut from the same cloth as Lee's Dracula — something made even more fascinating by the fact that both actors worked together on the "Star Wars" prequels.
Ian McDiarmid believes pain is what makes Christopher Lee's Dracula perfect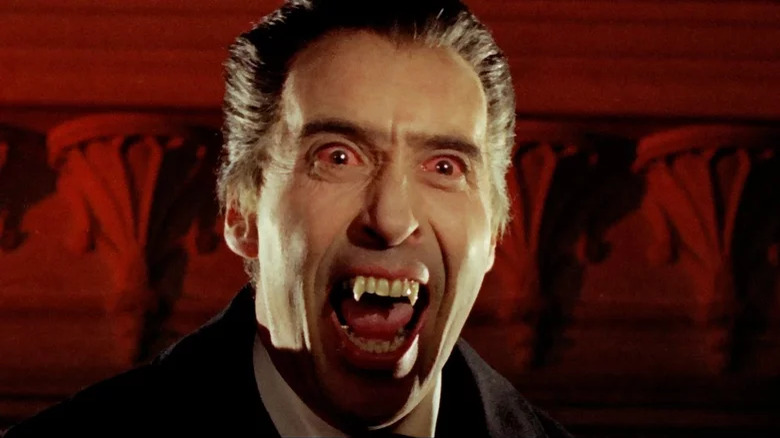 Hammer Film Productions
Dracula and Count Dooku, of course, were just two of the many, many iconic villain roles that Lee took on throughout his illustrious career, with the treacherous white wizard in "The Lord of the Rings" trilogy, Saruman, being another pivotal example of his talents.
Echoing Andy Serkis' thoughts, Ian McDiarmid explained how amid numerous live-action versions of Dracula, it was Christopher Lee's that always had him hooked. "Chrisopher Lee was my hero when I was a kid. Not just when I was a kid. I got to meet him, I got to act with him as you know, Count Dooku — the memorable, great, late Christopher Lee." Praising the screen legend who had played the blood-sucking Count seven times in Hammer horror films, McDiarmid acknowledged that Lee's take on the role was something truly different. And when McDiarmid got the chance to work directly with Lee on the "Star Wars" prequels, he took the opportunity to inquire about his take on Dracula. "It's easy just to be scary," McDiarmid said. "The teeth help in his case and the white makeup and so on, but he had something going on (...) It was rooted in a kind of pain, and I talked him about it, and he said, 'Yeah, that's what I always thought.'" 
Lee's Dracula performance is certainly an achievement — and even more so when you consider his bite sunk so deeply into the minds of two future lords of the Dark Side.