Young Sheldon's Iain Armitage Details 'Creepy' Similarities To Mckenna Grace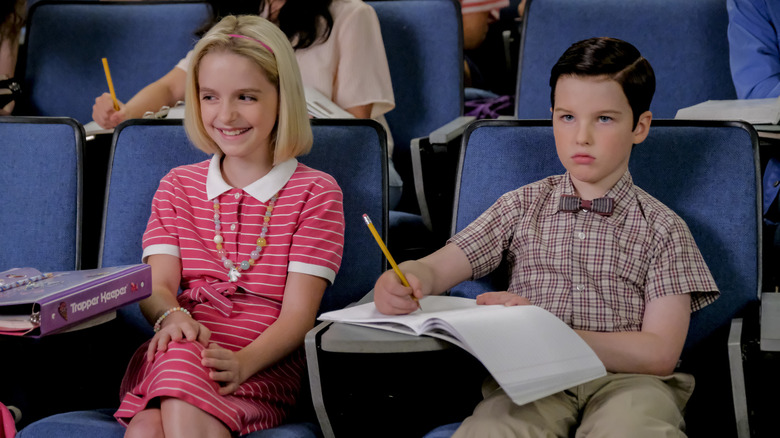 Darren Michaels/CBS
In "Young Sheldon," the titular brainiac meets his match in Season 2 when the impressive intellect Paige (Mckenna Grace) enrolls in his college course. Much to Sheldon's (Iain Armitage) dismay, his fellow child prodigy begins to steal his spotlight by outshining him in several ways. This leads to some friction between the two characters; however, Armitage revealed in an interview that the two young actors are actually more alike than they are different. 
Though Sheldon was annoyed by Paige at first, the two soon became unlikely friends and even begin to confide in one another. As Paige's home life starts to become more difficult, the Cooper family is there to offer support and solace to the rising genius. This allows Sheldon to grow and mature by helping out a friend in need, which helps his character become more compassionate.
Behind the scenes, their relationship is far less complicated as they bond over their eerily similar interests. "Mckenna Grace plays Paige and in real life, Mckenna Grace is really sweet and really awesome," Armitage told CBS News. He continued by highlighting how alike they are through their fun similarities. "We all have the same interests, stuffed animals, David Bowie and Freddie Mercury, rocks, and gems," he explained. He even jokes that it's a bit scary how alike they are with their multiple overlapping hobbies. 
Armitage said the two are strikingly similar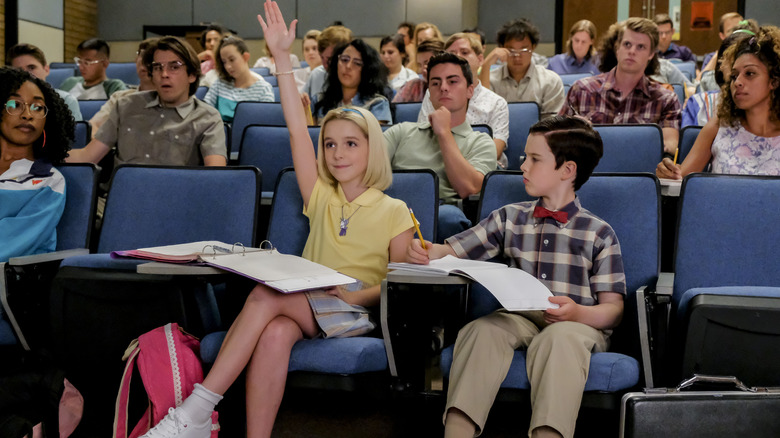 Darren Michaels/CBS
Although Mckenna Grace has only appeared in a handful of episodes as Paige, her character still makes a standout impression as a parallel to Sheldon. They're both extremely smart for their age, with passionate interests in science and pop culture. They even share tumultuous home lives because of the stress their gift can sometimes put on their families. Luckily, there's less drama off-screen as the two naturally enjoy each other's company on set. 
Iain Armitage continued excitedly pointing out his similarities to Grace with CBS News, "So we all have the exact same interests, and the more we're together, the more we're like, 'This is actually kind of creepy, how alike we are.'" This fun sentiment underlines their special bond behind the scenes that starkly contrasts their sometimes conflicting characters. It's also a testament to both of the young performer's acting skills as they're able to put their friendship aside and act as if they don't like each other. 
Given how similar their characters in "Young Sheldon" are, it's no surprise that the two are so alike in real life as well. In fact, some fans even feel that Paige had the greatest influence on Sheldon out of all his other companions. This makes their unique friendship even more heartwarming, especially after learning just how alike Armitage and Grace are in real life, even if it is a bit uncanny.