Harry Potter's Yule Ball Had Fans Obsessing Over Cho's Stunning Look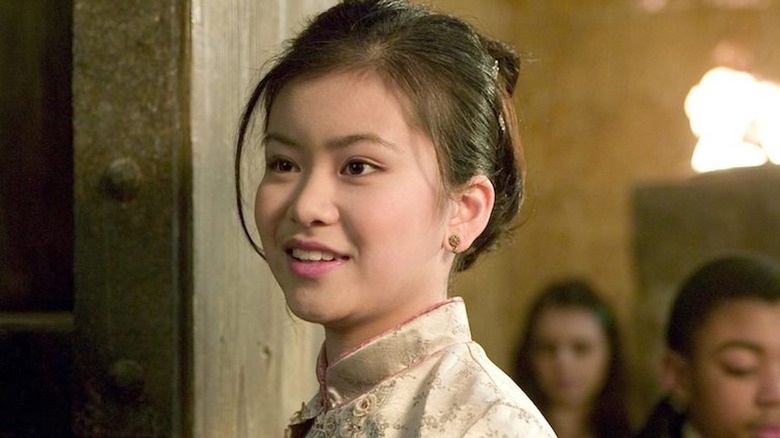 Warner Bros. Pictures
In the fourth "Harry Potter" film, "Harry Potter and the Goblet of Fire," the Yule Ball turns out to be an important social event that highlights the relationship complexities of the Hogwarts students (and some of the teachers, too). Not everyone there comes with the object of their desire; Harry (Daniel Radcliffe) asked Cho Chang (Katie Leung), who was going out with Cedric Diggory (Robert Pattinson), while Ron (Rupert Grint), fresh from rejection by Fleur Delacour (Clemence Poésy), finds himself rather angry that Hermione shows up with quidditch star Viktor Krum (Stanislav Ianevski). Instead, these boys ask the Patil twins (Shefali Chowdhury and Afshan Azan) to come, and none of the four seem like they were having a good time. 
Despite all the intrigues between the would-be couples, the Yule Ball did give the characters in the franchise a chance to take off their normal school wear — either their house robes or casual clothing from the Muggle world — and get dressed up. Plenty of attention has been given to Hermione's pink layered gown, but there was another character whose style shone in those scenes.
Say what you will about Cho as a character. In the books, she was a perpetual crier (she did, after all, date Cedric, who ended up as Voldemort's first major victim in the series). In the films, her character was done wrong, since Cho was the one who tattled on Dumbledore's Army in "Harry Potter and the Order of the Phoenix" — something that Marietta Edgecombe did in the books. In "The Goblet of Fire," though, her introduction as an important character worked. And her dress stunned many fans of the film series.
Fans considered Cho's dress to be one of he best at the Yule Ball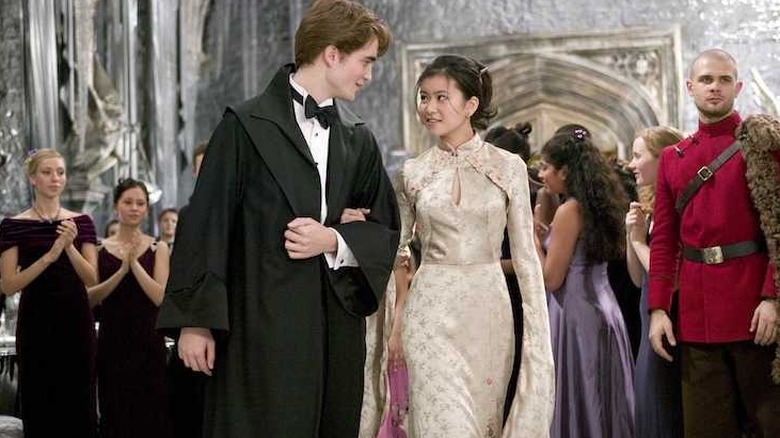 Warner Bros. Pictures
On a YouTube video that showed the Yule Ball scene, one commenter, @fayetopia, said, "I know everyone loves Hermione's dress but I can't get over Cho's." That single comment got more than 7,200 thumbs-up responses, along with almost 100 replies saying pretty much the same thing — that the dress was gorgeous and one of the three best (Hermione's and Fleur's were also considered beautiful). Earlier, @eyecoded had posted, "Ok, but can we talk about how stunning Cho looks??? I don't blame harry for liking her omg."
Of course, the liking was not universal — this is the internet, after all. Over on Reddit, one thread pretty much criticized all the dresses, with some comments pointing out that the Patil twin's dresses were lackluster given how beautiful saris can be. "The ones the Patil twins wore look like a pound shop/dollar store halloween costume equivalent," said u/RoseTheOdd, while another user compared Ginny's dress to a watermelon. Even in that thread, though, Cho's, Hermione's, and Fleur's dresses were considered the best ones.
The dress made Katie Leung's mom emotional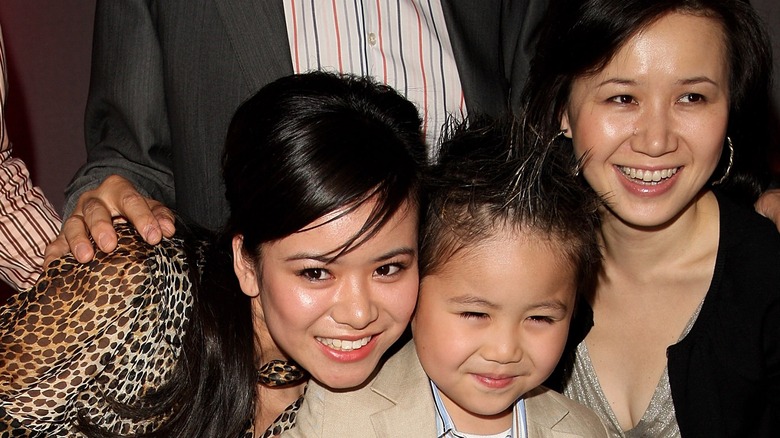 Dave Hogan/Getty Images
As some commenters pointed out, Cho's dress is a traditional Chinese qipao, also called a cheongsam. Cheongsams are slim-fitting dresses that originated in 1920s Shanghai but were considered too fashionable for Communist China. In Hong Kong, though, they became a wardrobe staple; the dress is still associated with 1950s culture in that British colony. The cheongsam went out of style by the end of the 1960s in favor of Western styles, which were cheaper. Today, they remain popular as wedding dresses.
The movie dress was from costume designer Jany Temine, who said she wanted to represent the different countries represented by Hogwarts students. So of course, she made it Chinese. She told Tatler, "When actress Katie Leung's mother saw her, she got very emotional and started crying, because she said the dress reminded her of her own wedding dress. It was very sweet to see."
Although Temine said that the dresses were designed to go with the cold, crystalline interior of the Royal Pavilion in Brighton, which might explain its white color, it turns out there's also a fan theory out there that Cho's dress might have been meant to send a message to the audience. u/Knightridergirl80 noted," There's also a bit of subtle foreshadowing with the color too, as someone else on TV tropes pointed out — Cho wears white. In Chinese culture, it's common to wear white clothes to a funeral. Cho's boyfriend dies by the end of the movie."
If you're at all interested in seeing the dress in real life, it lives at Universal Studios Hollywood. The dress is not marked, but you can find it in Gladrags Wizardwear.