Grey's Anatomy: Scrubs For Season 19 Were Changed To Black For A Specific Reason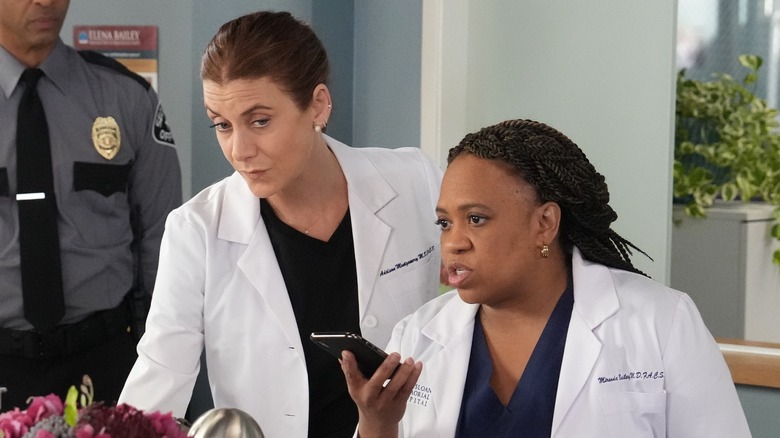 Eric McCandless/ABC
There have been a lot of changes throughout "Grey's Anatomy," but in Season 19, a really significant one came to the doctor's scrub colors. Throughout the entire series, surgeons have always worn blue scrubs, and OB-GYN residents and attendings have worn pink ones, but now, that's changed.
Jo Wilson (Camilla Luddington), who was a surgical resident before changing her specialty to OB-GYN, explains the change during the season premiere, announcing, "The female body has become a war zone in this country, and pink is a peacetime color." Over on "Station 19," which frequently crosses over with "Grey's Anatomy" and currently features former "Grey's" character Dr. Carina Deluca (Stefania Spampinato), Deluca says something similar, revealing that OB-GYN doctors are "wearing black scrubs in protest because women's bodies are held hostage by the government."
This is a bold statement, but "Grey's Anatomy" isn't exactly known for its subtlety. That said, it's important for a medical show to address the very real struggles women are currently facing in the United States. In an interview with Variety before Season 19 kicked off, showrunner Krista Vernoff addressed the change. "The impact on women's health of that decision is profound, and we're a medical show," Vernoff said. "And just as we profoundly explored the impact of COVID, because we're a medical show, we have a responsibility to explore the impact of that decision through the eyes of our doctors."
Grey's Anatomy is handling real-life issues, like it always has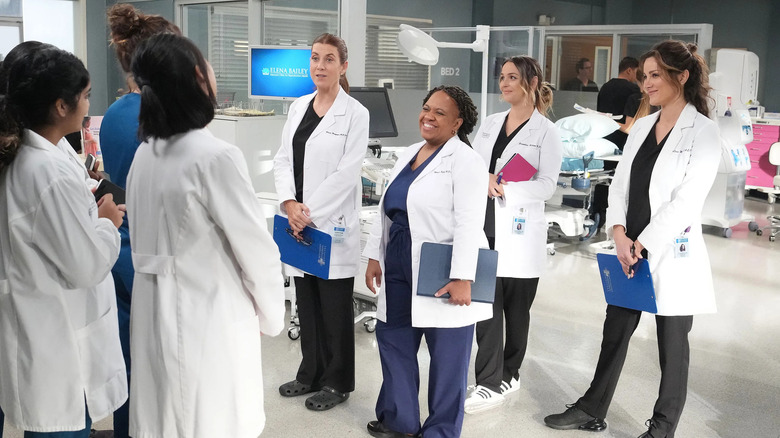 Eric McCandless/ABC
"Grey's Anatomy" has, throughout its run, tackled real-life issues with varying degrees of success; it made total sense for the show to tackle the COVID-19 pandemic, but the results were extremely depressing to watch, to say the least. Dealing with the battle over women's reproductive rights came into play during Season 19, but considering that the series has depicted issues surrounding pregnancy for years, it certainly wasn't a surprise.
The series also saw fit to bring Addison Shepherd (Kate Walsh) back for the throughline about women's reproductive healthcare, which also makes sense, since she's a pioneering OB-GYN surgeon with years of experience. As she outlines, though, things are getting pretty dangerous for her as a result. In Season 19, Episode 12, "Pick Yourself Up," Addison reveals that she's been repeatedly threatened and doxxed as protestors rail against her outside of the hospital. Meanwhile, in Episode 13, "Cowgirls Don't Cry," Miranda Bailey (Chandra Wilson) finds fliers in the hospital parking lot filled with her personal information.
This storyline will definitely continue on "Grey's Anatomy," which airs on Thursdays on ABC, as real-life issues keep taking over headlines.