Ant-Man And The Wasp Posters Show Off The Whole Gang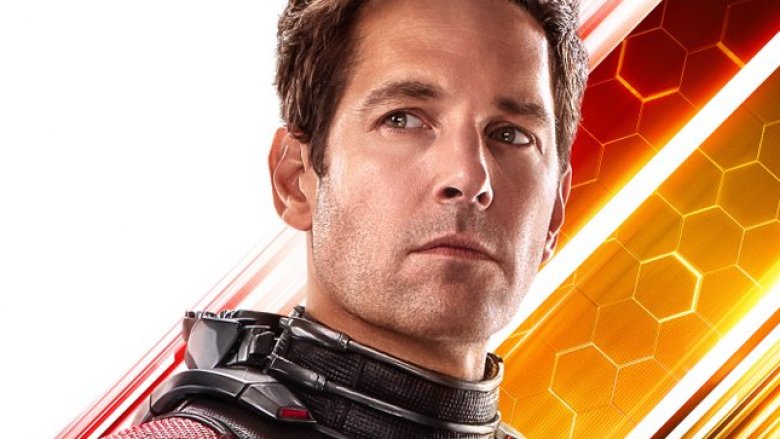 Marvel Studios
Alright, Marvel movie character roll-call time. Ant-Man? Check. The Wasp? Check. The original Ant-Man and the original Wasp? Double check. A super-villain and a secondary superhero? Yup, both here. Marvel ensured that everyone was accounted for in the newly released posters for Ant-Man and the Wasp. 
The fresh one-sheets, dripping in the red and yellow tones that have become signature to the Marvel Cinematic Universe sequel, show off the whole gang: Paul Rudd's Ant-Man (a.k.a. Scott Lang); Evangeline Lilly's Wasp (Hope van Dyne); Michael Douglas' Hank Pym, the OG Ant-Man; Michelle Pfeiffer's Janet van Dyne, the first Wasp; Hannah John-Kamen's villainous Ghost, who can phase through objects after she gets her hands on Pym technology; and Laurence Fishburne's Bill Foster, Hank's former Project Goliath assistant who has appeared as Black Goliath and Giant-Man in the Marvel comics canon. 
While each image is awesome in its own right, it's the poster for Michelle Pfeiffer's Janet that has fans — pardon our pun — absolutely buzzing, as it marks the character's first major reveal. She's seen wearing a tattered brown cloak over her Wasp costume, indicative of her time spent stuck in the Quantum Realm after going sub-atomic to disarm a missile back in the '80s. Janet goes without a full helmet here, but is almost guaranteed to tote one in Ant-Man and the Wasp. We'll just have to hold out until the film launches to witness the superhero in her complete glory.
Plenty of Marvel lovers are excited to see Pfeiffer's Janet on the big screen, and the actress herself took the gig seriously, even though the part itself is slightly silly. 
"It had this great sense of humor about it and just this unusual tone. This new script has the same thing. It's nicely written," Pfeiffer once told Variety, adding that she read countless Marvel comics to properly research the role — a process that wasn't always easy. "I just started reading them, and I'm having a really hard time," she said. "There's so much information on a page, and it's not linear. When I'm skim reading them it's difficult to know that this part comes after that and who is talking in what bubble."
Lead actor Rudd previously revealed his own enthusiasm over getting to work with both Pfieffer and Michael Douglas. He noted that having the two stars on the same set was like a dream. "It was really cool to see Michelle Pfeiffer and Michael Douglas just on set. And I'd look over and go, 'Oh, my god. Legends,'" Rudd said. "So they're both really lovely people and it was a thrill to get to work with them."
See the full crew — and a few extra faces, like Walton Goggins as Sonny Burch, Bobby Cannavale as Paxton, and Judy Greer as Maggie Lang — come together when Ant-Man and the Wasp flies into theaters on July 6.