American Pickers Struck A Mega Pick In This Season 12 Bonus Clip
Though it's the norm for the "American Pickers" crew to come away from a pick with something rusty yet valuable to show for it, not all picks are created equal. Some are good, some are great, and a rare few are truly something to behold. Whether it's due to the people looking to sell their wares, the value of the purchases, or some other notable aspect, some picks are simply unforgettable. Take, for instance, the time that "American Pickers" staples Robbie Wolfe and Danielle Colby visited a one-of-a-kind antique treasure trove.
In an "American Pickers" Season 12 bonus clip, Colby and Wolfe ventured to the home of a collector in Virginia. Little did they realize they were about to enter a picker's paradise. The property was loaded with all kinds of antiques, though signs took up much of the collection. Over the moon with the place, the two expert pickers quickly made some deals and cracked open their wallets. Colby and Wolfe walked away with some fancy bathtub claw feet, a wooden Armour box, and a bundle of wall-ready signs.
All of these items are neat and worth a pretty penny, but vintage signs are in a class all their own. They're incredibly collectible, resulting in some folks assembling massive collections. In fact, the "American Pickers" team has even checked out one of the most impressive out there.
Some collectors love signs even more than the Pickers do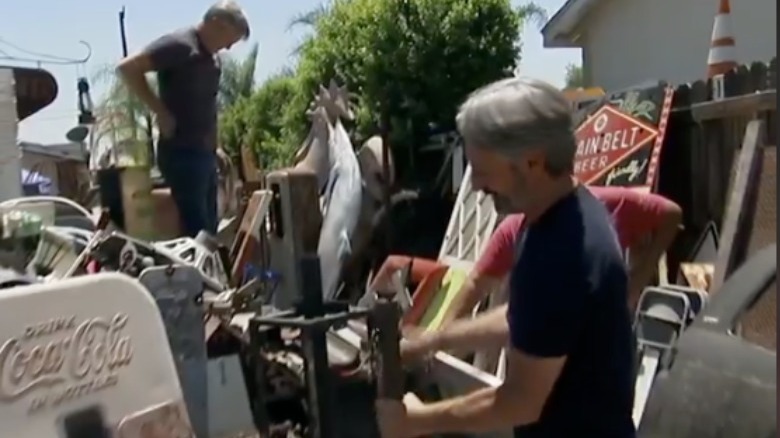 History
In its time on the air, few varieties of items have appeared on "American Pickers" more than signs. Tin, wood, cloth, it doesn't matter to the pickers. If they're old, cool looking, and worth a few bucks, they're happy to not only feature them on the show but add them to the Antique Archaeology inventory. The collector Danielle Colby and Robbie Wolfe met with undeniably had an impressive collection of antique signage, but one could certainly argue that his stockpile pales in comparison to that of the so-called "King of Signs."
In the Season 23 episode appropriately titled "The King of Signs," Mike and Robbie Wolfe travel to California to meet with a collector named Juan — the King of Signs himself. To say he has one of the largest and most remarkable collections of vintage signs would be a serious understatement. From advertisements for Coca-Cola to storefront signs promoting Shell gasoline, his stockpile is the kind of collection all sign enthusiasts aspire to have. Naturally, the pickers dropped some cash during their visit, though Juan didn't want to sell off everything just yet.
There are so many things in the world worth collecting, and, evidently, signs are among the most widely adored of them all. As long as that's the case, we can surely expect the "American Pickers" crew to continue seeking them out and featuring them on the program.