Star Trek: Strange New Worlds' Anson Mount Says Pike Will See A Lot Of Relief In S2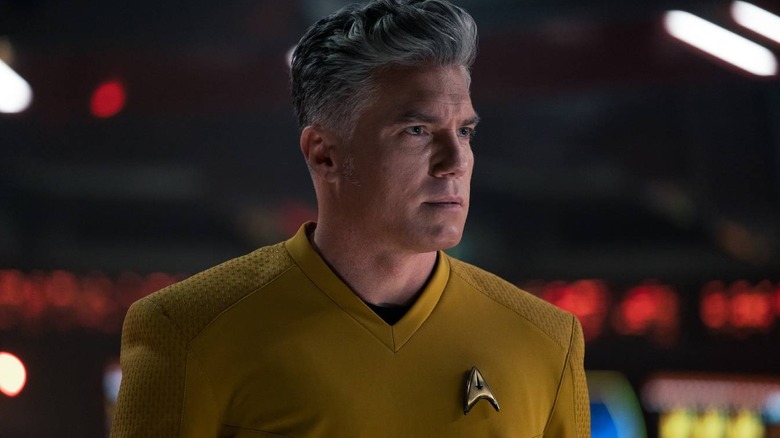 Marni Grossman/Paramount+
The "Star Trek" universe has grown more expansive than ever before with an array of series and spin-offs making their way across Paramount+. One of the most exciting additions to "Star Trek" canon is "Strange New Worlds." The first season debuted in 2022 and followed the crew of the USS Enterprise roughly 10 years before the events of "The Original Series."
With Season 2 of "Star Trek: Strange New Worlds" debuting on the streaming service in June, it's the perfect time to reevaluate where Pike (Anson Mount) and his crew were left off for the Season 1 finale. Mount actually spoke to Esquire about what fans can expect from his character going into the new season, stating, "I would say he's more resolute after the finale of Season One. He tried out the idea of having his cake and eating it too. It didn't work, and strangely, when he realizes there's no honorable way out, that's a relief." Pike knows he's doomed to suffer a horrible fate, but it sounds like he's more accepting of the future going into Season 2.
There's a relief for Pike having his choice made for him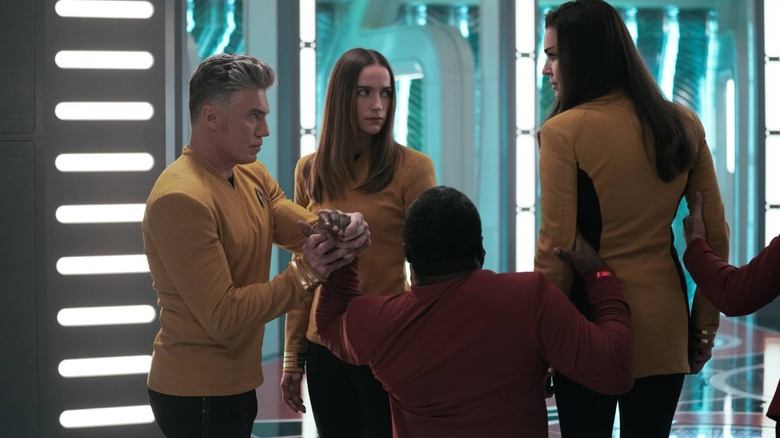 Marni Grossman/Paramount+
No character lasts forever, but Pike finds himself in a truly unique position. While he grappled with this knowledge throughout Season 1 of "Star Trek: Strange New Worlds," it sounds like he's taking a more laid-back approach in the upcoming season. Anson Mount went on to say, "The older Pike made it very clear: you still have a choice. But to somebody like Pike, it isn't a choice. So this is a choice that almost makes itself, and it is a tremendous relief. He doesn't have to worry about it anymore. His job now is to make every day count as much as possible. There's a lot of freedom in that."
The main Pike in the series meets an older version of himself in the Season 1 finale, who tells him that he must not do anything that alters his fate. It may not be what he wants, but there's ultimately nothing he can do about it. All he can do is go along for the ride and enjoy as many adventures as he can. Of course, that doesn't mean "Strange New Worlds" has to end any time soon. Mount sounds down to keep playing this character for as long as necessary, even joking to Esquire, "I think that's going to depend on where my daughter decides to go to college. [Laughs] If she decides to go to a state school, that's one answer. If she decides to go to Harvard, that's another answer."
For now, fans can look forward to "Strange New Worlds" Season 2 premiering on Paramount+ on June 15.