Modern Family's Julie Bowen Auditioned For Claire While Pregnant With Twins
Julie Bowen will forever be known as Claire Dunphy, the quirky, modern-day mom on "Modern Family," but early on, she cast doubt on her chances of snagging the life-changing sitcom role. Bowen was pregnant when she auditioned for the role of the Dunphy matriarch back in 2009, and she felt self-conscious about her pregnancy belly during the casting process. 
"I was pregnant with twins, and I kept thinking they weren't going to hire me," Bowen told People in 2020. "They kept bringing me in over and over and sort of staring at my humungous belly, and I thought, 'I'm never getting this job.'"
Bowen was also up against some stiff competition. In Marc Freeman's book "Modern Family: The Untold Oral History of One of Television's Groundbreaking Sitcoms," it was revealed that big names such as Lisa Kudrow, Leah Remini, and Debra Messing were considered for the role of Claire. Luckily for Bowen, producers could picture her as one of the leads on "Modern Family." In May 2009, Bowen and her husband, Scott Phillips, welcomed their twin sons, Gus and Jon, just a few weeks after she landed the role of Claire.
Julie Bowen went into labor while on the set of another TV show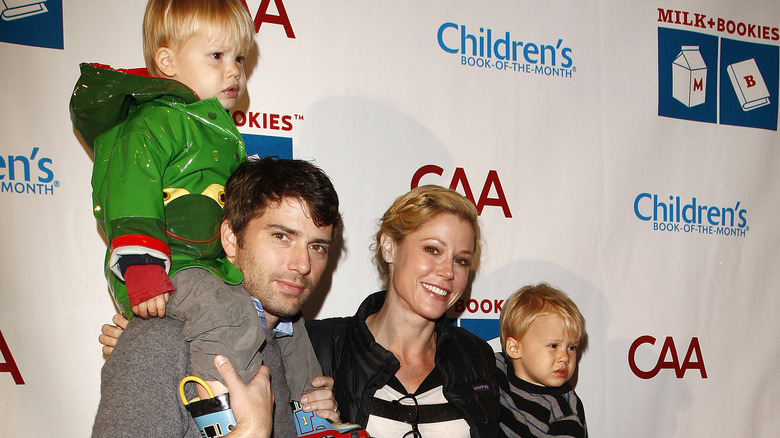 Joe Seer/Shutterstock
Julie Bowen got through her pregnant "Modern Family" auditions, but two years before that she went into labor while working on another TV show. In 2007, Bowen was pregnant with her first son, Oliver, when she went into labor while on the set of "Boston Legal." 
Her rep told Today that she worked on the ABC legal drama all the way until the end of her pregnancy, and her water broke while she was on set. Bowen was taken to the hospital where she delivered her baby boy soon after.
Bowen's real-life motherhood also affected her filming schedule for "Modern Family." In an interview with WebMD, she revealed that because she was breastfeeding her babies early on, she had to find places to pump her breast milk, and sometimes that meant she had to do it at work. 
The multi-tasking sitcom star even had a reputation as a supermom. Bowen told the outlet that another actor once told to her, "You've ruined it for all of us. You were hired for 'Modern Family' when you were eight-months pregnant with twins, and now that's the expectation — that we can all do that."
Bowen, however, shut that narrative down. In a 2010 interview with People, the mom of three admitted she struggled just like any parent does. 
"I'm lucky enough to have help, and with three kids under three, there's never enough help," Bowen said. "I don't know how the other moms do it.