Orlando Bloom's This Must Be The Place - Everything You Need To Know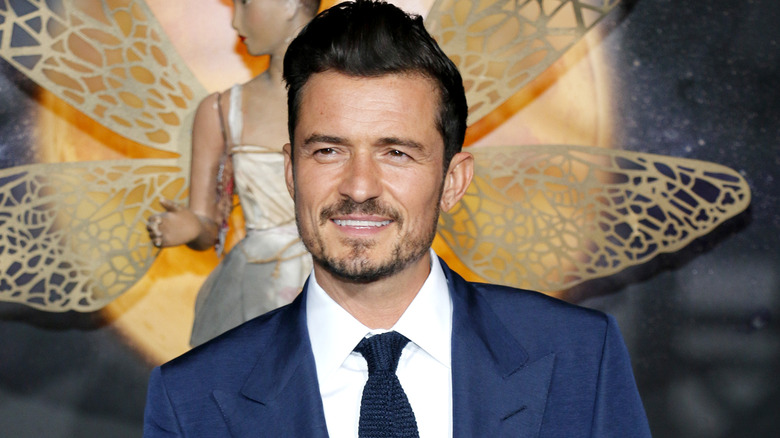 Tinseltown/Shutterstock
Amazon Studios has a long track record of success at adapting novels, with shows like "Man in the High Castle," "Jack Ryan," and "Good Omens" receiving critical acclaim, commercial success, or both. The latest book that Amazon is banking on turning into a hit series is "This Must Be the Place," which is based on the 2016 novel by Maggie O'Farrell.
O'Farrell is a novelist from Northern Ireland, and movie fans might be more familiar with another upcoming adaptation of hers books, the 2020 bestseller "Hamnet." It's a historical fiction tale about Agnes, wife of William Shakespeare, who's grieving over the loss of her 11-year-old son, Hamnet. Yesterday, it was reported that the director of Marvel's "Eternals," Chloé Zhao, will be helming the adaptation of "Hamnet."  
Just one day later, an adaptation of O'Farrell's seventh novel, "This Must Be the Place," was announced. Here's everything we know about the project so far.
What is the release date for This Must Be The Place?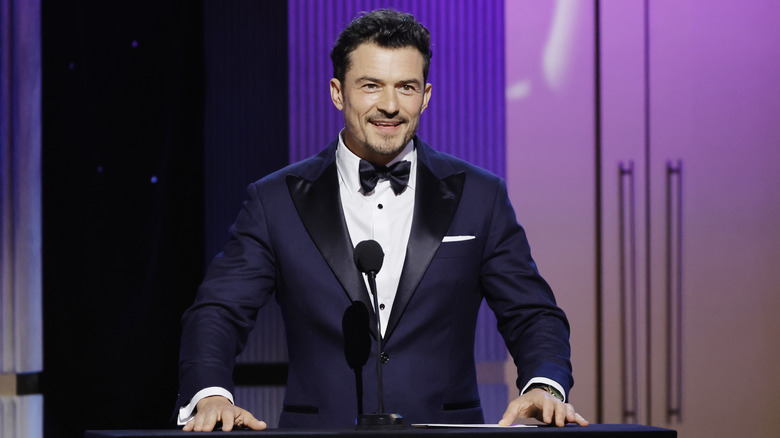 Kevin Winter/Getty Images
"This Must Be the Place" doesn't yet have a confirmed release date, but it's possible to make an educated guess based on Orlando Bloom's shooting schedule. He's currently involved in four other projects that are in various stages of production. Three have already been filmed: Neil Blomkamp's "Gran Turismo" adaptation, Jonathan Easley's crime drama "Red Right Hand," and the stoner comedy "Wizards!"
Bloom's fourth project is the drama "The Cut," a psychological thriller in which Bloom plays a boxer who comes out of retirement for one last fight, but who's subjected to a brutal workout regime by a sadistic trainer — so, think "Whiplash," but with boxing. "The Cut" will film this summer. Given how movies usually take about two months to film, it's possible that Bloom could then film "This Must Be the Place" in late 2023 or early 2024, which would put it on track to release by the end of 2024. Once the start of production for "This Must Be the Place" is announced, the timeline will be a lot clearer.
What is plot of This Must Be The Place?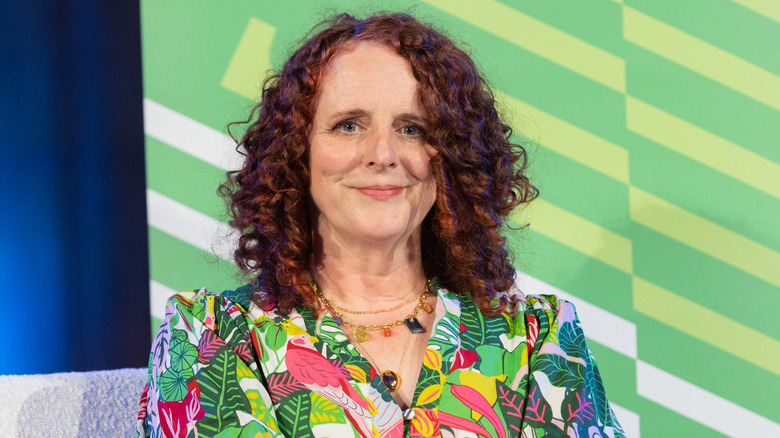 Roberto Ricciuti/Getty Images
"This Must Be the Place" is a multi-generational relationship drama about a couple with lots of skeletons in their respective closets. The book takes place between 1944 and 2016 and jumps around to different time periods, focusing on different characters from the two main characters' lives. The TV show will reportedly take place in multiple times and locations, so it will follow the book in that regard. 
Bloom's character is Daniel Sullivan, a recently divorced New York linguist who travels to his family's native Ireland to retrieve his grandfather's ashes. There, he meets Claudette Wells, a hermetic ex-actress who faked her death and now wards off unwanted guests with a shotgun. The two strike up an unlikely romance and have children. Daniel is also estranged from his two children from a previous marriage, Niall and Phoebe, who both live in California. When Daniel travels to New York for his father's 90th birthday, he begins to reconcile with them. Of course, complications ensue. Daniel's relationship with Claudette becomes strained, and Daniel witnesses several tragic deaths, which see him spiraling into alcoholism. Without spoiling too much, Daniel is also forced to confront painful secrets from his past.
Who is in the cast of This Must Be The Place?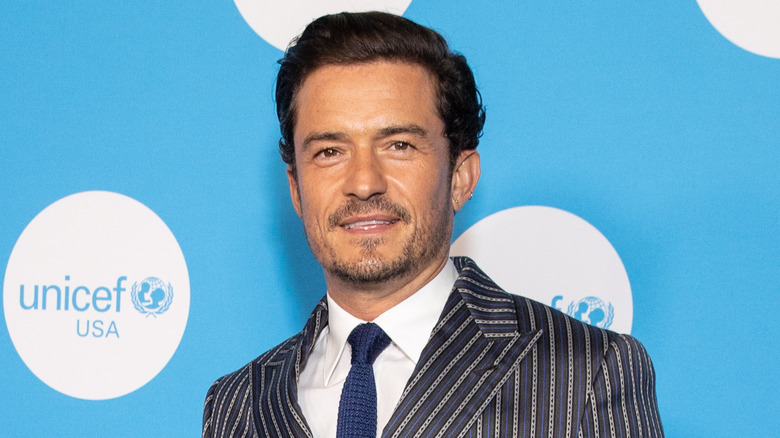 Emma Mcintyre/Getty Images
So far, the only announced cast member is "Pirates of the Caribbean" and "Lord of the Rings" star Orlando Bloom, who will be playing the lead role of Daniel Sullivan. At this point, the only other information to pass along is which particular characters might be appearing in the series — assuming the TV series uses them. 
Besides Daniel, Claudette, Phoebe, Niall, and Daniel's father, other major characters include Daniel's mother Teresa Sullivan; Timou Lindstrom, Claudette's first lover, a film director and one of the few who knows that she faked her death; Claudette and Timou's son Ari; Claudette's brother and sister-in-law Lucas and Maeve; Daniel's former college roommate Todd; and Nicola Janks, Daniel's former professor and lover while he was a student. Again without spoiling too much, Nicola and Daniel's relationship ended on unhappy terms, and this comes back to haunt Daniel in the present day.
Who is showrunning and producing This Must Be The Place?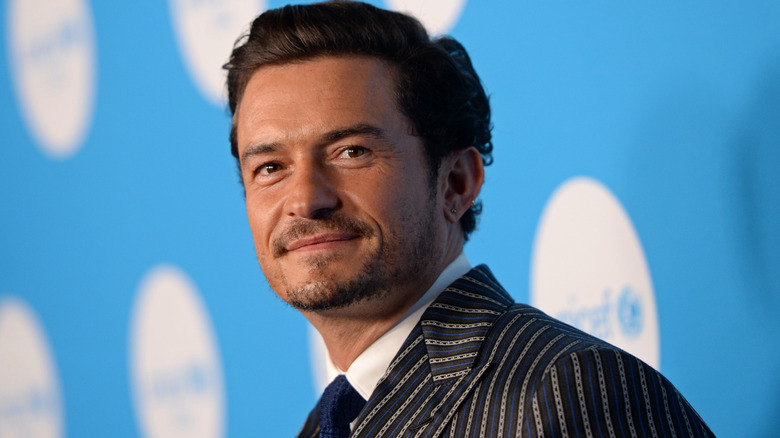 Vivien Killilea/Getty Images
Orlando Bloom is executive producing the series, alongside Suzanne Heathcote, who serves as the showrunner. Before "This Must Be the Place," Heathcote served as the showrunner for the third season of the BBC America spy thriller series "Killing Eve." Before that, she was an executive story editor on the "Walking Dead" spin-off "Fear the Walking Dead" and was credited with writing 16 episodes. She was also a producer on the Jason Momoa-led dystopic sci-fi series "See," which aired on Apple TV.
On the producing side of things, the show is a venture between Amazon Studios, BBC Studios LA Productions, Orlando Bloom's company Amazing Owl, and House Productions. House Productions previously produced the TV movie "Brexit: The Uncivil War," which starred Benedict Cumberbatch as political strategist Dominic Cummings.
Otherwise, the show's directors and writing staff have yet to be announced. Most likely that news will come closer to the production's start date.