Marvel Introduces Spider-Man's Long-Lost Sidekick, Spider-Boy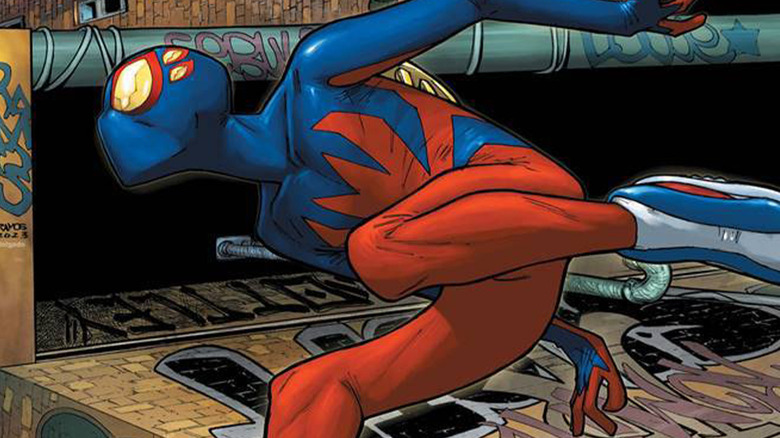 Marvel Comics
*Contains spoilers for "Spider-Man #7 by Marvel Comics*
The defeat of one of the most powerful threats to the Spider-Verse has led to the rise of a hero lost in time. In "Spider-Man" #7 from Marvel Comics, the heroes from across different realities assemble together to stop the final, giant-sized form of the ancient wasp totem, Shathra. Once the Spider-heroes successfully take her out with the assistance of Peter Parker from Earth-616, sending the villain to a different ethereal plane, Spider-Boy, emerges, claiming that he is the original sidekick of Spider-Man.
While Spider-Boy is a welcome addition to the Marvel Universe, his first appearance in the pages of "Spider-Man" throw a big wrench into the history of the web-slinger. While heroes like Captain America, Doctor Strange, and Iron Man have all had sidekicks, Spider-Man has a limited history of working alongside his own. Spider-Boy's arrival is set to shake up the Spider-Verse and lead to a significant change in the life of Peter Parker and his closest allies.
Spider-Boy is a new character with connection to multiple spider-heroes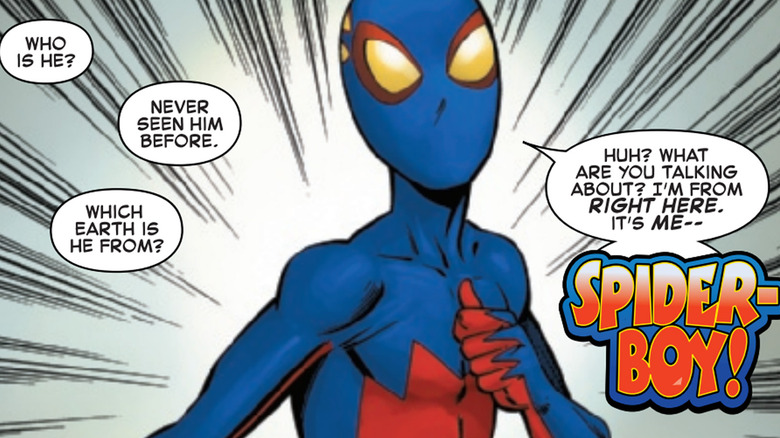 Marvel Comics
In "Spider-Man" #7 by Dan Slott, Mark Bagley, John Dell, Andrew Hennessy, Edgar Delgado, and VC's Joe Caramagna from Marvel Comics, Shathra's attempt to control the Web of Life and Destiny fails, as the collection of web-slingers from the Spider-Verse stop her. Following the battle's conclusion, Neith, the Goddess of Spiders, appears, giving the Spider-Verse heroes a talisman that allows them to bring back heroes erased from time by Shathra's Totem Dagger. Jessica Drew's Spider-Woman is the first to be restored. She jokingly asks if the Skrulls were responsible for her disappearance — alluding to what happened to her in "Secret Invasion." Next, Peter Parker, who had Spider-Man severed from his being, gets his old secret identity back. Additionally, the Spider-heroes are shocked to see that Kaine, the Scarlett Spider, was among the victims of Shathra's Totem Dagger as he returns, thanks to the Talisman.
However, when everybody is accounted for, an unexpected spider severed from the Great Web returns: Spider-Boy. Spider-Boy sports a red and blue suit with big golden eyes (and a set of smaller eyes across the side of his head). He sports a multicolored pair of kicks and appears to have similar powers to Spider-Man. While the heroes from the Spider-Verse don't recognize him, Spider-Boy (whose real name is Bailey) tells Peter Parker and Miles Morales that they've been on a "million adventures together" and that they should know him. After not getting a response, Spider-Boy departs the scene, but Madame Web confirms he's telling the truth about being from Earth-616. She notes that since it took too long to restore him, his past will remain a mystery. The issue ends with Spider-Boy going on his own path.
This isn't the first Spider-Boy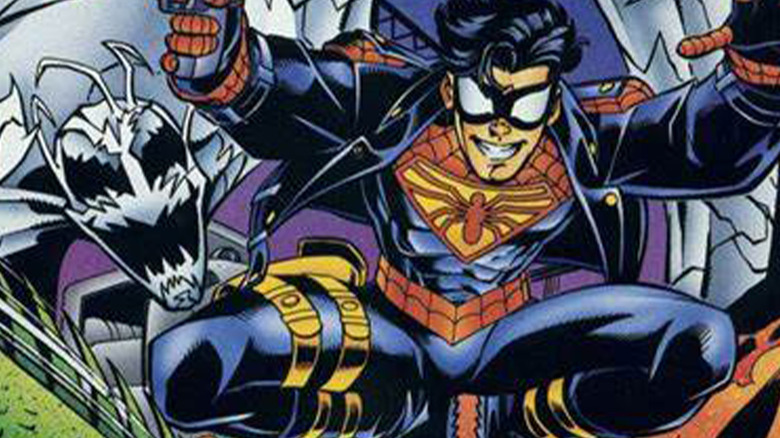 DC/Marvel Comics
While several characters have used the Spider-Boy moniker on different Earths, including Max Morales-Stacy, the Spider-Boy of Earth-8, one character is known as the main Spider-Boy in the comics. In the Amalgam Universe, which combined characters from Marvel and DC Comics, Ben Reilly's Spider-Man and Superboy (Conner Kent) were combined to become Spider-Boy. In the combined world, Spider-Boy was a gravity-controlling hero who was the clone of Super-Soldier — a combo of Superman and Captain America. With a Spider-Man-esque costume and Superboy's leather jacket, the Amalgam version of Spider-Boy was a main character in the critically-maligned imprint. While it would be fun to see the original Spider-Boy return, the chances of that happening seem extremely low, with Marvel and DC unlikely ever to try another Amalgam world.
That said, when it comes to having sidekicks, Spider-Man has mentored young heroes before. In "The Amazing Spider-Man" by Dan Slott and Humberto Ramos, Peter Parker worked with Alpha, who could manipulate cosmic energy and matter. However, Alpha's powers were limited compared to other heavy hitters in the Marvel Universe. As a result, he only made a handful of appearances in the comics before being forgotten entirely.
Will Spider-Boy play a big role in future Spider-Man stories?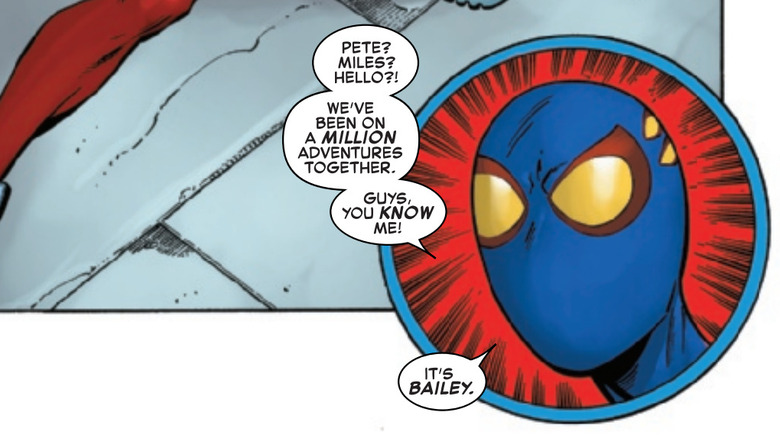 Marvel Comics
Spider-Boy's small appearance in "Spider-Man" #7 sets the stage for a bigger role for the hero in the Marvel Universe. When announcing the character, writer Dan Slott revealed he was excited to introduce him and slowly reveal his connection to Spider-Man.
"I can't wait for people to meet Spider-Boy, and the unique role he's going to play in both Spider-Man's world and the Marvel Universe," Slott said in a press release. "I grew up reading Spider-Man comics. He's my favorite character in all of fiction. All I ever wanted to do was tell stories with THIS cast, and it's been the coolest thing ever to co-create some of the characters who populate it. And this kid, this Spider-Boy, is THE one I'm most psyched about!"
Marvel confirmed Spider-Boy will show up in future issues of "Spider-Man" with his origin being told in "Edge of Spider-Verse" #3 from Slott and Humberto Ramos, who created him. While readers will have to wait to learn more about Spider-Boy's true beginnings, his connection to Peter Parker on Earth-616, and how he became displaced in time, they can see his first comic appearance in "Spider-Man" #7 from Marvel Comics, which is in comic book stores now.