The Mandalorian Ch 22: Who Plays The Star-Crossed Quarren & Mon Calamari Lovers?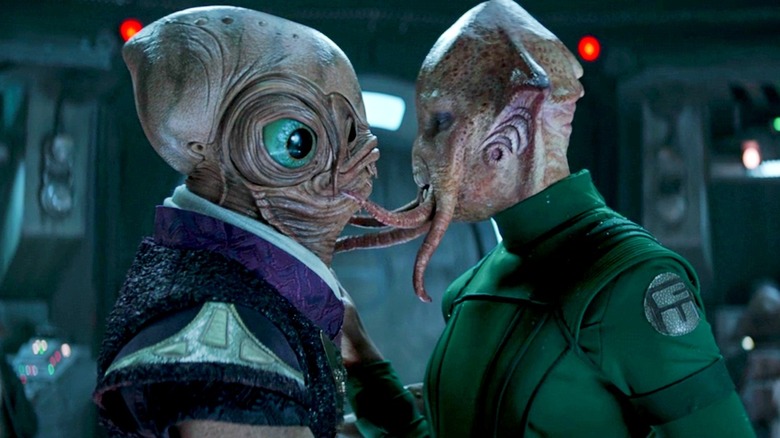 Lucasfilm/Disney+
It's fair to say that watching a passionate romance develop between a Quarren captain and a Mon Calamari prince was not on "The Mandalorian" fans' bingo cards for Season 3, Episode 6, but here it is. Within the first couple of minutes of the episode, viewers find out that this unlikely pair has run away together to escape those that disapprove of their love. Unfortunately, Axe Wolves arrives to retrieve the prince, cutting their romantic venture short.
This mini tale of two star-crossed lovers is a striking way to open an episode, but what may be even more interesting is the pair of actors that portray these minor characters. It's pretty much impossible to tell on the surface with their massive amounts of prosthetics and makeup, but the female Quarren — Captain Sheegoth — and the Mon Calamari prince are played by Christine Adams and Harry Holland respectively. Both of these actors sport some impressive past credits across film and TV.
Christine Adams and Harry Holland are no strangers to big projects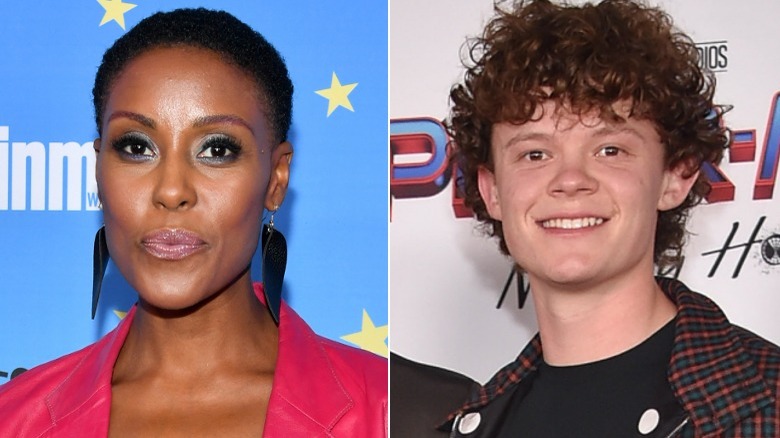 DFree/Shutterstock & Amy Sussman/Getty Images
Beyond her appearance as Captain Sheegoth in "The Mandalorian," Christine Adams has appeared in all manner of popular properties. To date, she's guest starred on an episode of "Doctor Who" during the Christopher Eccleston era, recurred as the noble Agent Weaver in the first two seasons of Marvel's "Agents of S.H.I.E.L.D.," and starred throughout DC's "Black Lightning" on as the titular superhero's ex-wife Lynn Stewart. In terms of movies, she's appeared in 2005's "Batman Begins," 2010's "Tron: Legacy," and 2011's "The Girl with the Dragon Tattoo."
The Mon Calamari prince's actor Harry Holland has a considerably more slim acting background, but he's still got some major credits to boast, as well as an important connection to one of the biggest actors of the modern generation. Harry Holland is actually "Spider-Man" actor Tom Holland's brother, and the two have appeared together on several productions throughout their careers, including the 2012 disaster movie "The Impossible," the 2021 Apple Original movie "Cherry," and even the MCU blockbuster "Spider-Man: No Way Home." Holland also once portrayed the real-life Prince Harry of British royalty in the biopic "Diana."
If audiences weren't playing close attention to the credits for "The Mandalorian" Season 3, Episode 6, they may have never known that the episode was hiding two major guest stars in plain sight. Only time will tell if Adams and Holland's characters make a return down the line and rekindle their forbidden romance.