Gilmore Girls Fans Love Episodes That Focus On Lorelai And Emily's Dynamic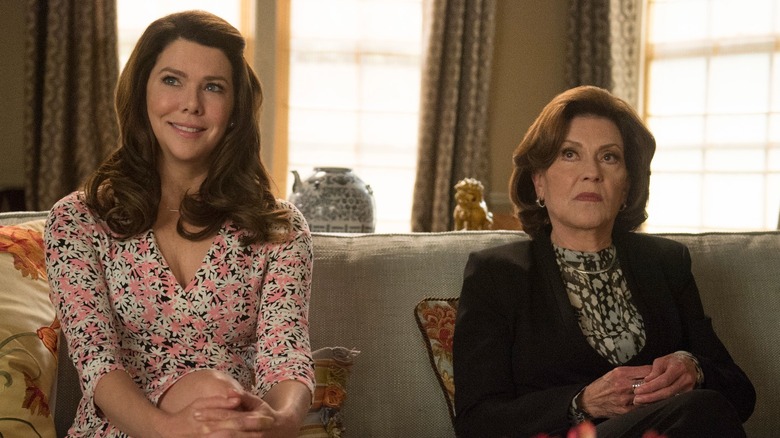 Neil Jacobs/Netflix
Among the dramedies airing on The WB during the 2000s, "Gilmore Girls" stood out for its perceptive storytelling, quirky humor, and compelling acting. The series and the 2016 reunion Netflix reunion special "Gilmore Girls: A Year in the Life" featured numerous heartfelt moments between series leads Lorelai (Lauren Graham) and Rory Gilmore (Alexis Bledel). Still, the former's relationship with her mother, Emily (Kelly Bishop), was also memorable for its highs and lows, with more of the latter than the former on first viewing.
Fans of the franchise feel similarly despite the many disagreements and arguments between mother and daughter. On Twitter, @chemicalLeon states, "Those Gilmore girls episodes where Emily and Lorelai actually get along for a small moment," followed by four heart emojis.
Although sometimes portrayed as an antagonist against her daughter, many fans sympathize with Emily in retrospect. But it's the unique dynamic between these two Gilmore girls that numerous viewers find captivating.
Fans admire both the highs and lows and Lorelai and Emily's relationship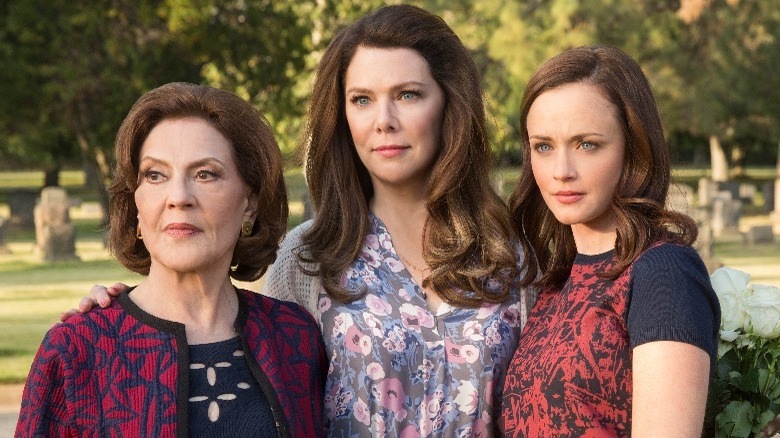 Robert Voets/Netflix
"Gilmore Girls" was primarily about the trials and tribulations in parent-child relationships, as seen through the eyes of three generations of women. The close bond between Lorelai and Rory was in stark contrast to Emily's bond with her adult daughter. But the two elder Gilmores were not without some touching mother-daughter scenes that fans have pointed out.
@mz_zina tweeted, "I need a rewatch, the scene I want to watch is when Lorelai and Emily volunteered to walk the runway and they walked to girls just wanna have fun at the hotel Lorelai managed. Gilmore girls >...," and pointed to a GIF of Rory talking to a friend.
But Lorelai and Emily's dynamic was also not without its emotional significance, with @cvntlverrr pointing out how the two dispelled the myth of "Gilmore Girls" being a comfort show due to their need to cry after watching most of their scenes together.
Much of this viewer response is thanks to the actors highlighted on a thread discussing the pair on the program's subreddit page. Redditor u/Gimorestan22 commented on the dynamic between Lauren Graham and Kelly Bishop that Graham spoke about in her 2016 book "Talking as Fast as I Can: From Gilmore Girls to Gilmore Girls (and Everything in Between)." The close bond between the two performers provided audiences with the unforgettable chemistry fans still cannot get enough of.