There's A Mini Magnum P.I. Reunion Scheduled For Blue Bloods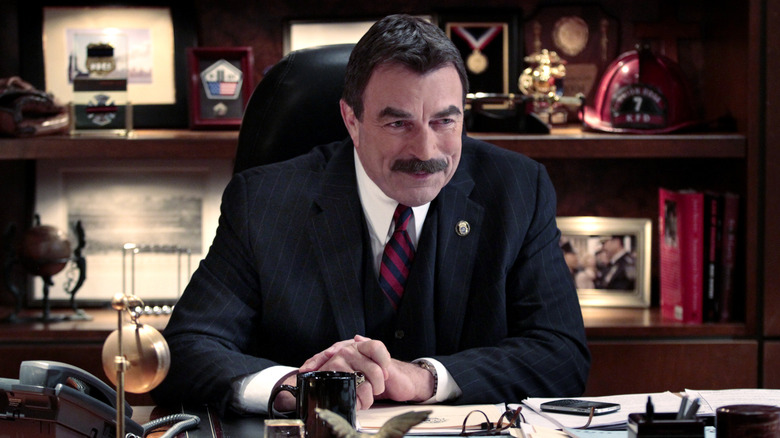 John P. Filo/CBS
Contains general spoilers for "Blue Bloods" Season 13
Riding high on its Season 14 renewal, "Blue Bloods" is set to host a major reunion during its 13th season — though it's between Tom Selleck and one of his "Magnum P.I." castmates and not the rest of the Reagan family and their long-lost relative Nicky Boyle-Reagan (Sami Gayle). Larry Manetti, who played Orville "Rick" Wright on the original "Magnum P.I." series, is slated to appear on "Blue Bloods" in an upcoming episode which, per TV Line, will air on April 21. There's no word as to who Larry Manetti will be playing on "Blue Bloods," but it's presumptive that he'll be a friend of Selleck's Frank Reagan.
"Blue Bloods" is a show that generally favors references to its actors' previous work in the entertainment world; just look at the many references to New Kids on the Block Donnie Wahlberg has managed to sneak in. But this will make a real high watermark for the long-lived series: the first time one of Selleck's previous major castmates has guest-starred on the show. And the cast of "Blue Bloods" isn't shy about showing off how much fun it was having Manetti on the set.
This marks the first time Tom Selleck has reunited with a Magnum P.I. cast member for Blue Bloods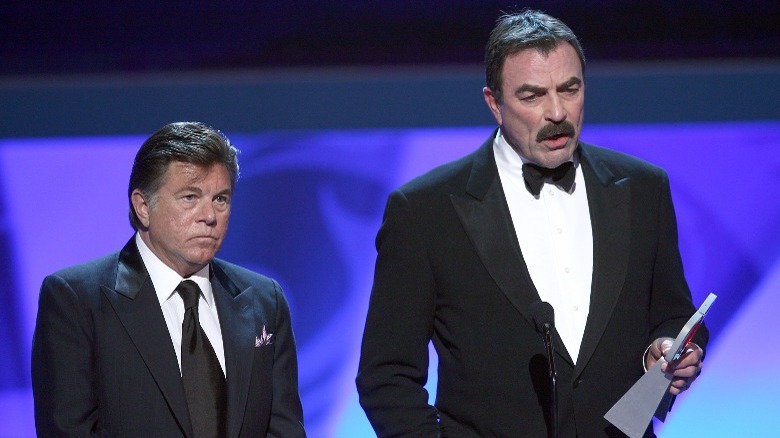 Alberto E. Rodriguez/Getty Images
It looks like the cast of "Blue Bloods" gave Larry Manetti a warm welcome when he showed up to film for the series. Donnie Wahlberg posted a photograph of Manetti and the rest of the Reagan cast to his Instagram on February 27, hyping up the "Magnum P.I." star's guest appearance. "#MagnumMonday! It's a mini 'Magnum P.I.' reunion, on the set of #BlueBloods this week, with guest star Larry Manetti & Tom Selleck — together again. Wishing the late greats Roger E Mosley & John Hillerman could be here, too," Wahlberg's post reads. Selleck, Bridget Moynahan (Erin Reagan), Will Estes (Jamie Reagan), Andrew Terraciano (Sean Reagan), Len Cariou (Henry Reagan), and Vanessa Ray (Eddie Janko) also appear in the picture.
The episode will mark the first time any regular cast member from the original "Magnum P.I." series has appeared on "Blue Bloods." Selleck and Manetti are the show's only remaining living regular cast members, likely meaning this is one of the few times "Magnum P.I." fans will see a reunion on a hit television series. Hopefully, the guest shot will be a bright spot in the lives of "Magnum" fans everywhere.