Law & Order: SVU's Mariska Hargitay Didn't Realize Dick Wolf Was A Massive Success When She Auditioned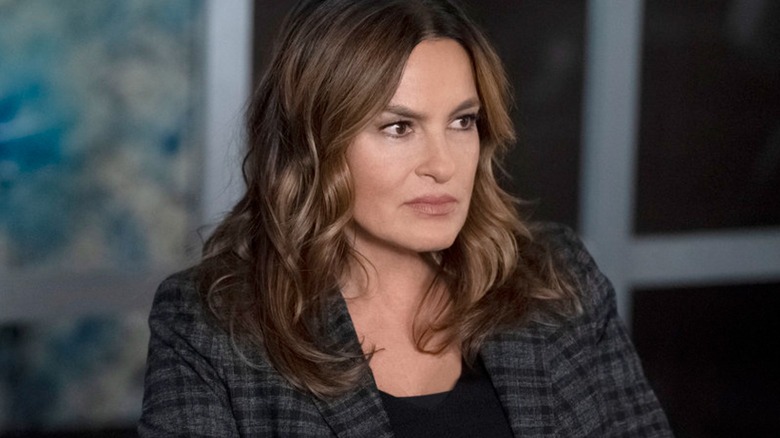 Heidi Gutman/NBC
As far as prolific television producers go, Dick Wolf is undeniably among the most famous and successful of the bunch. Throughout his time in the entertainment sphere, he's led the charge on such franchises "Law & Order," One Chicago, and "FBI," in addition to numerous other standalone titles. Suffice to say, he has more than left his mark on the small screen. Although, surprisingly, "Law & Order: Special Victims Unit" staple Mariska Hargitay had no idea Wolf was such an important figure when she auditioned for the now-long-running program decades ago.
While sitting down for a chat on "The Late Show with Stephen Colbert," Hargitay recalled the process of auditioning for "Law & Order: SVU" and her earliest interactions with Wolf. "I sort of didn't understand fully who he was, you know, that he was this creative visionary of television," she admitted. As a result of this lack of knowledge of Wolf's status, she accidentally acted somewhat patronizing toward him when he gave her notes on her audition. Despite this, she was selected to be Olivia Benson and has since developed a great relationship with the producer.
As if that wasn't bad enough, it turns out that Mariska Hargitay's first encounter with future co-star Christopher Meloni was just as awkward.
Hargitay initially thought Christopher Meloni was John Slattery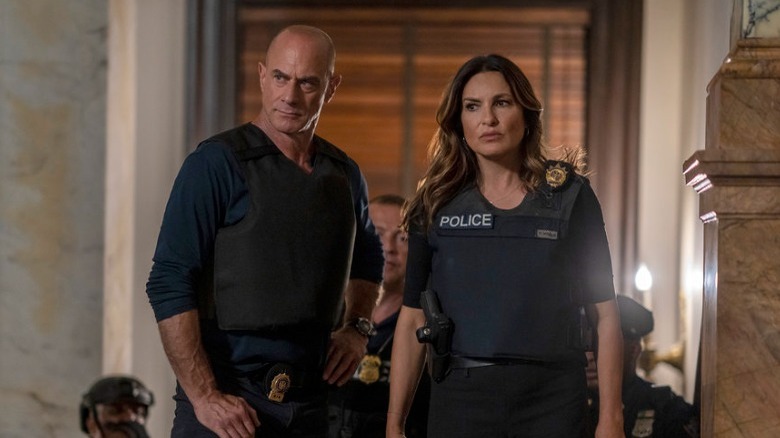 Zach Dilgard/NBC
Throughout her "Law & Order: SVU" tenure, Mariska Hargitay hasn't worked with anyone — perhaps aside from Dick Wolf — more closely than she has with Christopher Meloni. From the moment work on the first season began, the two became inseparable as they brought investigators Olivia Benson and Elliot Stabler to life — two characters that are now regarded as television legends. Of course, it wasn't always this way, with their first in-person meeting going down quite awkwardly, according to Hargitay's recollection.
Much like her working relationship with Wolf got off to an odd start, so did hers with Meloni. During a visit to The Paley Center for Media, Hargitay and Wolf took a trip down memory lane to share how she and Meloni wound up as the leads of "SVU." Wolf claimed that Hargitay and Meloni "cheated" by working together to nail the audition ahead of time, but she refutes this claim with the funniest anecdote. "I didn't know Chris, remember? And I went up to him and called him John Slattery," she shared, and despite the mix-up, they went on to become a great pairing on-screen and close real-life friends.
It has often been said that you only get one chance to make a good first impression. For Mariska Hargitay, some of her introductions to her "Law & Order: SVU" colleagues weren't too great, but thankfully, they turned out to be the unexpected starts of great things.