Movies That Lost Their Perfect Rotten Tomatoes Score Due To One Review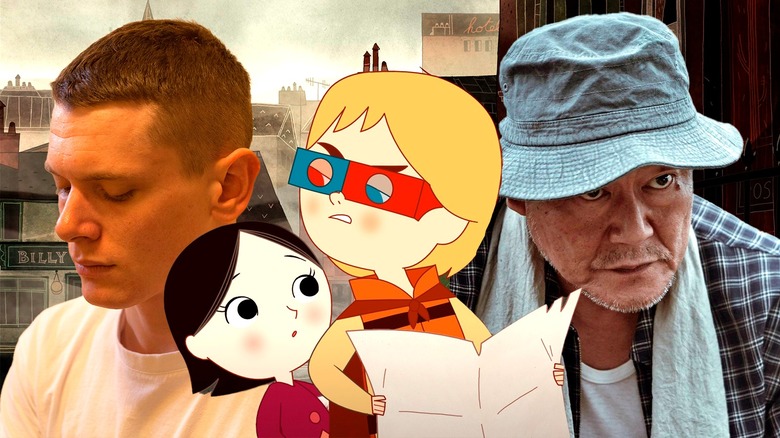 Static Media
Although there's a long list of movies on Rotten Tomatoes with a perfect Tomatometer score, there's also a case to be made for those films that slightly fell short or marginally lost the privilege to be in the 100% club. And luckily, we're here to shine a light on those films — the documentaries, indie gems, and cinematic classics that awed critics except for that one bad review. Whether these films are flawless or near-perfect remains down to the viewer, but each has its merits and individual achievements that should be celebrated.
When it comes to movies, the definition of perfect differs for each critic, for sure, and the finger of blame shouldn't be pointed at that one critic who happened to go against the flow. Ultimately, it is intriguing to examine why an almost universally beloved and popular flick didn't appeal to one person when it did to many others. Here are some of the movies that lost their perfect Rotten Tomatoes score due to one review.  
Truman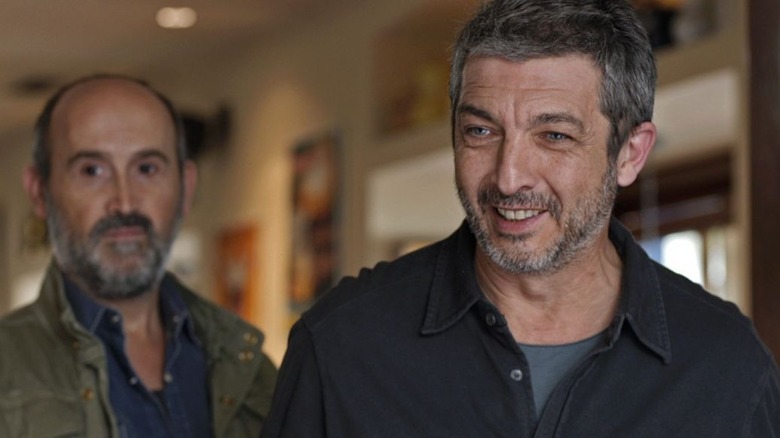 Filmax
Despite its impressive score on Rotten Tomatoes, Cesc Gay's 2015 comedy-drama, "Truman," isn't a movie you see on many best-of lists. But it absolutely should be. The plot follows two lifelong friends, Julian (Ricardo Darin) and Tomas (Javier Camara), as the latter flies in from Canada to Spain to visit his best friend for one last time. Julian has final-stage lung cancer. The treatments he had didn't work, and he decided to enjoy the little time he had left before the disease completely deprived him of every bit of joy in life. Respecting his decision, Tomas accompanies him for four days while he settles things like finding a guardian for his lovely dog Truman, choosing a casket for his own funeral, and celebrating his son's birthday in Amsterdam. The film poignantly conveys the beauty of friendship, death, and saying goodbye to life with dignity.
Despite its heavy and emotional subject matter, "Truman" finds thoughtful and uplifting moments in the most mundane things of everyday life, conveying intimacy and love in unexpected and rewarding ways. It's no surprise that most critics couldn't resist its charm, however, one felt it didn't quite strike the right balance in tone — leaving the film just shy of a perfect score. 
The Tale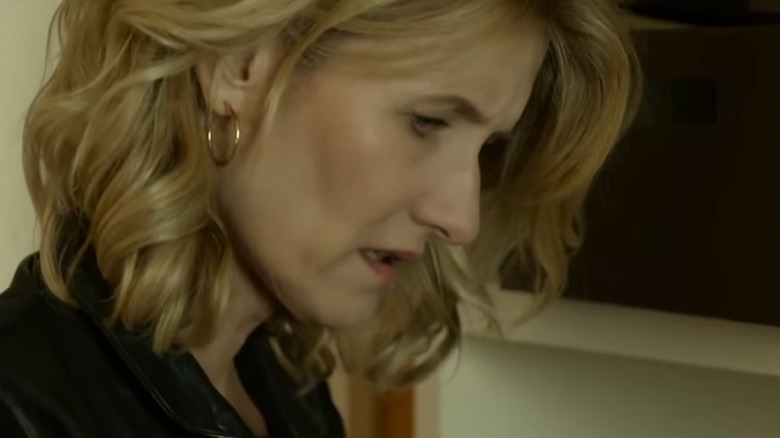 HBO Films
2018 HBO drama "The Tale," directed by Jennifer Fox and starring Laura Dern, is a bold and risky take on child abuse and molestation. It pays off, and the result is a film that is as thought-provoking, raw, and uncomfortable as it is disturbing. The story is based on Fox's own experience and how she dealt with its repercussions as an adult.
The plot follows Jennifer (Dern), a successful documentary filmmaker, who one day receives a phone call from her worried mother, saying that she found one of the essays she wrote when she was 13. In it, Jennifer details a sexual relationship with her riding instructor and running coach, who were in their 40s at the time. Forced to recall her faded memories, Jennifer goes down a rabbit hole to investigate what happened to her all those years ago. Faced with the uncomfortable truth, she decides to confront the individuals who took advantage of her naivety and youth.
"The Tale" is a harrowing, unapologetic film, highlighting how our minds can rewrite painful memories to shield us from devastating and cruel experiences we couldn't cope with at the time. It's one of the main reasons critics praised it highly, with the only nitpick being that it feels like a TV movie. Even the exception to the overwhelmingly positive reviews concedes that the cast is exceptional, and the performances from Dern, Elizabeth Debicki, Ellen Burstyn, and the young Isabelle Nélisse carry the weight of the heavy material.
If you or anyone you know has been a victim of sexual assault, help is available. Visit the Rape, Abuse & Incest National Network website or contact RAINN's National Helpline at 1-800-656-HOPE (4673).
Starred Up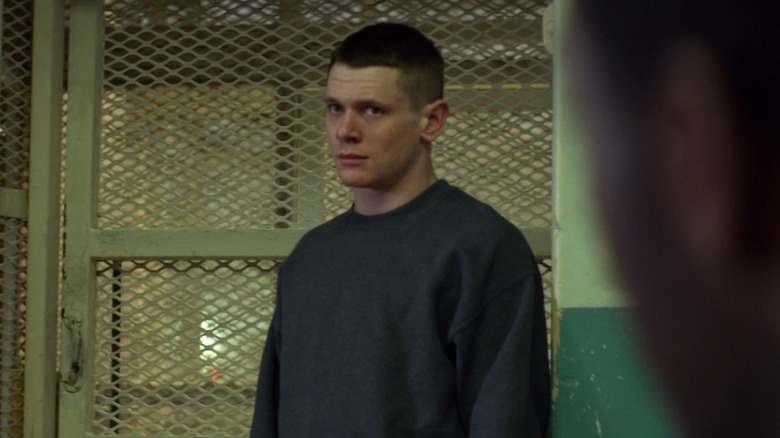 20th Century Fox
David Mackenzie's 2013 prison drama, "Starred Up," is a cult classic for a reason. It features Jack O'Connell and Ben Mendelsohn at their absolute best, while also delivering an accurate, explicit, and realistic depiction of prison life in the U.K. Unsurprisingly, the movie garnered several award nominations, including Bafta and the British Independent Film Awards.
The plot follows a young criminal, Eric Love (O'Connell), who's moved from a juvenile penitentiary to a high-security adult prison where his father, Neville (Mendelsohn), is serving a life sentence. Neville is a respected and feared member of a criminal organization with authority and power inside those walls. Although the two have a tumultuous and emotionally distant relationship, Neville does everything he can to convince his son to follow the rules and prevent him from making stupid mistakes that could result in spending the rest of his life behind bars. He's not the only one looking out for Eric's future, though. Oliver (Rupert Friend), a prison therapist who runs a group for young criminal offenders, is also trying to help Eric with his traumas and violent behavior so he can be rehabilitated. But Eric's wild side and violent outbursts put his future in doubt about whether he can turn his life around for good. Tragic, empathetic, and fierce, "Starred Up" deserves all the accolades given by critics, and its exclusion from the 100% club doesn't change how highly regarded it is.
L.A. Confidential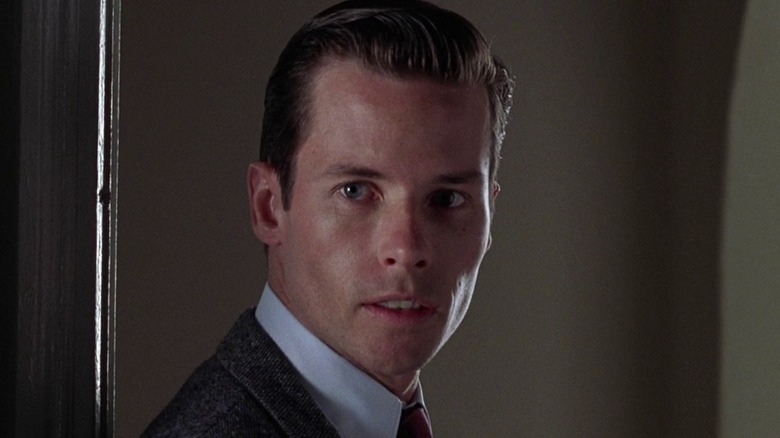 Warner Bros.
1997 crime epic, "L.A. Confidential," is a timeless classic based on James Ellroy's acclaimed neo-noir novel of the same name. It's an intricate, merciless, and sharp adaptation that examines murder and corruption in Los Angeles in the '50s through the eyes of three vastly different policemen.
Edmund Exley (Guy Pearce), an LAPD sergeant, is an honest cop trying to follow in his late father's footsteps and avenge him after he was brutally murdered by an unidentified killer. Bud White (Russell Crowe) is the opposite — a dirty, brutish officer with a deep-seated hatred towards men who hurt women, and who has tender feelings for the Hollywood prostitute Lynn Bracken (Kim Basinger). Jack Vincennes (Kevin Spacey), a sergeant at the narcotics department, is a swindler who'd sell his own mother for a buck. Exploiting his authority, he's specialized in high-profile celebrity arrests and receives tips regularly from the local tabloid magazine run by Sid Hudgens (Danny DeVito). As the paths of these men cross, they get entangled in some intricate cases that go higher up in the Los Angeles hierarchy than any of them could imagine.
With arresting performances on all counts, a deft script, and an intoxicating milieu of '50s Los Angeles, "L.A. Confidential" is a rare cinematic triumph. While one critic found the pacing frustrating, many others praised the slow-burn approach of the film — something that particularly pays tribute to the noir films of yesteryear that inspired it.
Saint Frances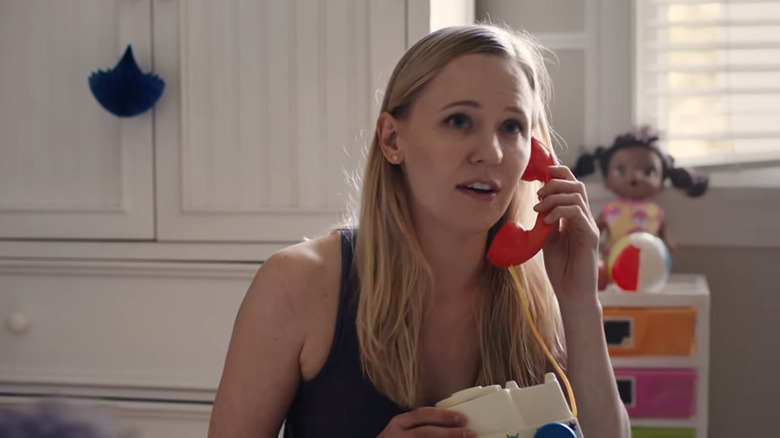 Oscilloscope
Alex Thompson's 2019 dramedy "Saint Frances" won over viewers with sweetness, heart, and honesty. By tackling heavy topics such as abortion, unwanted pregnancy, and intimacy issues in a light-hearted manner, the film is a vulnerable yet humorous portrayal of a young woman who struggles to find her path.
The plot follows Bridget (Kelly O'Sullivan), a 34-year-old nanny, who gets a job babysitting the adorable 6-year-old Frances (Ramona Edith Williams). Although the two don't hit it off instantly, they slowly develop a heartening connection that makes them an irresistibly cheerful duo that's an absolute joy to watch on the screen. Bridget also gets involved in a romantic relationship with the shy and restrained Jace (Max Lipchitz), and their romance quickly brings on an unplanned pregnancy that puts them in a tough spot, forcing them to think about their future and make a lasting decision.
In 2020, the movie was nominatedfor the Independent Spirit John Cassavetes Award and proved to be a hit with many critics. Even though one accused the film of being ineffective and tonally uneven, the majority praised its warmth, wit, and honesty. 
Chinatown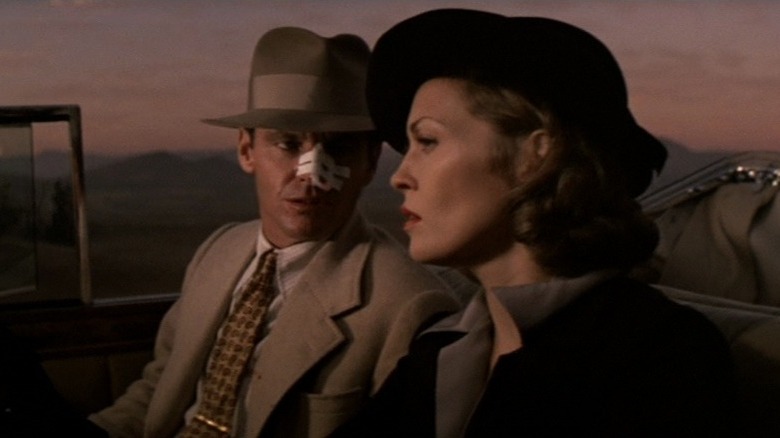 Paramount Pictures
Based on the critical consensus, the 1974 neo-noir, "Chinatown," is one of the greatest films of all time. Whether you like the movie or not, you simply can't ignore its prestigious qualities: a smart and layered screenplay, excellent acting, and an atmospheric score by Jerry Goldsmith. Surprisingly, one of the naysayers of this all-time great was the legendary Chicago Tribune film critic, the late Gene Siskel. He was famous for his sharp and well-argued criticisms, never trying to hide if he didn't like a popular film that almost everyone else did — including his friend and colleague Roger Ebert. Besides "Chinatown," Siskel also had some harsh words to say about iconic flicks such as "The Big Lebowski," "Thelma & Louise," and "Silverado."
"Chinatown" tells the story of J.J. Gittes (Jack Nicholson), who's hired by a peculiar woman named Evelyn Mulwray (Faye Dunaway) to investigate whether her husband cheats on her. This seemingly simple case sends Gittes down a road of corruption, deception, and murder as he finds himself more involved and determined to figure out how the clues lead to some of the most powerful men in Los Angeles.
"Chinatown" was nominated for 11 Oscars — including best picture, best director, and best cinematography — eventually winning best original screenplay in 1975. Even after all these years, the wonderful Gene Siskel is still the only dissenting voice on this film according to Rotten Tomatoes — something that is an achievement in itself. 
A Separation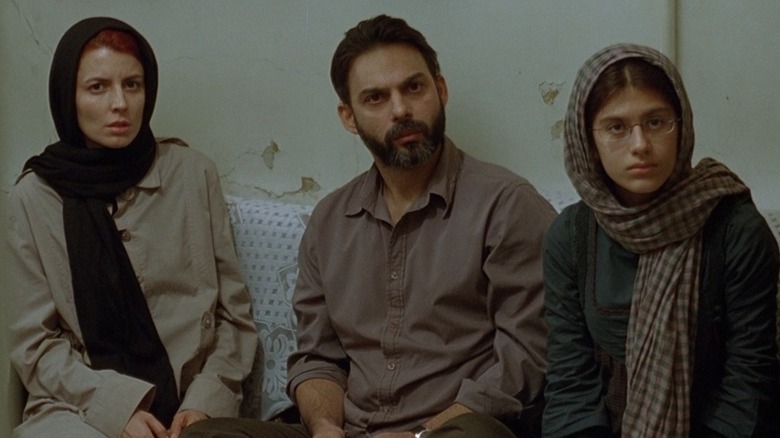 Sony Pictures Classics
Iranian drama, "A Separation" — from director Asghar Farhadi — caught the film industry by storm. Acclaimed American filmmakers praised his effort, and critics were in awe of the production too. This modest yet powerful and heart-breaking indie movie became a box office success, making an estimated $24 million on an $800 000 budget (per The Numbers). In 2012, it was the first Iranian film to win the Oscar for best foreign language film of the year.
The plot follows Nader (Payman Maadi) and Simin (Leila Hatami), a married couple living in Tehran with their daughter. Simin decides to file for divorce because she wants to leave the country in hope of a better and more sustainable life, while Nader prefers to stay to look after his elderly father who suffers from Alzheimer's. There's clearly some vicious tension between the two which simply can't be resolved. However, the court rejects their application, deeming it insufficient. Left with no choice, the couple has to stay together and somehow manage this unpleasant situation until they can get a divorce. This leads to overwhelming family tragedies and serious consequences that put the entire household in danger.
"A Separation" is a devastatingly bleak and realistic portrayal of a dysfunctional family that is almost too hard to bear at times. It's no surprise that most critics found it exceptional and worthy of admiration, with one anomaly finding the emotional heaviness too tedious to be enjoyable.
Amazing Grace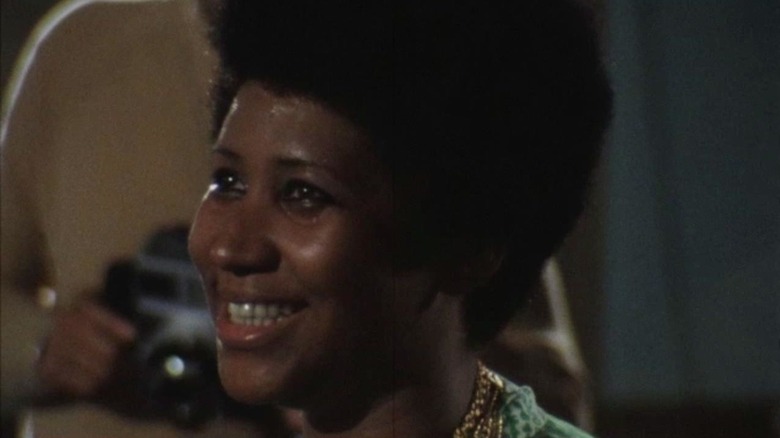 Neon
Alan Elliott and Sydney Pollack's music documentary, "Amazing Grace," is a rare achievement that suffered from a myriad of legal problems until it was finally released in 2018. The film presents footage of Aretha Franklin recording her famous gospel album "Amazing Grace" in front of a live audience accompanied by a community choir at the New Temple Missionary Baptist Church in Los Angeles in 1972. It wasn't released at the time due to technical and synchronizing issues, and it sat in a Warner Bros. vault for years until Elliott bought the rights. After he repaired and edited the tape, he planned to release it in 2011, which never happened because Franklin sued him for "appropriating her likeness without permission" (via Los Angeles Times. In 2015, Franklin sued Elliott again for undisclosed reasons. After she died in 2018, the singer's niece, Sabrina Owens, came to an agreement with Elliott — after having watched the completed documentary — and approved its release on behalf of the estate.
The 87-minute-long footage features legendary musicians like James Cleveland, Cornell Dupree, Chuck Rainey, and more. After it was more widely screened, the movie quickly gathered a vastly positive reception from critics and viewers. The raw talent of Franklin is at the center of this documentary, however, one negative review felt it missed some opportunities to really get to the heart of her artistry.
The Wailing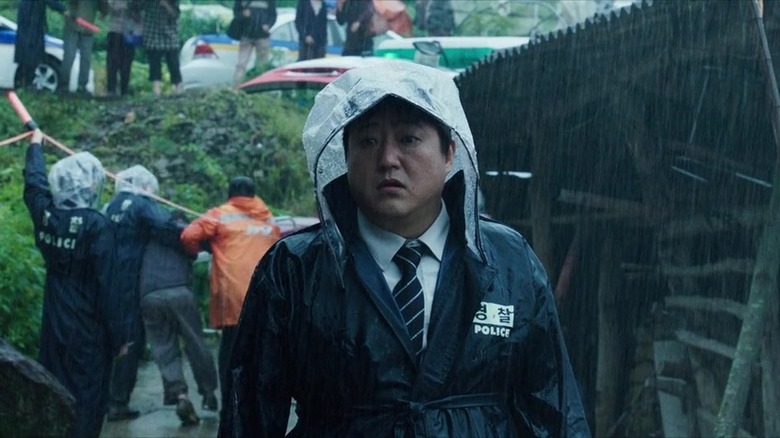 20th Century Fox
Riding the successful wave of South Korean horrors, Na Hong-jin's 2016 feature, "The Wailing," doubled down on murder, mystery, and chaos. Like his previous, similarly gripping movies "The Chaser" and "The Yellow Sea," "The Wailing" was another project that was successful both critically and commercially. It was a box office hit, making nearly $50 million on a relatively small $6 million budget.
The story takes place in a tiny South Korean village in the mountains where a bizarre disease breaks out and starts infecting the locals, who inexplicably go berserk and begin slaying their own families. Policeman Jong-goo (Kwak Do-won) is put on the case to investigate these devastating and strange occurrences. As he digs deeper into what's happening, things unravel in bloody and unsettling ways. In a journey that includes shamans, spirits, and supernatural creatures, madness ensues and the explanations arrive from places we least expect.
Despite a single negative review claiming that the narrative can't justify the long run-time, most critics raved about "The Wailing" and it is currently holding firm with a 99% approval rating on Rotten Tomatoes.
Song of the Sea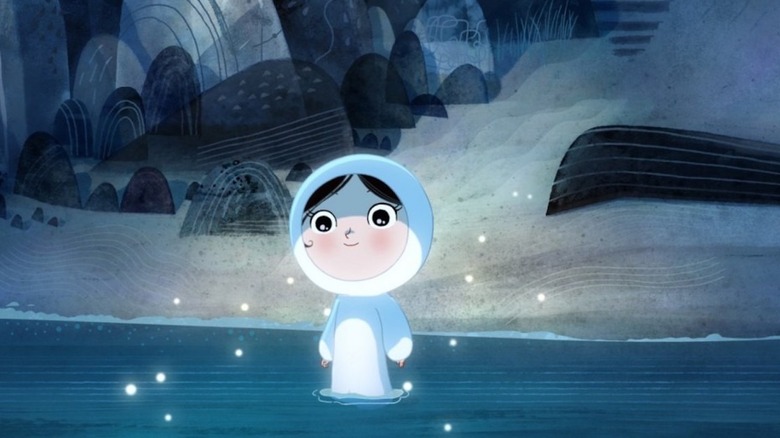 GKIDS
"Song of the Sea" — a delightful 2014 animated adventure — was swooned over by critics and viewers for the way it combines Irish folklore with beautiful hand-drawn images and a touching story. As a co-production of several European filmmakers, the film is rich in culture and has a distinctive atmosphere. So it's no surprise it's been recognized by several award organizations – including the Oscars — and was nominated for multiple titles, eventually winning a Satellite Award and the European Film Award for best animated feature film.
The plot follows an Irish boy, Ben (David Rawle), his father, Conor (Brendan Gleeson), and his sister Saoirse (Lucy O'Connell), who live in a lighthouse on an island on the coast of Ireland. It's a broken family, however, since the children's mother, Bronach (Lisa Hannigan), disappeared after she gave birth to Saoirse. On Saoirse's 6th birthday, their grandmother arrives and convinces Conor to move to the city since it would be better for the kids to grow up there. After some consideration, the father agrees. Once they move to the mainland, Ben and Saoirse find themselves entangled in a magical mission that involves fairies, spirits, and other Celtic creatures who desperately need their help.
The second movie in Moore's "Irish Folklore Trilogy" — which also includes "The Secret of Kells" and "Wolfwalkers" — received almost comprehensive praise from critics. It seems there is little to critique about this charming film, but it didn't speak to everyone with the one discordant review suggesting that the characters were not as fleshed out as they could've been.
Miss Juneteenth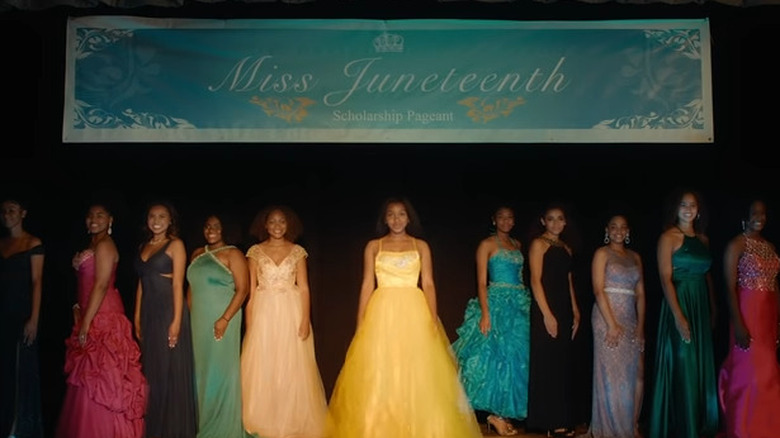 Vertical Entertainment
Filled with rough beauty, grace, and realism, the indie drama "Miss Juneteenth" impressed critics in 2020. In no small part thanks to Nicole Beharie's magnetic and genuine star performance as Turquoise, a single mom and ex-beauty queen living with her daughter Kai (Alexis Chikaeze) in Fort Worth, Texas. Trying to make ends meet and provide for her daughter as much as possible, she works two jobs and enters Kai to the local Miss Juneteenth pageant in hope of winning the contest's first prize — a scholarship to a reputable college she couldn't afford otherwise. Kai has no interest in participating but goes along with it for her mother, anyway. During the process of preparing for the pageant, she realizes how much this means to her mom and the reason why her career was derailed when she became pregnant with her 15 years ago.
Even though one critic felt "Miss Juneteenth" failed to avoid the tropes of the genre and played things a little safe, it was otherwise widely acclaimed and is still highly regarded by critics and audiences. 
Ash Is Purest White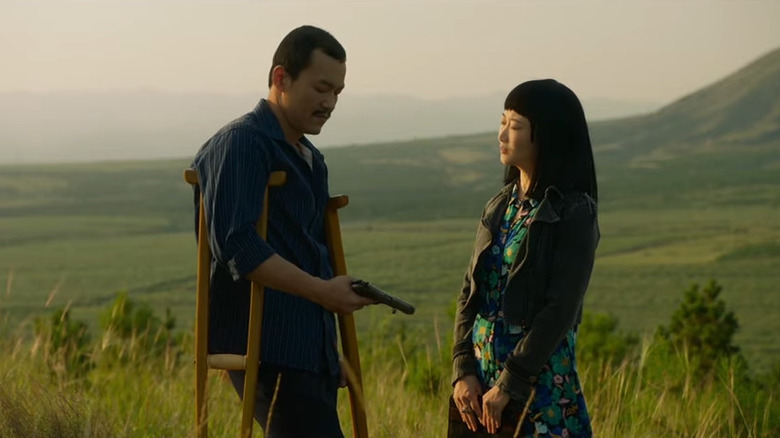 Cohen Media Group
With a unique melancholy vibe, the 2018 drama "Ash Is Purest White" distinguishes itself from any similar Asian cinema. Part gangster movie, part tragic love story — leaning more towards the latter — it has none of the trademark characteristics that are usually employed in these genre films. This quality definitely elevates the picture as a pure and original Chinese movie, and it might be why most critics took to it so unanimously — except for one, of course.
The plot tells the story of a 16-year-long romance between a local girl from a poor Chinese neighborhood, Qiao (Tao Zhao), and a mob boss, Bin (Fan Liao), in the city of Datong. The movie shows how the two go from respected and feared figures in their community to penniless and disgraced nobodies rejected by society. It's a slow transformation as we watch them go through incarceration and several life changes that gradually destroy their relationship and the love that burned in them for each other.
Although Jia's epic didn't do particularly well at the box office, it was nominated for multiple prestigious awards and garnered almost universal praise from critics. Even the one negative review praised the cinematography, lead performances, and moving storyline, but felt the long runtime dragged it down.