Sons Of Anarchy's Ron Perlman Never Got Fully Into The Whole Motorcycle Thing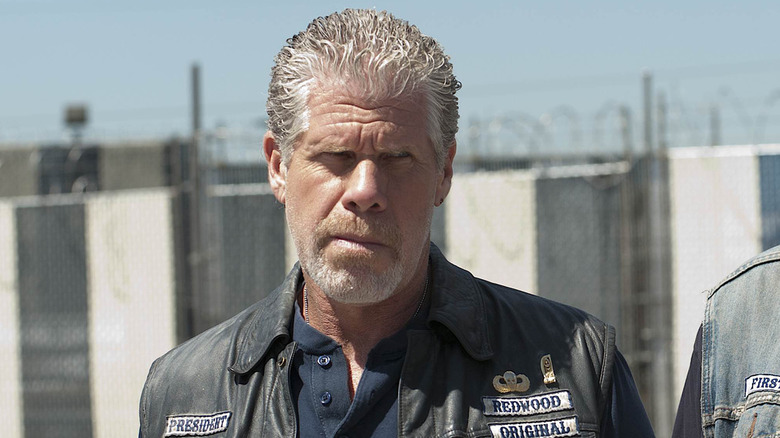 FX
It sure was an emotional ride in Kurt Sutter's "Hamlet"-on-hogs-like tale that was "Sons of Anarchy." One of the biggest draws to the show, however, was the stoic legend of the big and small screen, Ron Perlman. Replacing Scott Glenn after the pilot episode, Perlman played head of the biker table, Clay Morrow, ruling his chapter with an iron fist in biker gloves until he was killed off in Season 6, which for fans, left a large hole in the show's final season. As it turned out, though, when it came to the variety of requirements for Perlman's pivotal role in the show, there was one thing on his list of which he was surprisingly not a fan. 
During a Reddit AMA with Ron Perlman, the actor revealed that while he appreciated the love for bikes, they really didn't rev his engine. u/MrMojo501 asked Perlman, "Given your badass performance in SoA do you consider yourself a fan of motorcycles in real life as well?" The former SAMCRO president was totally honest, saying, "Never really got hooked on the whole bike thing, I guess. But completely understand the fascination. Just wasn't that guy."
Ron Perlman never got the biker bug during his time on Sons of Anarchy
The source of the disinterest may have been revealed sometime after he departed from the show, though, when Perlman admitted on The Rich Eisen Show that he and bikes had a sensitive relationship. "I never really had to do much physical stuff as Clay except pick up the bike that I had just dropped because I set a record for dropping the bike while filming," he said. Perlman admitted that it became somewhat of an issue on set, adding, "When I would start the bike, and I would get ready to pull out at the end of the shot after all the dialogue was over, people would go, 'Cut! Cut! Cut!' Because they thought I was gonna kill myself and others. It was not a good idea." 
That may be so, but in the grand scheme of things, Perlman's role didn't really demand much biking action. Ruling his SAMCRO-based castle from either that iconic table or often standing around the SOA base of operations, it was something that Perlman was fully aware of. Speaking to NPR, he said, "depending on who you ask, I never did much riding after the fact, either. Me and the bike, we — let's put it this way — I'd rather be eating Haagen-Dazs." Be that as it may, Perlman, for all his transport issues, still managed to make running a gang of criminals as easy as, well, riding a bike, of course.