Naruto: Fans Agree This Character Is The Most Fashionable In The Series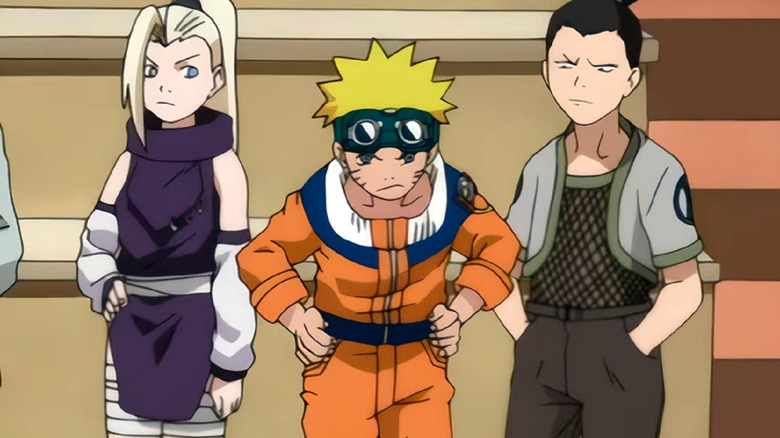 Viz Media
"Naruto" is an anime that presents many reasons why it appeals to so many people all over the world. From Naruto Uzamaki's relatable underdog story to the fight scenes that pushed the envelope of dynamic animated action, the series has much to offer and love. With visuals being such an essential factor in anime and manga, the stellar character design in the series doesn't hurt either. Whether it's green jumpsuits, bold rompers, or the clean porcelain masks of the Anbu, the numerous heroes and villains in "Naruto" obviously know how to rock a look.
While the old depictions of shinobi see them sporting simple black outfits, the characters of "Naruto" are a lot more colorful. That's due to series creator Masashi Kishimoto wanting to make a different kind of ninja design-wise. As a result, we got countless characters that could easily ninja run down the catwalk. But among fans on Reddit, there's one name that kept coming up beyond others when it comes to fashion stakes. "Many ninjas have drip, but Minato's got style," u/New-Orion posted. That's right, when it comes to the titleholder of the most fashionable in the series, many fans found that Minato Namikaze — aka The Fourth Hokage — could lead a village and look fabulous while doing so.
Fans believe Minato could even make an apron look good
Even before we learn the truth about Minato being Naruto's father, he's always presented in the series as this larger-than-life myth. Stories are spread from allies and enemies of his astonishing feats on the battlefield, but maybe they also should have talked about his threads. As one fan noted, Minato's meme-able pink apron look is still pretty solid. And even when stripped down to just the standard Konoha tactical vest that many within the village wear, he still stands out. As u/Dark_Cold_Moons expertly noted, "Minato and Kakashi made flak jackets look like Supreme hoodies."
A lot can be said here about the adage that it's the person who makes the clothes, not the other way around. Minato always has a calm confidence about him that suggests that even with the most basic clothes, he'll still look fantastic. However, when he's sporting something as eye-catching as his iconic white Hokage cloak, it's almost unfair for any other character in "Naruto." The additions of kanji on the back and red flames on the edges of his cloak provide Minato with a look that has aged considerably well since the series' end. And for fans like u/imakuni1995, it definitely left quite the impression, as they posted, "That scene of Minato putting on his coat has forever changed the way in which I get dressed."
Fans thought even the bad guys had serious drip
Minato may have been the top choice for many fans regarding the most fashionable. However, some threw out many other worthy contenders from the series, including Saskue Uchicha. Honestly, it's fair to consider him since he basically serves as the second most important character in the series. And perhaps because of that fact, he changes his look quite a few times. "Nobody had as many outfit changes as Sasuke, and almost all of them were dope," u/i_like_2_travel wrote. Keeping in the spirit of the bad boys of "Naruto," a lot of fans showed appreciation for the powerful Akatsuki group. Every member was different, but collectively they're fondly remembered for the infamous black cloaks they wore.
With its red cloud decorations, the design comes off as mysterious while also being unfussy. As Masashi Kishimoto once revealed in a Kana interview, he used to use fashion magazines as inspirations for his designs but ultimately focused more on simplicity because of the rigorous weekly schedule for "Naruto." But the Akatsuki cloaks strike that perfect balance between fashionable and simple. It's like timeless streetwear, or as u/pyritedoodle puts it, "Literally the most identifiable iconography in anime."