Harry Potter's Jason Isaacs Cautiously Comments On Cursed Child Film Rumors
The "Harry Potter" franchise has been through some ups and downs in the last few years, but its army of fans is still strong and there are rumors of new feature films being developed at Warner Bros. Discovery, including one based on "Harry Potter and the Cursed Child." The hit stage show by Jack Thorne based on a story developed in part by "Harry Potter" creator J.K. Rowling is a sequel of sorts to the "Harry Potter" series and is set almost 20 years after the conclusion of "Harry Potter and the Deathly Hallows."
In theory, the play could be good source material for another "Harry Potter" movie, and it's natural that fans might anticipate the prospect of such. Now, Jason Isaacs, who played Lucius Malfoy in the original "Harry Potter" movie series, has chimed in on those rumors, albeit in an abundantly cautious manner.
In a chat with Radio Times to promote his role in the game "The Last Worker," Isaacs was asked about the possibility of a film based on "Cursed Child," an apt question given his character's connection to the play's narrative. His answer doesn't exactly seem to be based on any inside information, but it's intriguing nevertheless: "It worked as a piece of theatre. Sometimes things that work as a piece of theatre don't work as films. Sometimes things that work as books don't work in theatre, so I wouldn't... err... never say never."
He praises the play, which he's seen in both incarnations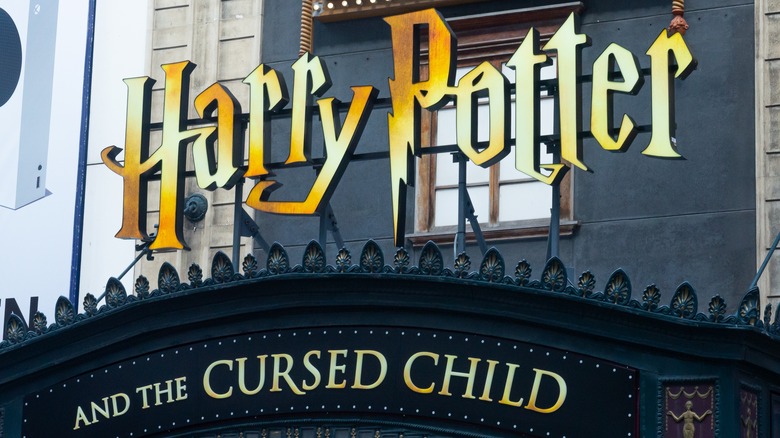 ACHPF/Shutterstock
However divisive "Harry Potter and the Cursed Child" is among the fandom, Jason Isaacs appears to have a positive opinion of it. "I've seen the play. Both plays. I saw the play when it was two plays. It was utterly fantastic. And it did that extraordinary thing that the books did, which is, it brought people to the theatre who didn't go to the theatre, had never gone before and maybe will then go to the theatre a lot more," the actor said.
Rumors of a possible "Harry Potter and the Cursed Child" film have been around since its premiere in 2016, but casting such a film wouldn't be without its challenges. Series star Daniel Radcliffe told the New York Times last year that he wasn't interested in returning to his signature role — at least not yet. "I'm never going to say never, but the 'Star Wars' guys had like 30, 40 years before they went back," Radcliffe said. "For me, it's only been 10. It's not something I'm really interested in doing right now."
As long as the "Harry Potter" franchise (disappearing storylines and all) remains popular, it's a safe bet that its corporate owners will be interested in the prospect of doing more films. But whether or not the "Cursed Child" stage play could serve as source material for such a film remains to be seen — as Isaacs himself says, "never say never."