D&D: Honor Among Thieves' Chris Pine Was Ready To Fight The Studio To Keep This Hilarious Regé-Jean Page Scene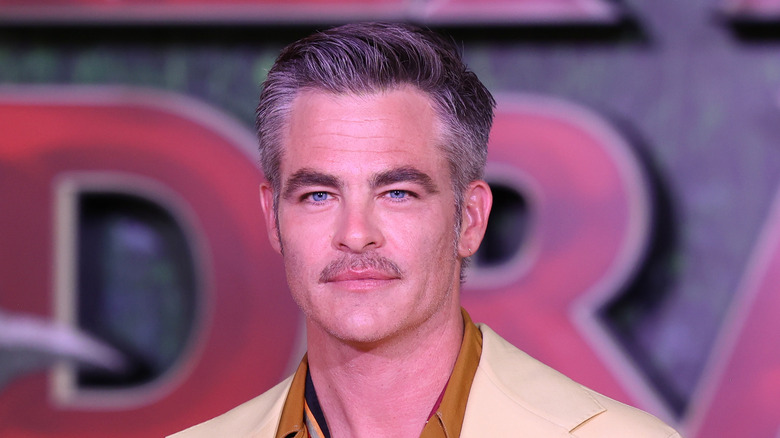 Antonio Torres/Getty Images
"Dungeons & Dragons: Honor Among Thieves," based on the world of the famed tabletop RPG game, has finally hit theaters, and it's one of the year's funniest films. When ex-Harper and current bard Edgin (Chris Pine) and his barbarian friend Holga (Michelle Rodriguez) escape jail, the pair have a laundry list of tasks to accomplish. Most importantly, the pair have to find Edgin's daughter Kira (Chloe Coleman), and to do so, they need to overcome ally-turned-betrayer Forge Fitzwilliam (Hugh Grant) and his red wizard Sofina (Daisy Head) with the help of sorcerer Simon (Justice Smith), druid Doric (Sophia Lillis), and paladin with a highly literal streak, Xenk (Regé-Jean Page).
It's a fun journey with exciting fantasy elements and a humorous edge. In a new interview with Looper's sister site /Film, star Chris Pine discussed his experiences with Dungeons & Dragons, the joke he had to be sold on, and more. He revealed that one of the film's funniest moments involves Page's Xenk traveling in proper paladin style ... in the straightest possible line, including stepping directly over a bolder. It's a comically ludicrous scene, and Pine was willing to defend its inclusion in the film against a studio that didn't fully see the vision (at least at first).
All you have to do is make Chris Pine giggle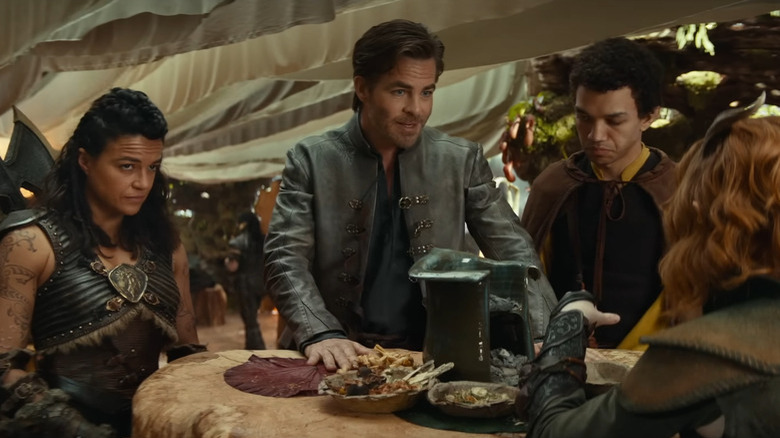 Paramount Pictures
In the interview, Chris Pine noted that the decision-making powers that be had to be sold on Regé-Jean Page's moment of visual comedy by writer-directors Jonathan Goldstein and John Francis Daley. It's something that Pine himself was ready to defend. "One of the things they had to fight for, and what I was prepared to pick up my phone and call the studio about," he explained, "is I don't think they wanted this moment when Xenk — who was played by Regé [-Jean Page], who does an incredible job and who's so funny in this — leaves [the group] and walks in a straight line over a rock."
It's a simple, funny, character-illustrating moment, but they didn't initially have the vision for it. Fortunately, the moment had some high-profile defenders. "John, Jonathan, myself, we love this bit of straight line Xenk," Pine says, "which I think in some iterations had been cut." The team continued to believe in the scene, and it made it into the final cut. "Thank god," he noted, "it was put back in and remains one of my favorite [moments]." What does Pine like about it so much? Simple. "Really," he explained, "it's, just for me, makes me giggle." You can now catch the giggle-inducing scene yourself ... it really rocks.
"Dungeons & Dragons: Honor Among Thieves" is now playing in theaters.
Static Media owns and operates Looper and /Film.