Why Jerry Seinfeld Didn't Have Any Other Ideas For The Sitcom's Name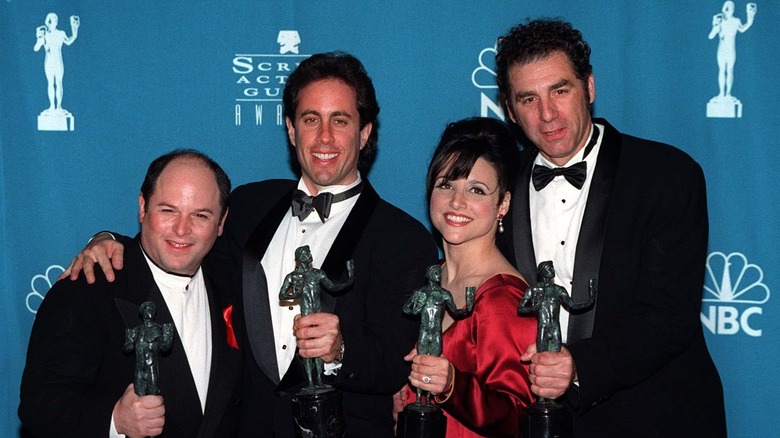 Featureflash Photo Agency/Shutterstock
Pitching a star's name to be in the title of a sitcom isn't exactly a novel idea in Hollywood. From "The Dick Van Dyke Show" and Lucille Ball's "I Love Lucy," and "The Mary Tyler Moore Show," to "George Lopez" and Ray Romano's "Everybody Loves Raymond," and Raven-Symoné's "That's So Raven," either the full or partial name of stars have been lighting up TV screens for decades.
Also among the endless group of sitcoms to feature the name of the star is Jerry Seinfeld's "Seinfeld," which, from 1989 to 1998, presented audiences with what came to be known in the cultural lexicon as a "show about nothing." Seinfeld later bristled at the "nothing" observation, telling Rolling Stone in 2016 that the label was "nonsense."
Ironically, nothing is exactly what Seinfeld initially thought about as far as the prospects of the series' success. As such, he used his name for the title as a way to promote his standup comedy career since he thought the show wouldn't last long. "I thought that would be fun for me and fun for the audience — and I thought the show might only last a couple of episodes, so it might help me sell some tickets at the comedy clubs I was working at," Seinfeld told GQ in a 2017 interview.
But the idea that "Seinfeld" would be short-lived wasn't the only reason Seinfeld named the sitcom after himself.
Seinfeld also figured audiences would refer to the show by his name anyway
"Seinfeld," of course, is about more than Jerry Seinfeld, as it centers on his comedic misadventures in New York City with his good friends Elaine Benes (Julia Louis-Dreyfus), George Costanza (Jason Alexander), and Cosmo Kramer (Michael Richards). Perhaps he could have gone with "Friends" (but another NBC sitcom went on to seize that golden opportunity in 1994), but no matter what other title he could think of, the comedian ultimately knew all roads would lead to "Seinfeld."
"We couldn't think of another title, and we figured that's what people are gonna call it anyway," Seinfeld explained to GQ. "The show is always the name of the guy — it's not 'The Tonight Show,' it's Fallon. You know: I did a Conan; I did a Fallon."
Defying Seinfeld's expectations, his eponymous sitcom lasted for 173 episodes — much more than he expected at the start. Asked by GQ which episode a viewer should watch if they were going to watch only one, Seinfeld couldn't oblige and instead deferred to a restaurant metaphor. It all makes sense, considering how Jerry, Elaine, George, and Kramer spent a considerable amount of time in "Seinfeld" in a diner.
"The thing that is most similar to comedy is food, in that everybody's taste is totally personal," Seinfeld observed. "You go to any restaurant [and say to yourself]: 'I think it was great.' 'I thought it was mediocre.' 'I thought it was too salty.' And it's the same thing with comedy. So, you can't really recommend comedy, in the way that you can't recommend food."