Why Charlie Hunnam Stopped Riding Motorcycles After Sons Of Anarchy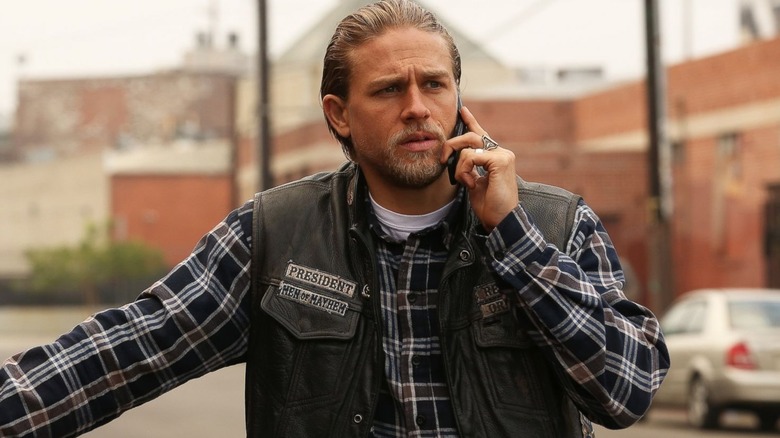 FX
While a big part of "Sons of Anarchy" may have been its dedication to its central biker gang and the culture surrounding it, Jackson "Jax" Teller himself, Charlie Hunnam, isn't exactly prone to riding them in the real world much anymore. During an interview with ET Canada in late 2022, the actor revealed that he sort of lost his confidence in riding motorcycles after the series wrapped up for good in 2014.
"I rode like I was a Hells Angels," Hunnam said. "I took a lot of risks and got away with a lot. As soon as we finished the show, it was like the spell was broken. All of a sudden, I started to worry about being on a bike. You need to ride with confidence, you know? You think about what could go wrong, there is likelihood that something might go wrong. I haven't been on a bike in maybe three years."
Hunnam's reasoning is solid here. Riding a motorcycle can be a dangerous endeavor. Even though the actor has years of experience thanks to his time on "Sons of Anarchy," if it's not something he feels confident doing anymore, then a long break is likely needed. However, this isn't to say that the star doesn't still own a motorcycle.
Hunnam says he still has a motorcycle from his Sons of Anarchy days
During a separate interview with ET in October 2022, Charlie Hunnam spoke to the publication about a potential "Sons of Anarchy" revival. He didn't offer much concrete information about any sort of project or how they would even bring his character Jax back from the dead. However, he did reveal that he still has one of the motorcycles from the show, even if he's not much of a rider anymore.
"I have one of the 'Sons of Anarchy' bikes," Hunnam said. "I rode so hard for so long over that 10, 12-year period that I was riding all the time. I had a couple of close calls, and I just got a niggling voice in the back of my head saying, 'Just take it easy for a minute,' ya know? So, I put about five years where I've been riding so much but I'm starting to feel the urge to get back on the bike."
So while Hunnam does reconfirm here that he's been adverse to riding motorcycles for years, it doesn't sound like the urge to do so has completely left the actor. Whether it's in some kind of new show, a "Sons of Anarchy" revival of some sort, or just in real life, surely fans of the actor would love to see him hop back on the bike in some capacity.