John Wick 4's Shamier Anderson Took Inspiration From Heath Ledger's Joker To Play Mr. Nobody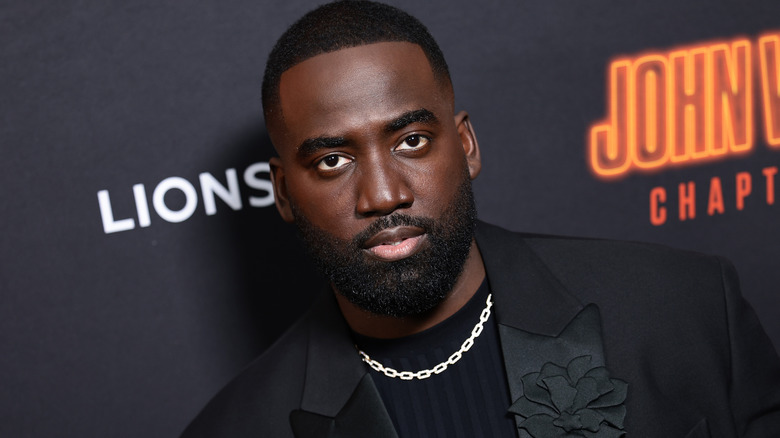 Dimitrios Kambouris/Getty Images
"John Wick: Chapter 4" has blown away the box office and earned some of the best reviews of the entire franchise, which is really saying something. While a lot of praise rightfully goes toward the lead Keanu Reeves and director Chad Stahelski, the film introduces many exciting new characters that could easily spin off into their own franchises, including The Tracker, a.k.a. Mr. Nobody (Shamier Anderson).
True to his name, Mr. Nobody is a blank-slate bounty hunter who's only interested in taking out John Wick if he can get as much money out of it as possible. He aligns himself with various forces throughout the movie, along with his trusted canine, putting him in a real interesting position by the end of the film. And there are many directions he can go because there's still a lot the audience doesn't know about him. 
That's intentional, and Anderson looked toward another mysterious antagonist — Heath Ledger's Joker in "The Dark Knight" — as inspiration. As he told Vulture, "I looked at the Joker and studied a lot of what Heath Ledger did, how exciting that character was; you just knew that guy had a robust past. Like, Why did he get those scars? And, for me, Why do I have this canine? Why do I have this knapsack? Why am I dressed like this?" The result is a thrilling new character that should absolutely get more time on the big screen. 
Shamier Anderson took what he could from the character and made it his own
Lionsgate
If one's going to flesh out their antagonistic character, drawing inspiration from arguably one of the best movie villains of all time is an excellent place to start. There's also much the audience doesn't know about Heath Ledger's Joker, and that makes him all the more terrifying. Shamier Anderson took what was accessible about his character and fleshed him out from there, going on to state, "This guy's transient. He has pockets because he travels so much; he doesn't really change. That notebook you see in the film, I took that home and wrote a lot in there. That knapsack that he had on, I had a lot of personal items, like dog toys, dog treats, lighters engraved with my name. I just had to put my DNA on this."
The part about writing in the notebook seen in the film is an interesting parallel to Heath Ledger's preparation to play Joker. The actor infamously kept a diary to jot down his character's villainous thoughts during production, including lines of dialogue he had in the film. 
All of Anderson's hard work appears to have paid off. He concludes by saying, "I think it's translating as people are infatuated with the Tracker." In a film like "John Wick: Chapter 4," which has many highlights, being one of the best parts is definitely a compliment and a testament to Anderson's talents. Here's hoping audiences will learn more about Mr. Nobody in future projects. 
Shamier Anderson is a fan of another Batman alumni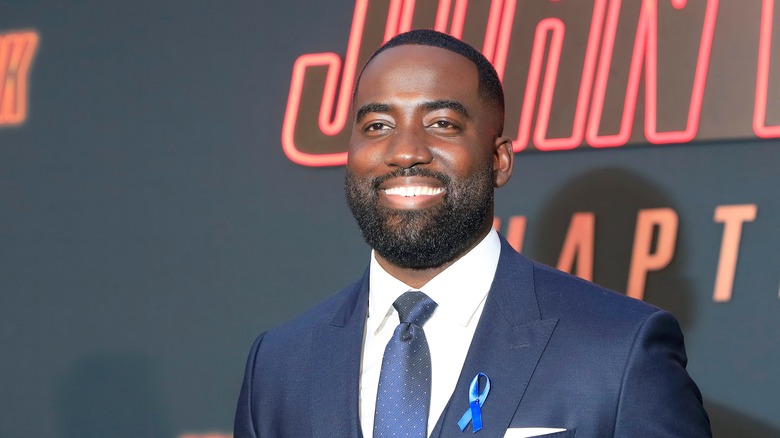 Joe Seer/Shutterstock
Shamier Anderson may have channeled Heath Ledger's Joker for inspiration in "John Wick: Chapter 4," but the actor is also a fan of another actor who played a villain in Christopher Nolan's "Dark Knight" franchise. In the aforementioned interview with Vulture, Anderson said that he'd love to star in a Mr. Nobody spinoff with Liam Neeson — who played Ra's Al Ghul in "Batman Begins" and "The Dark Knight Rises" — playing the antagonist.
At the same time, there are a bunch of actors that Anderson would love to work with if such a project ever comes to fruition. "Liam Neeson would be a great antagonist. I think Denzel Washington would be a crazy antagonist. It would be really interesting to see a female villain; Meryl Streep would be something different." he said. "So those are my top three choices: Denzel Washington, Liam Neeson, and Meryl Streep."
It remains to be seen if Mr. Nobody will ever get his own spin-off. In the meantime, fans can look forward to returning to the "John Wick" universe via "The Continental" and "Ballerina" spin-offs in the near future.