Donnie Wahlberg Filmed A Hilarious Blue Bloods Clip That CBS Can't Air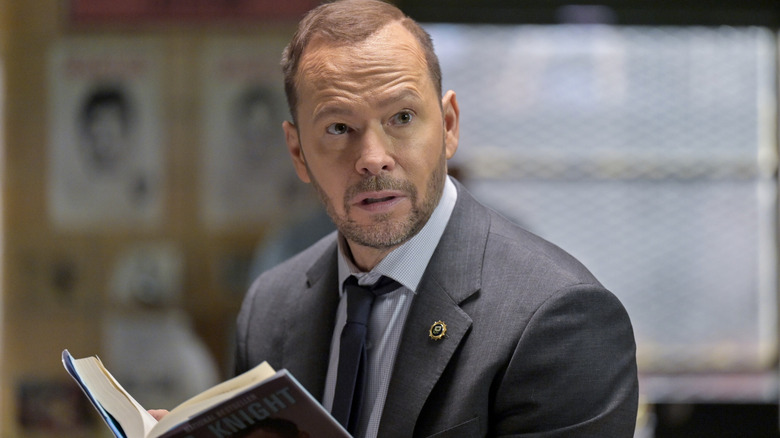 John Filo/CBS
A standard day at work is enough to make most of us scream the "f" word, and there's something mighty refreshing about the realization that actors are really just like us.
For proof, we turn to the set of "Blue Bloods," the CBS law enforcement drama that's kept Tom Selleck in mustache conditioner for more than a dozen seasons. While shooting a scene for the episode "Collision Course," which aired March 3, 2023, guest performer Samaya Bouhbal got a little too in character, forgetting that network television is no place for no-thank-you language as she erupted from a car exclaiming "Are you [expletive] blind?" at Donnie Wahlberg's Danny Reagan. Luckily for all of us, and for posterity, cameras are sort of a part of the job when you're a TV actor, and the whole thing was recorded.
"Oh, I can't curse on this show!" Bouhbal realizes out loud in the "Blue Bloods" blooper posted to Wahlberg's Instagram. Wahlberg, to his credit, manages to exit stern cop mode pretty immediately and roll with the punches. "This is CBS! This is not Showtime! This is not Netflix!" he shouts as he ushers Bouhbal back into her car for another take.
Fans loved the japes and laughs associated with Blue Bloods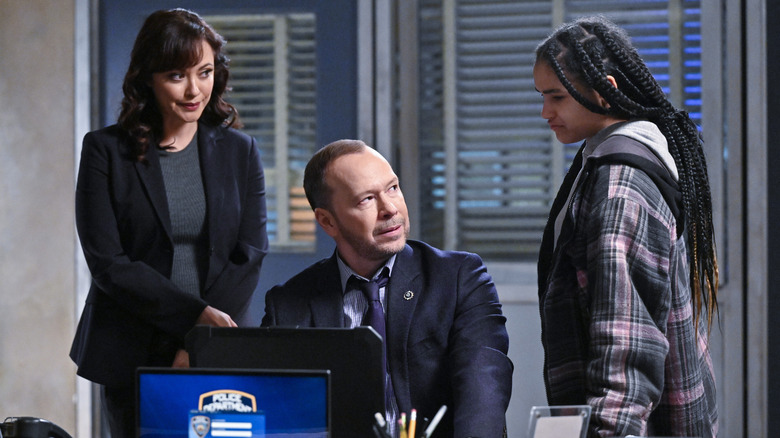 John Paul Filo/CBS
Fans of Donnie Wahlberg were positively delighted by the peek behind the curtain provided to them by the "Blue Bloods" star. "Hell she is in New York, I would have said the same thing" wrote Instagram user ladylionstar, followed by the liberal application of crying laughing emojis. "Absolutely brilliant," chimed in reid.cerys. "So glad it was a blooper," added jks_bff, going on to reassure the actor that he "would never be disrespectful" to Donnie Wahlberg — or, for that matter, the boys — because New Kids On The Block were "the best role models ever."
Luckily for fans of both "Blue Bloods" and the noble art of blooper reels, there's still plenty of content sitting around the internet — 13 seasons at the time of writing is a lot of time to rack up missed takes and fumbled lines. For the connoisseur, might we recommend the time when Frank Reagan (Tom Selleck) couldn't quite get a hold of his glasses and wound up smashing the desk like Frankenstein's monster for a while. Not to brag, but it's been called the best time Tom Selleck broke character on "Blue Bloods."