Ted Lasso Season 3 Finally Gives Colin The Justice He Deserves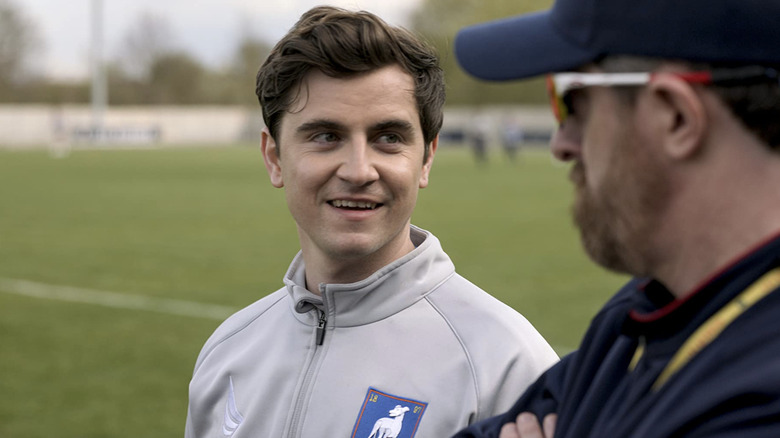 AppleTV+
On Wednesday, "Ted Lasso" Season 3, Episode 3, "4-5-1," finally acknowledged something fans have suspected since the first season of the hit AppleTV+ soccer comedy. Though much of this chapter was dedicated to the almost religious awe inspired by football legend Zava (Maximilian Osinski), it reserved a surprising amount of time to explore Colin Hughes' (Billy Harris) sexuality.
In the opening moments of the episode, Colin is shown to have spent the night with a handsome man we later learn is named Michael (Sam Liu). If this weren't interesting enough, the rest of the story reveals that AFC Richmond's resident "clown" is not yet open about this fact with his teammates, who make lightly homophobic jokes in the locker room while he plays along. Later, at Sam Obisanya's (Toheeb Jimoh) restaurant, Colin even introduces his partner, Michael, as his friend and wingman.
Though the duo manages to sell the lie, a cheeky snog in a nearby alleyway may complicate things down the line, as it was witnessed by none other than Trent Crimm (James Lance). Whether or not this revelation will make its way into the book he's writing will likely cause both Trent and Colin a fair amount of personal anguish. For fans of the show, however, this moment has been a long time coming and would mark a huge moment for the series and its depiction of the professional sport.
Colin's coming out would be a massive deal in the sporting world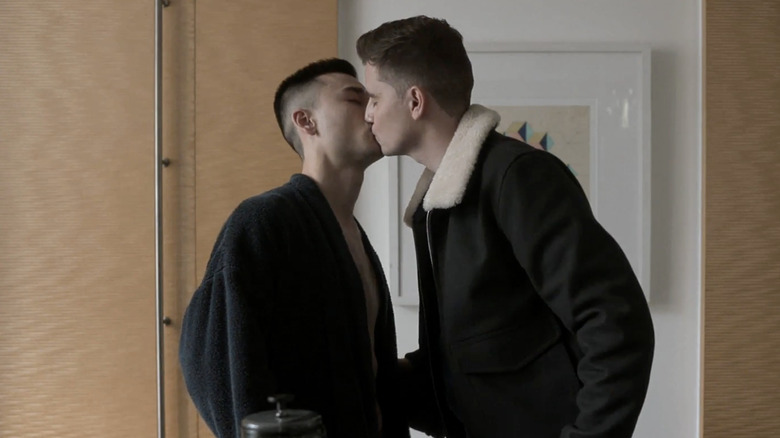 AppleTV+
Fans have been speculating about Colin's sexuality since the first season. On Reddit, u/Aggravating_Cake_309 noted that when Roy Kent (Brett Goldstein) ambushed Jamie Tartt (Phil Dunster) and his teammates at a bar in Season 1, Episode 3, Colin is seen laughing very closely to another man. In the comments of this post, another user notes that the footballer is curiously aware of the gay dating app Grindr.
Critics have lamented the disappointing lack of queer representation on "Ted Lasso" for some time, especially after Season 2 stopped very short of confirming Colin's sexuality. In 2022, Natalie Fisher of Subjectify Media theorized that the series may just be building the foundation for queer characters to come out of the closet later on — especially since doing so would be a momentous occasion in the footballing world.
Fisher wrote, "If Season 3 sees Colin choosing to publicly come out, he would be the first player to do so while playing in the Premier League, and it would immediately elevate him to being probably the most high profile gay male athlete in the entire world, in terms of being openly gay while currently competing in the top level of their sport." As such, Colin's arc this season may be one of the most important in the entire show.