D&D: Honor Among Thieves Put Michelle Rodriguez's Body Through The Wringer
"Dungeons & Dragons: Honor Among Thieves" has arrived and treated fantasy fans to a modern interpretation of the popular roleplaying game after the critically-panned 2000 movie version, "Dungeons & Dragons," as well as its sequels, "Dungeons & Dragons: Wrath of the Dragon God" and "Dungeons & Dragons 3: The Book of Vile Darkness." The cast for the latest iteration includes Chris Pine (Edgin Darvis), Rege-Jean Page (Xenk Yendar), and Hugh Grant (Forge Fitzwilliam), as a bard, paladin, and rogue, respectively, with Michelle Rodriguez playing the barbarian Holga Kilgore.
Getting physical in action-packed blockbusters isn't a new concept for Rodriguez, but this movie required her to perform some drills. Thanks to the intensity of her warrior character, the "F9" actor revealed to The Mirror that the work required for her role put her body through the wringer. She stated, "I had to train for three months before, gain 15 lbs of muscle, and then it's another five months of maintaining that muscle."
The actor's fierce commitment to the physicality of her roles dates back to her first film in 2000, the sports movie "Girlfight." Since then, she's become an established action star thanks to the "Fast & Furious" franchise and other high-octane flicks. But her training regimen for "D&D: Honor Among Thieves" was particularly tough. Here is what she had to say about her preparation for the role.
Michelle Rodriguez says she trained hard five days per week for the film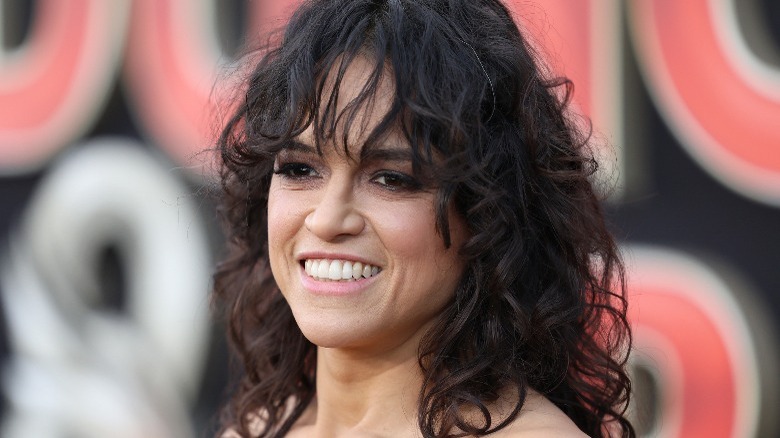 Jesse Grant/Getty Images
Speaking about her training for the film in an interview with The Mirror, Michelle Rodriguez characterized her prep by sharing, "I have never had that much discipline in my entire life," before talking about the total length of time she has to prepare to play Holga. Rodriguez explained her schedule and added, "Five days a week, weight lifting, fight training, choreography, it was rough." The "Widows" star concluded by observing how all the training occurred during the pandemic in Northern Ireland.
In an interview with Den Of Geek, the actor added further context to her practicing for the part. When asked if she had a background in martial arts, Rodriguez said no but highlighted all of the muscle she gained to play Holga may make it appear otherwise. She also spoke about how fight scenes can sometimes hinder creating a good sequence because it is easy to get lost in the physicality of the moment, which she works hard to overcome.
In addition to the rigorous physical demands, Rodriguez had to undergo a strict high-protein diet. This seemingly only made her more up for playing her role, however, as it helped her become stronger and more energetic. "I was pretty hardcore. We were shooting during Covid, and it was lockdown in Northern Ireland," the "Fast and Furious" star recalled. "I had to ask them for a punching bag because Holga really got to me!"
Michelle Rodriguez recalls her most complex fight scene in Honor Among Thieves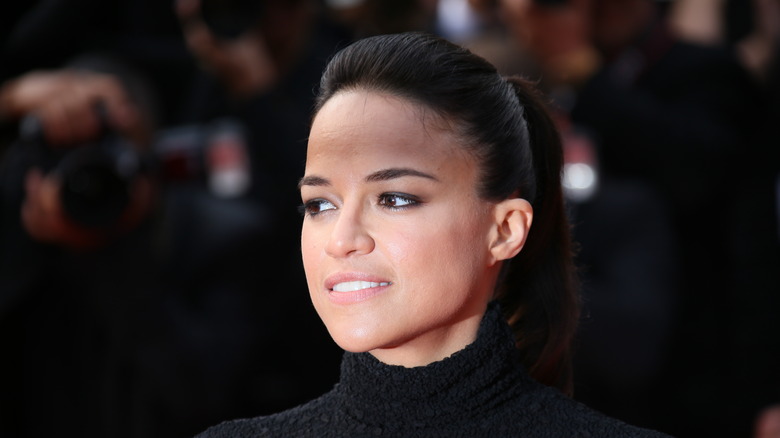 Denis Makarenko/Shutterstock
"Dungeons & Dragons: Honor Among Thieves" certainly doesn't deprive viewers of action and spectacle, and some of these scenes were a challenge to bring to life for the people involved. During the aforementioned interview with Den of Geek, Michelle Rodriguez said that Holga's big fight sequence, which can be glimpsed in the trailer, was particularly difficult.
According to Rodriguez, she had to work with the fight choreographers and stunt teams for a month to bring the sequence to life, but the hard work paid off and the actor credited the team for their efforts in helping her. "They did a wonderful job, training five people to do their sequences, and shooting at the same time," she said.
Filmgoers can see for themselves how the actor's fierce commitment to her character paid off when "Dungeons & Dragons: Honor Among Thieves" is currently playing in theaters.