The Fast And The Furious Looked Entirely Different Before David Ayer Stepped In
The "Fast & Furious" franchise has become a living entity of its own, with Dominic Toretto (Vin Diesel) and his family evolving from humble street-racing thieves to government-sanctioned superheroes. However, with the original movie, "The Fast and the Furious," Universal planned to give audiences an almost entirely different film until David Ayer stepped in, giving it some much welcome diversity.
Many people may not know that before all of the blistering drama surrounding "Suicide Squad," Ayer actually saved "The Fast and the Furious." "Yeah, [the original script] was set in Brooklyn and [an] all-white cast," the director revealed on Twitter. "My condition on taking the writing job was to set it in LA and have it reflect the LA street racing scene's diversity. It was a TINY subculture then. I made it night and day from the script I rewrote."
While initial script ideas often seem interesting, we can confidently say that this one doesn't. Less diversity is generally never good, and imagining a racing movie on the tiny streets of Brooklyn just doesn't make much sense.
Diversity is one of the best aspects of the Fast Saga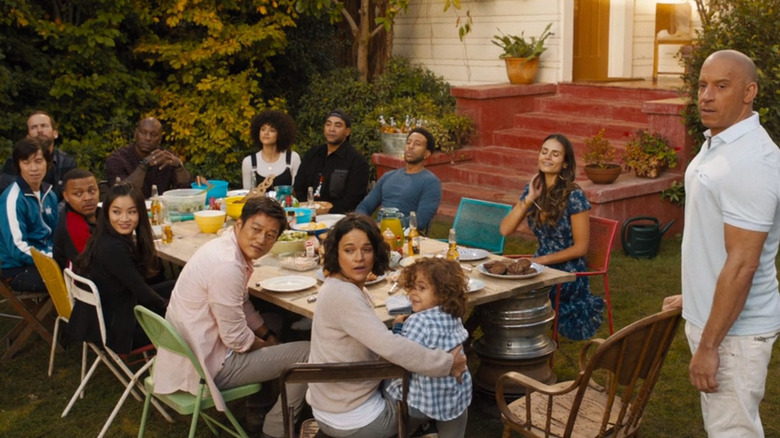 Universal Pictures
Let's get one thing straight: this is a pro "Fast & Furious" space, so don't bring any negativity to Dominic Toretto and the Fast Family. What other blockbuster franchise gets so ridiculous that characters start questioning their own actions and seemingly superhero-like invulnerability? The answer is that there isn't, and "Fast & Furious" is in a league of its own.
While others are scrambling to up the amount of diversity in their multi-million-dollar projects, the "Fast Saga" has had it since the beginning, thanks to David Ayer. From minute one, the Los Angeles setting opens the door to a wide variety of people and cultures. "The Fast and the Furious" explores LA's Latin culture, with its reggaeton soundtrack and cinematography showcasing the city. Even its cast expresses that diversity, with actors like Michelle Rodriguez, Jordana Brewster, and Ricky Yune showcasing all that LA has to offer.
If that isn't enough to show that "Fast & Furious" was ahead of its time, the series has only gotten more diverse as it's continued. "2 Fast 2 Furious" takes the racing to Florida, bringing in Miami's culture and more African American cast members. "Tokyo Drift" put Japan's culture front and center, while subsequent films continued adding more diverse cast members and showcasing different cultures worldwide.