Another X-Files Revival Is In The Works (With The MCU's Ryan Coogler To Boot)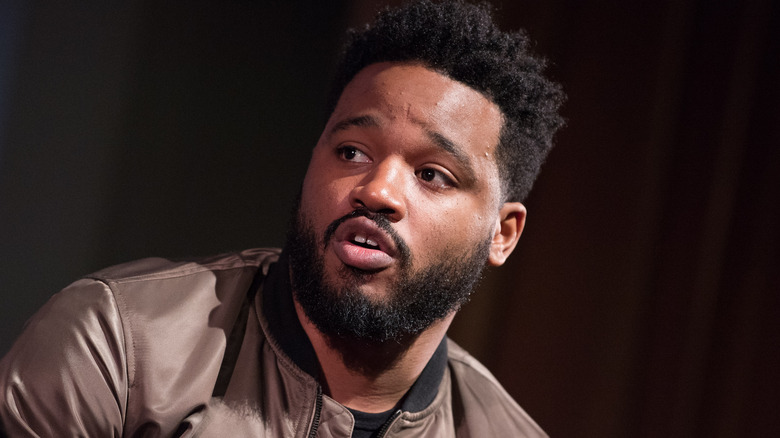 Jeff Spicer/Getty Images
Besides bringing the world of Wakanda to life and handling the sensitive task of finding a new hero to protect it in the latest sequel "Black Panther: Wakanda Forever," Ryan Coogler has a knack for putting an exciting spin on a beloved portion of pop culture we didn't know we needed. In anyone else's hands, an extension of the "Rocky" franchise could've been a cash grab and nothing more, but he turned it into a spin-off series that offered an Oscar-nominated performance from Sylvester Stallone opposite Michael B. Jordan with "Creed." The truth and the box office receipts are most certainly out there, proving he can put a fresh and exciting angle on a property put out to pasture, and now it's been revealed that "The X-Files" are next on his to-do list.
The beloved science fiction show that changed television followed agents Mulder (David Duchovny) and Scully (Gillian Anderson) spanned nine seasons and two films and was revived twice for television in 2016 and 2018. Admittedly having incredible highs and lows throughout its time on television (that tenth season — ooft), it's still loved by fans, regardless. Now though, "The X-Files" creator Chris Carter has revealed that Coogler is looking to reopen some cases and looking to bring a new team of agents into the fold to skim through them again.
Coogler has plans for a diverse X-Files cast, according to Carter
The X-Files/YouTubehttps://www.youtube.com/watch?v=98VKgTa-SBk
During an appearance On the Coast With Gloria Macarenko, "The X-Files" creator Chris Carter revealed that he and Ryan Coogler had conversations. Carter also suggested that the MCU director has a big job on his hands regarding the revival.
"I just spoke to a young man, Ryan Coogler, who is going to remount 'The X-Files' with a diverse cast," said Carter. "So he's got his work cut out for him because we covered so much territory." While Carter didn't go into too much detail, what was dished out sounded strangely familiar to another project linked to "The X-Files" universe that was seemingly still in development. 
In 2020, Fox announced that work was underway for animated spin-off series related to Mulder and Scully's work called "The X-Files: Albuquerque" (via TV Line), which was hitting more of a comedic beat than the series it spawned from. The show would focus on a team of investigators that took on a workload not worth landing on the desk of our favorite duo. Given that there's been no mention of that project recently, could this new pitch be pushed to the forefront, and a new show more in line with the original series come to fruition? We want to believe it's the latter, but for now, we can only keep an eye on the skies and Coogler's IMDb profile to see if anything changes.