What's The Song At The Start Of Ted Lasso S3 Episode 3?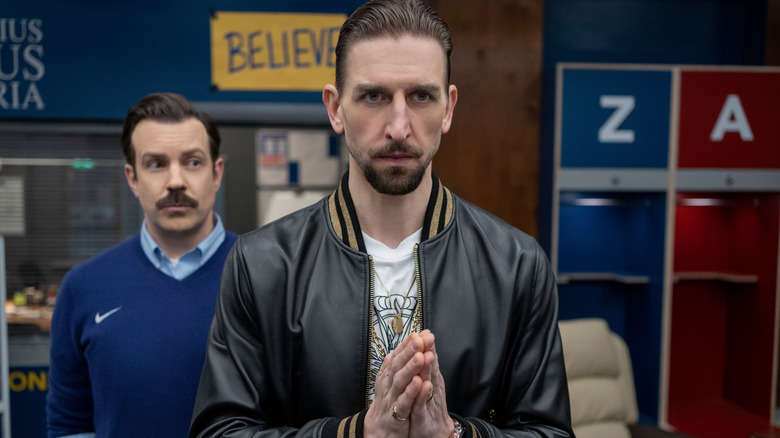 Apple TV+
This article contains spoilers for "Ted Lasso" Season 3, Episode 3
"Ted Lasso" Season 3 tackles the complicated subject of love, but don't expect everyone to be passing around chocolates and flowers just yet. This becomes clear in Episode 3 when the romantic lives of certain characters are explored. Ted, for example, learns that his ex-wife has hooked up with their old marriage counselor and the new squeeze has become a part of their son's life, too. While his ex has every right to move on with her life, the realization that it's well and truly over has a negative impact on the AFC Richmond manager.
Elsewhere, Keeley (Juno Temple) and Roy Kent (Brett Goldstein) are still going through that awkward post-breakup phase, and Jamie (Phil Dunster) is clearly still hooked on the former. Billy (Colin Hughes), meanwhile, is currently the only AFC Richmond alumni with a positive romantic relationship, but his coming-out story is being kept secret for the time being.
With so much sorrow in the air, it's only fitting that "Ted Lasso" Season 3, Episode 3 opens with Fastball's "Out of My Head" — a '90s alt-rock classic that's interested in depicting the more upsetting side of romance.
Fastball's song is introspective and sad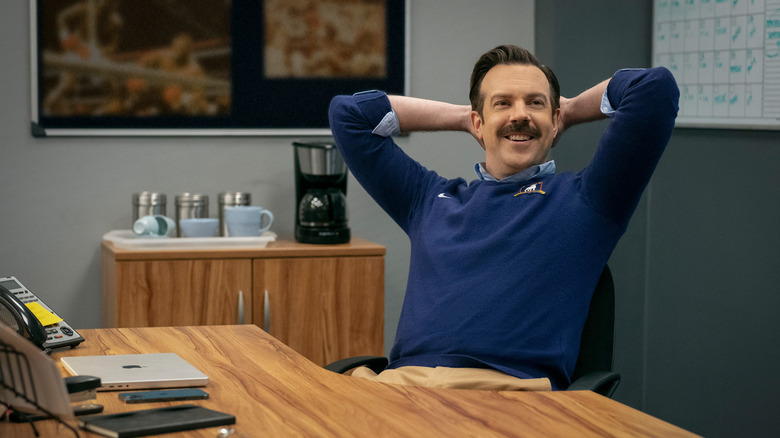 Apple TV+
Fastball's "Out of My Head" isn't the most upbeat track in the band's arsenal. Taken from the band's second album "All the Pain Money Can Buy," the song sees lead singer Tony Scalzo waxing lyrical about life and past relationships. There's a lot to unpack from the lyrics, and the song is quite ambiguous. That said, it's clear that the ballad isn't about a happy situation.
In one line, Scalzo sings, "I was waiting for an indication, it was hard to find. Don't matter what I say, only what I do, I never mean to do bad things to you." Those words are full of sorrow and regret. Furthermore, they seemingly pertain to a relationship in which someone has made mistakes and caused unintentional pain.
All in all, it's a very fitting song for an episode of "Ted Lasso" in which lovelorn characters must contend with their emotions. Here's hoping that they all find their happily ever after before the final episode's end credits roll.