HIMYF: Hilary Duff Talks Disastrous Set Day With Neil Patrick Harris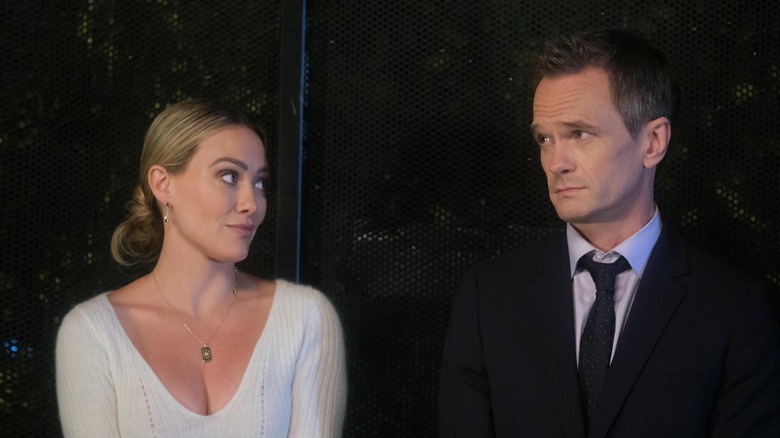 Hulu
The issue of parentage is a reoccurring plot device in "How I Met Your Father" and its predecessor show of "How I Met Your Mother." Of course this issue is typically discussed throughout these series in cutaways, which leads audiences in attempting to guess who said parents are. However, in the mid-season finale for Season 2 of "How I Met Your Father," Sophie (Hilary Duff) suddenly thinks she is dating her father, known as Charlie (John Corbett), and she flees from his house. Unfortunately for her, Sophie rear-ends a car in her panicked driving, and the car turns out to be owned by none other than Barney Stinson (Neil Patrick Harris).
Even though both Harris and Duff are entertainment industry veterans, it seems as if filming this particular episode suffered quite a few issues. Speaking with Entertainment Weekly, Duff explained, "I broke 100 times. He had so much to do that day, he had pages and pages of dialogue, and everything that could go wrong went wrong. Some crew guy got hurt and there was an ambulance, it was pouring down rain, of course on the only night that we had him, and we're outside, and we'd already shot stuff leading up to this night where it wasn't raining."
Even though there were some behind-the-scenes trouble, Duff and Harris had a great time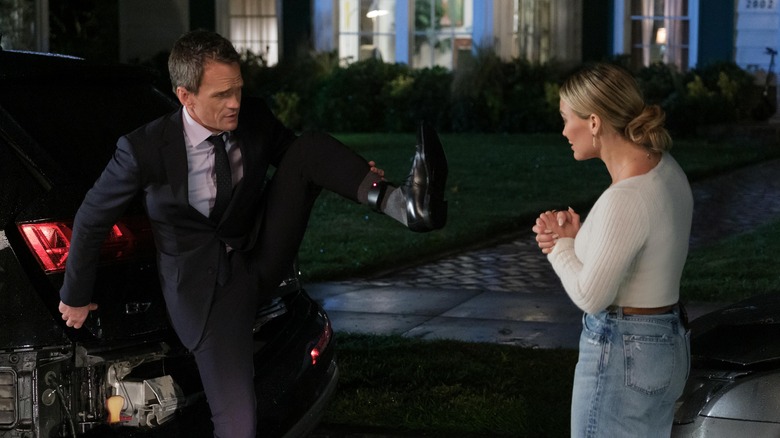 Hulu
Hilary Duff continued, "Thankfully it didn't even look like it was raining, but my makeup artist would come in and she's like, 'You're covered in rain, your face is so wet. I don't know how we can't tell on camera.' It was so funny. But he's just the best sport, and it was a dream to have him on." Despite the fact that some of the behind-the-scenes moments of this episode of "How I Met Your Father" were rife with problems, the results are hard to deny, and the interaction between Sophie and Barney highlight how much both of these characters have changed, or at least plan to.
Unsurprisingly, Neil Patrick Harris believes that even though there were some issues, the entire experience was actually pretty pleasant. Harris added that the crew that works on "How I Met Your Father" contains many experienced individuals from "How I Met Your Mother," which he thinks makes the production of the show maintain a smooth process even if there are unforeseen problems. These alumni also made Harris himself feel more comfortable with donning the visage of Barney once again, which he notes is a role that he has spent quite some time away from. On the bright side, this mid-season finale brought some growth to both Sophie and Barney, and it seems as if the actors who play these characters had quite an interesting ordeal in doing so.