The Walking Dead's Norman Reedus Said Filming This Scene Felt Like A Funeral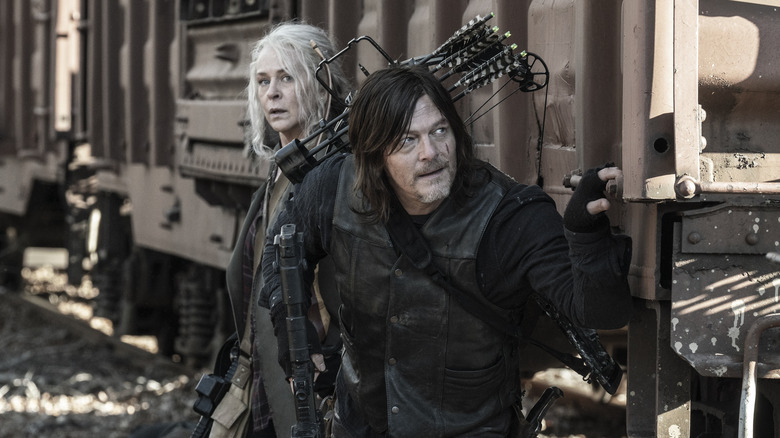 Jace Downs/AMC
Sometimes, saying goodbye can be quite the bittersweet act. Cast members who spent multiple seasons bringing the terror, hope and drama inherent in "The Walking Dead" to life definitely had those feelings about finally letting go of their characters, especially those who weren't immediately heading to their own spin-off series.
Even though Norman Reedus' Daryl Dixon is among those lucky handful of actors who will get to continue to play their characters in a spin-off series, that doesn't mean that he won't miss a few friends who have elected to stay home. Among those friends? Melissa McBride, whose Carol Peletier was originally scheduled to be a part of his "The Walking Dead" spin-off, but ultimately nixed the move, choosing not to live in Europe where the series is being shot. 
Reedus told Vanity Fair in November 2022 that saying goodbye to McBride as Daryl said goodbye to Carol during their final scene together in the series finale of "The Walking Dead" definitely put him in a somber mood. "It was a heavy day; it felt like a funeral. It was pretty sad," he explained. Evidently, Reedus and McBride teamed up together to construct a fitting "goodbye-for-now" for Carol and Daryl which built on both their character's long history and the real friendship existing between them.
The subtext of saying goodbye to Carol and Daryl was deeply felt by Norman Reedus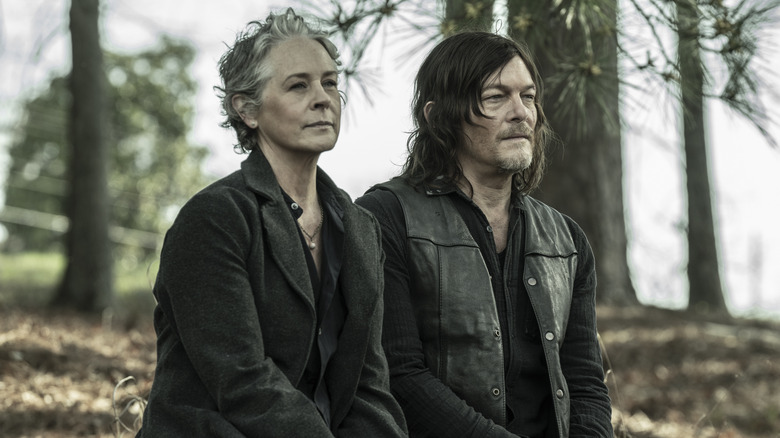 Jace Downs/AMC
However, it appeared that not everything was entirely dour on the set; there were lighthearted moments woven into the scene by both actors as well. Norman Reedus told Vanity Fair that he and Melissa McBride used the strong subtext lingering between their characters and their shared history to craft their parting scene and give it a stronger impact. The end result was a combination of drama and humor that tugged on their hearts as they filmed it. "It had sort of a jokey element to it at one point, and it kind of rolled into what it became, and then because the subtext was so strong, we literally could have just ad-libbed that whole scene," Reedus explained. 
Reedus ultimately praised the finished scene for its grown-up tone and sense of truth. And indeed, the well-worn friendship between Carol and Daryl shines through. It's a bond Reedus says that will continue to exist in the show's universe, no matter how many miles separate them, in spite of audience anger surrounding Carol's lack of involvement in the spin-off. "That story between those two characters isn't over, and I'll just leave it at that," he added.