PETA Wants CGI Animals Used In Film And TV After Horse Dies On The Rings Of Power Set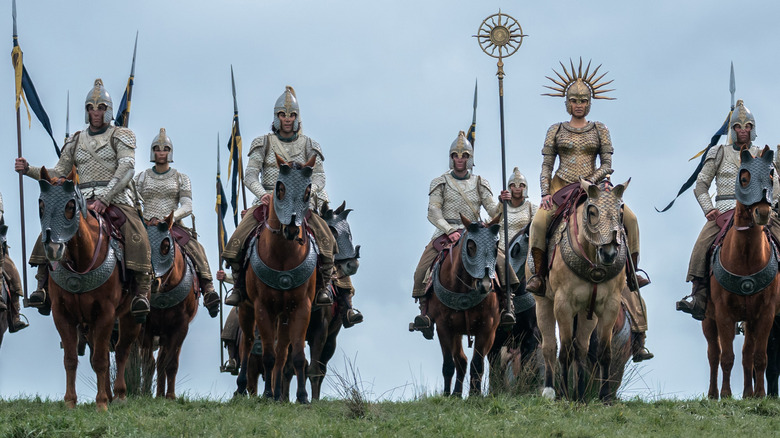 Matt Grace/Prime Video
Amazon Studios' "The Rings of Power" has become the latest major media production to come into the crosshairs of animal rights organization PETA. In the past, the organization has frequently lobbied criticism at fictional depictions of animal cruelty and related issues across both film and television. Now, a real-life tragedy has caused the group to once again call for the use of CGI-constructed animals when filming live-action productions.
As reported on by The Hollywood Reporter, one of the many production horses that had been brought in during the shooting process for "The Rings of Power" Season 2 died while on set in March. An Amazon Studios spokesperson confirmed to the press that professionals had determined the horse suffered cardiac arrest while being exercised in the morning before filming had commenced for the day.
PETA wasted little time in making a statement on the incident, lambasting the creative team behind the high-fantasy series for using real animals. "It seems that living underground with the orcs is par for the course for the producers of 'The Rings of Power' because they have the option to use CGI, mechanical rigs and other humane methods that wouldn't run vulnerable horses to death on set," Senior Vice President Lisa Lange said in a statement. The executive proceeded to call on both the production team and the greater industry to abstain from using real-life horses in the future.
It's not the first time PETA and Middle-Earth have clashed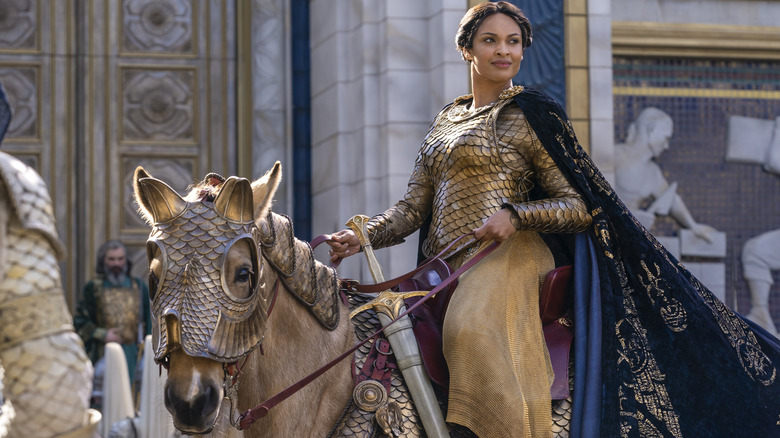 Ben Rothstein/Prime Video
PETA's blasting of "The Rings of Power" actually isn't the first time the activist group and the world of JRR Tolkien have come to blows. As was reported on in 2012 by The Associated Press (and referenced by PETA in its "The Rings of Power" press release), the team behind Peter Jackson's "The Hobbit: An Unexpected Journey" drew controversy after numerous animals that were being used for filming died while being housed on a farm. A spokesperson for Jackson noted at the time that some of the animals died of natural causes, but others, including two horses, could have been avoided with improved housing conditions.
Just as with "The Rings of Power," PETA was vocally critical of the animal controversy surrounding "The Hobbit." In one of its written features covering the situation, the group similarly called for the use of CGI. "In a movie that features CGI dragons, ogres, and hobbits, CGI animals would have fit in perfectly," the feature reads. "Jackson could have made The Hobbit without using a single animal — and he should have."
Jackson denied many of the specific animal abuse allegations, including those from PETA. In a further statement to The Hollywood Reporter, he also noted that over half of the film's shots involving animals did employ CGI instead of real animals. At this time, the production team behind "The Rings of Power" has yet to make any equivalent response to PETA's more recent statement.