Here's How To Win An Unrated Copy Of M3GAN On Blu-Ray From Looper And /Film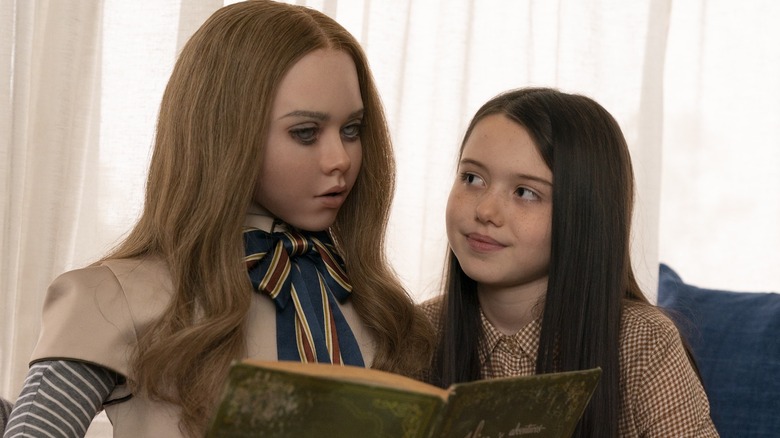 Universal Pictures
In the past, January was dismissed as a death knell for the newest cinematic releases. This year, though, a movie about a killer doll came along and proved those claims wrong. The disturbingly entertaining "M3GAN," which tells the story of a lifelike AI creation that takes on a life of its own, was a bona fide hit and a fun slice of horrific chaos. And soon audiences can now enjoy the experience all over again — with an extra dose of carnage thrown in for good measure.
Looper is teaming up with our sister site /Film to give away five copies of the "M3GAN" Unrated Blu-ray. If you're brave enough to add an even scarier version of 2023's most surprising horror hit to your collection, here's how you can enter.
It only takes a few clicks to win this M3GAN Blu-ray
To be in with a chance of winning your own "M3GAN" Unrated Blu-ray, all you have to do is head on over to the /Film Twitter page and retweet the post that we've included below. You must also follow the /Film and Looper Twitter pages to be eligible to win Additionally, the giveaway is only available to residents of the United States and Canada, but five lucky winners will be chosen.
The giveaway starts March 27 and ends on Thursday, March 30, at 11.59 p.m. EDT. For those of you who can't wait until then, however, you'll be pleased to know that "M3GAN UNRATA3D" is currently available on Digital, Blu-ray, and DVD.
🚨GIVEAWAY TIME! We're giving away #M3GAN Blu-rays to 5 lucky winners. All you have to do is follow BOTH @SlashFilm AND @Looper, and RT this tweet for a chance to win (details and rules in the thread below). @MeetM3GAN

M3GAN UNRAT3D is now available on Digital, Blu-ray, and DVD. pic.twitter.com/qy8P3ixi26

— /Film (@slashfilm) March 27, 2023