Reacher's Alan Ritchson Relates To His Character In A Very Personal Way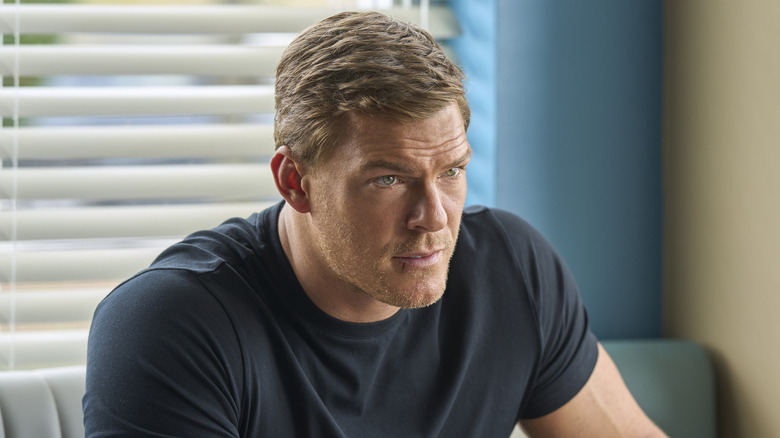 Amazon Prime Video
Lee Child's Jack Reacher novels have been a staple of the literary world for years. They finally made the adaptation jump in 2012, with Tom Cruise taking on the role for the big screen. The character got a second adaptation in 2022, in the form of a TV series from Amazon Prime. This time around, it's Alan Ritchson in the titular role, and he's very suited to the part for a number of reasons. Not only is Ritchson a well-built man like Child's character, but the actor has a lot in common with Reacher.
A key aspect of Reacher's background is his life in the military. The character grew up on military bases around the world before ultimately enlisting himself. As a member of the Military Police Corps, he stayed in the army until his 30s before being discharged. It's this aspect of Reacher's history that clicked with Ritchson when he took on the role.
In an interview with Brief Take, Ritchson spoke about how Reacher being a military veteran was something that resonated with him. He pointed out that he grew up in the military, as both his parents are veterans. Ritchson has a "deep respect and reverence" for veterans as a result. "It's the 1% serving the 99%," he added. Being in the military and how it impacts a person is not something that people understand unless they've been through it, he said, and he considers it "an honor" to portray a veteran on television.
Ritchson drew from his own childhood for Reacher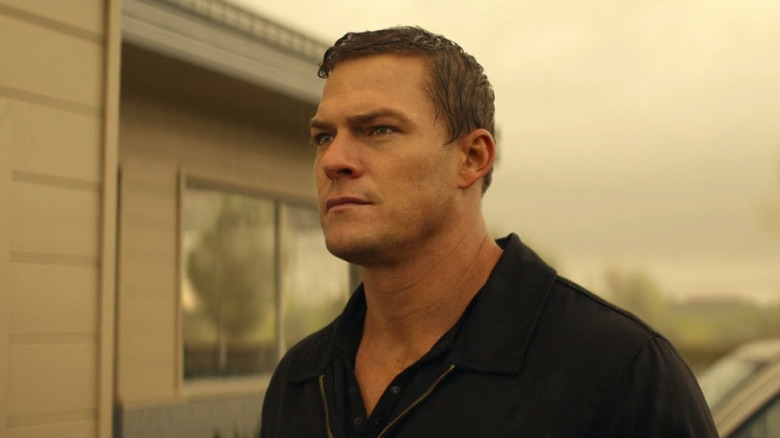 Amazon Prime Video
In an illuminating interview, Alan Ritchson sat down with Lee Child to discuss the author's most famous character. The actor went into more detail about how his military upbringing informed his performance in the hit Amazon Prime series. "There's a formality to the body language and the movements and the posture of military individuals," Ritchson said in the interview, conducted for Square Mile. "I still remember watching my dad when he'd bring us to work in the hangers. He'd shake people's hands and his posture was always so held tight."
Ritchson went on to say that there's a certain "chivalry" you pick up when you're in the military, and Child agreed — like Ritchson, his father was a veteran. The author, who is an executive producer on the show, revealed that he had a hand in casting Ritchson, though at the time he had no idea that he came from a military family. However, just because Ritchson's parents were both in the military doesn't mean they expected him to follow suit. "I took an interest in singing and dance — I wanted to try a dance class," Ritchson said. "I could've been born into a family with a dad who felt insecure about that. He didn't blink."
"Reacher" has been renewed for a second season, though a release date has not yet been announced.