Rick And Morty Theory: Mr. Poopybutthole Is A Version Of Morty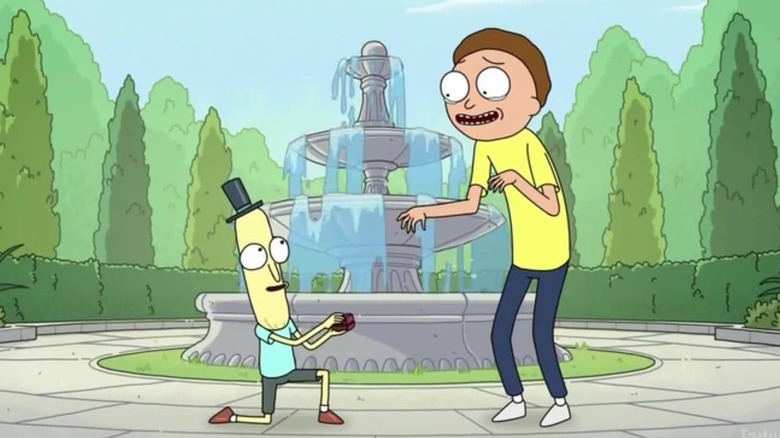 Adult Swim
When it comes to canon, "Rick and Morty" has always existed in a sort of liminal space of seriousness. Too weird to be considered entirely in earnest, but too continuity-driven for fans to ignore the multiverse that's slowly been built since the series debuted in 2013. Viewers can never be 100% sure which parts they're meant to incorporate into their understanding of the world of "Rick and Morty" and which parts are, for example, Abrodolph Lincoler.
Today's case: The story of Mr. Poopybutthole — formerly Professor Poopybutthole — who was first introduced in the Season 2 episode "Total Rickall." At first, he was a red herring, a character so outlandish and goofy that viewers would assume he was a memory-implanting, false-flashback-generating space parasite. At the end of the episode, we learn that's not what he was at all.
So, what is he, then? Just a hungry little poopypants, as he alluded to in the closing moments of his debut episode? One theory would have you believe that no, he isn't. He's so much more-ty. He's so much Morty. He's a Morty. That wasn't clever, sorry.
To follow the hypothesis, helpfully outlined by The Film Theorists, you have to do a little footwork, but the basics go like this: Variations on Morty come in all shapes and sizes, wearing all manner of t-shirt, and not always accompanied by any manner of Rick. What if Mr. Poopybutthole is just a differently-shaped Morty, albeit one that could, according to Dan Harmon, still be eating our memories like a brain lamprey?
Oooo-eee, was Mr. Poopybutthole a Morty all along?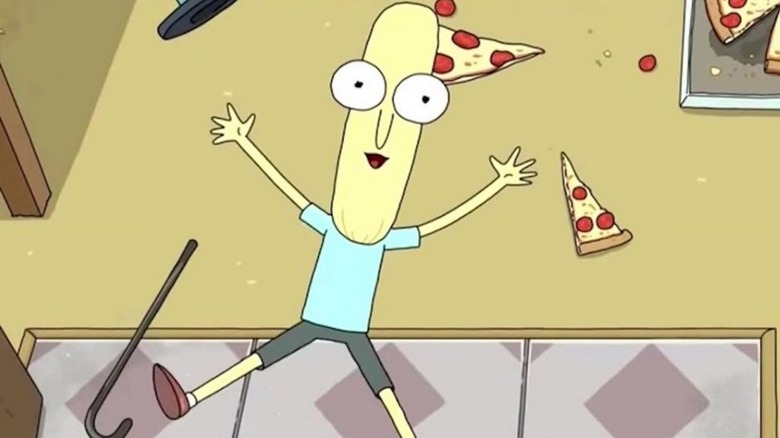 Adult Swim
A lot of the theory comes down to the fact that Mr. Poopybutthole seems capable of traveling the multiverse in a way that we haven't seen from anyone besides Rick and Morty, breaking the fourth wall and watching the duo's adventures on TV in the post-credits scene from the Season 2 finale "The Wedding Squanchers." It's almost like he has access to some sort of interdimensional cable box, allowing him to observe other realities in the form of a television show.
Then there's the interview with CinemaBlend where "Rick and Morty" co-creator Dan Harmon posited that "Maybe Mr. Poopybutthole takes advantage of the holes put in your memory" by the parasites from "Total Rickall" and "kind of burrows into those pre-existing holes." That would make Mr. Poopybutthole a parasite in his own right — something that Ricks have a habit of accusing Mortys of being — and one with a name implying that he's, you know, excrement-y. Like how Rick constantly describes Morty, in less polite terms.
The coincidences don't stop there. Both Mr. P and Morty exhibit stammering speech patterns and similar catchphrases. There's even a Morty variant in the mobile game "Pocket Mortys" that wears almost exactly the same shirt as Mr. Poopybutthole. If nothing else, it's a compelling theory, and only a little more out there than a story about a scientist turning himself into a turkey in order to secure a presidential pardon.