Reacher's Harvey Guillen Wants More Jasper Stunts (But Doesn't Think They'd Fit)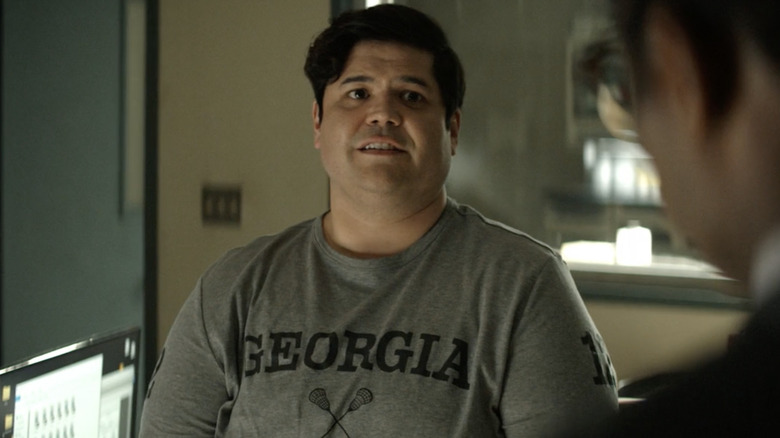 Amazon Studios
Whether it was a brutal bout of hand-to-hand combat or a wild shootout, the first season of "Reacher" had several characters see plenty of action. But not everyone was fortunate enough to participate in the stunt-related endeavors, including Harvey Guillén's character Jasper, which was a letdown for the "What We Do in the Shadows" actor, who seems pretty keen on doing more in the realm of stunt work. 
"I have been bitten by the stunt bug," Guillén said in an interview with CBR.com. "I do my own stunts on 'Shadows,' and I have gone down this rabbit hole of, 'More! More!' They want me to jump out of a third-story window. "Sure!" They want you to stab this person. "Why not?"
While it's no secret he's eager to further excel his stunt credibility, Guillén is a bit conflicted on whether or not he'd like to have Jasper see more action, saying, "So, a part of me really enjoys the thrill and adrenaline of that. But it wouldn't be in Jasper's true nature to do that because he's so terrified of blood. He's such a butterfly. He would never hurt a fly, so it wouldn't make sense for the character." 
Despite not seeing a scenario that feels like it fits his character to get in on the action, it does seem like Guillén appreciated the hard work the other cast members and stunt personnel took to give viewers an abundance of next-level action throughout the first season, which shouldn't be surprising given the lengths they went to ensuring every one of those pulse-pounding sequences was carefully crafted to provide the best experience possible for viewers.
They literally saw it before they shot it
To make sure they were not only adequately representing the source material written by Lee Child but also providing Amazon Prime subscribers with a binge-worthy offering safely and securely, the preparation process for the stunt work required the people involved to step up their game when it came to recording the high-octane rehearsals. "Some directors like us to film wide so they can take a look at it, but others, including the networks, like us to do a quick edit with a little bit of special effects so they can get an idea of how it's going to feel on screen," the show's Supervising Stunt Coordinator Buster Reeves revealed in an interview with Below the Line. "So we'll do the wide shot and then punch in and do edits and slick cuts, and hopefully the director will sign off on it." When it came to every hit, slam, and chase the stunt crew had to deliver, the team behind it all had to see it to believe it before they could shoot it.
To further elaborate on the process, showrunner Nick Santora explained what happens when they get the pre-visualized "Reacher" sequences in an interview with /Film, saying, "We watch them, producers watch them, studio watches them, the streamer watch them. And then we also have Lee watch them. And we just all discuss it. And we have little notes and thoughts, and we'll do another pass." The Army-level attention to detail taken regarding the amped-up previsualization strategy of the stunt work on "Reacher" not only has other actors envious to get in on the carefully calculated carnage but also bodes well for the chance they continue to raise the stakes in the stunt department for Season 2.
Static Media owns and operates Looper and /Film.