Modern Family: Fans Still Cringe Over Mitch's Interactions With Cam's Mom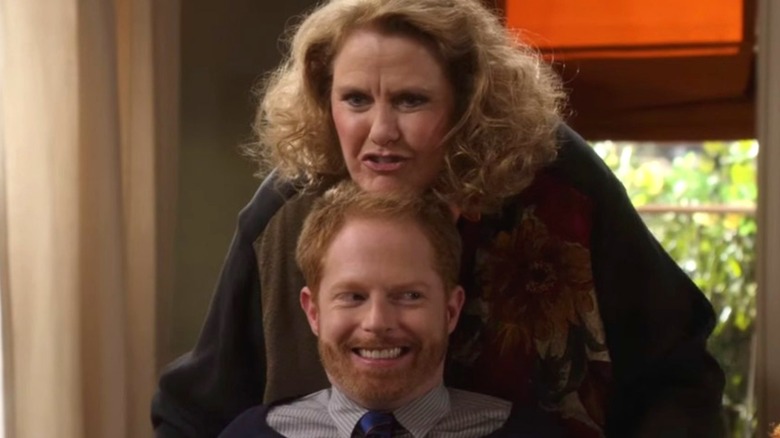 ABC
As the title implies, ABC's "Modern Family" is about, well, modern family. It highlights the many complex dynamics that lie in the family unit of the 21st century, even the ones that are less than ideal. For example, the relationship between Mitch Pritchett (Jesse Tyler Ferguson, though he could've played Cam) and his partner Cam Tucker's (Eric Stonestreet) mother, Barb (Celia Weston), isn't the greatest. While she means well overall, she's rather handsy with Mitch to an uncomfortable degree whenever she sees him. Even "Modern Family" fans can't help but cringe over their interactions all these years later.
Redditor u/ariesandnotproud surveyed the "Modern Family" community on scenes that make them annoyed or cringe instead of making them laugh or get emotional as intended. Several examples popped up in the thread, with Barb's inappropriate touching of Mitch coming up multiple times — even in the original post. "Cam's mom being inappropriate with Mitchell made me so uncomfortable," commented u/emcee95, with u/Rosemoorstreet calling out how unbelievable it is that Barb could be so clueless in an entirely different thread on the subject.
Thankfully, Barb Tucker only appeared in a small handful of "Modern Family" episodes, so fans only had to witness her invade Mitch's personal space on rare occasions. Although, had this spin-off show come to fruition, one has to imagine audiences would've seen more of her on the television screens.
Theoretically, fans could've seen more of Barb on the Mitch and Cam spin-off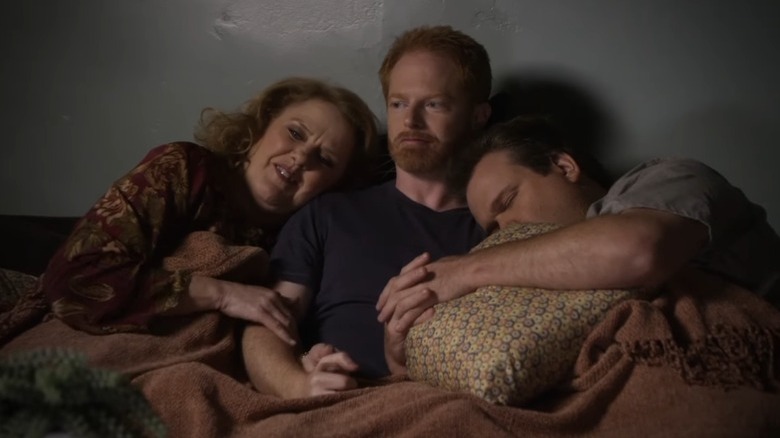 ABC
At the end of "Modern Family," Mitch, Cam, their daughter Lily (Aubrey Anderson-Emmons), and their son Rexford make the big move to Cam's home state of Missouri. It's a fitting way to end their story, riding off into the sunset to start a new chapter in their lives. According to Jesse Tyler Ferguson himself, this was technically a setup for a Mitch and Cam-centric spin-off series that would chronicle their life post-move. One has to imagine that this premise would've led to more appearances from Missouri locals Barb as well as her husband and Cam's father, Merle (Barry Corbin).
Ultimately, though, this concept never got past the discussion phase. Ferguson confirmed as much during an appearance on "Watch What Happens Live," explaining that the remarkable 11-year run of "Modern Family" likely influenced ABC's decision to let the idea go. "I think that we'd been on for 11 years. I think they were ready to move in a different direction," he told host Andy Cohen, dashing hopes that Cam and Mitch would get a spotlight all their own from the comfort of their new Missouri home.
We may never know what Mitch and Cam's life after the events of "Modern Family" shaped up to be like, but for the foreseeable future, all we can do is hope that Barb got better with her sense of personal space.