Bridgerton Fans Are Hyped For Queen Charlotte's Spin-Off (Despite The King's Fate)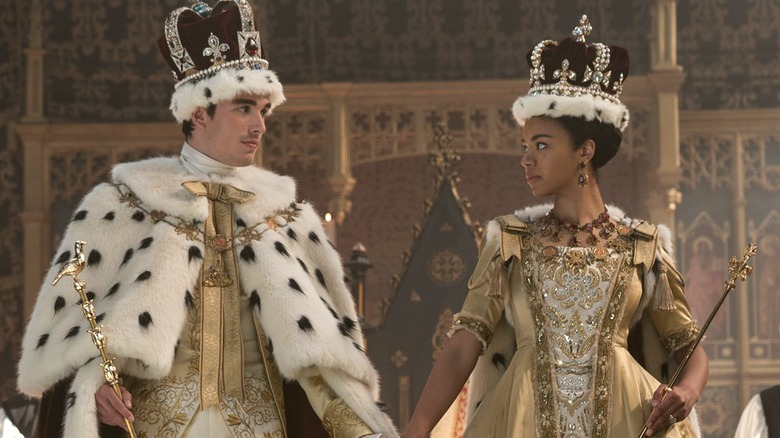 Liam Daniel/Netflix
When "Bridgerton" premiered in late 2020, the series brought an inclusive lens to recreating Regency-era England that became a worldwide phenomenon. After a second season and at least two more scheduled, a spin-off limited series titled "Queen Charlotte: A Bridgerton Story" is set to explore the early reign of King George III (Corey Mylchreest) through the eyes of his loving and devoted wife, Queen Charlotte — now played by India Amarteifio, with the original actor Golda Rosheuva appearing as the older Queen Charlotte throughout the series as well.
The hype for the prequel series has fans thrilled but also a bit apprehensive about their emotions since George III's health concerns defined a large part of his reign and life. The monarch was believed to have porphyria, a blood disorder — though this has been hotly contended — as well as possible bipolar disorder. Regardless of the precise diagnosis, he is said to have slipped into complete and total mental decline over the last decade of his life.
On Twitter, @kathonyz pointed out how the deteriorating health of the King (James Fleet) is depicted in his later years on "Bridgerton," writing, "i just remembered how queen charlotte and king george ends up on bridgerton i feel so sick to my stomach." That said, fans are still clearly excited about the series, even if they also dread what's coming in this royal love story.
Fans are excited but also saddened about King George III's future mental decline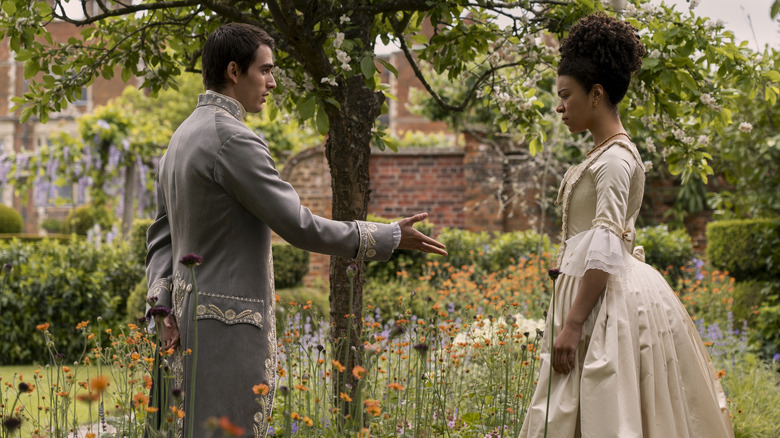 Liam Daniel/Netflix
The trailer for "Queen Charlotte: A Bridgerton Story" shows the progression of the Queen's relationship and subsequent marriage to George III. There are a few brief sequences that depict the Queen consort in distress, and this has fans saddened by the possibilities of the journey the spin-off series will take them on. In the comment section on the YouTube clip, @taoyamazaki7853 said, "But to be honest this hurts me so bad because we all know the king's fate in the future. The Queen will also be very sad."
@hrgirl26 agreed but was also optimistic by pointing out their love story as one of the most stable royal marriages in the history of the British monarchy, as witnessed by their 15 children together. @arifhanafi5818 was more upset, writing, "How can we watch this while we already know King George's fate at the end," followed by a crying emoji. Meanwhile, Twitter user @maisiewrites247 shared, "King George and Queen Charlotte's story is gonna kill me."
According to History Today, George III and Queen Charlotte's marriage was one of royal history's lengthiest and most pleasant. Fans can find out how "Queen Charlotte: A Bridgerton Story" explores their marital life when it drops on Netflix on May 4.