Donald Sutherland Realized The Hunger Games World Was A Big Deal While At His Dermatologist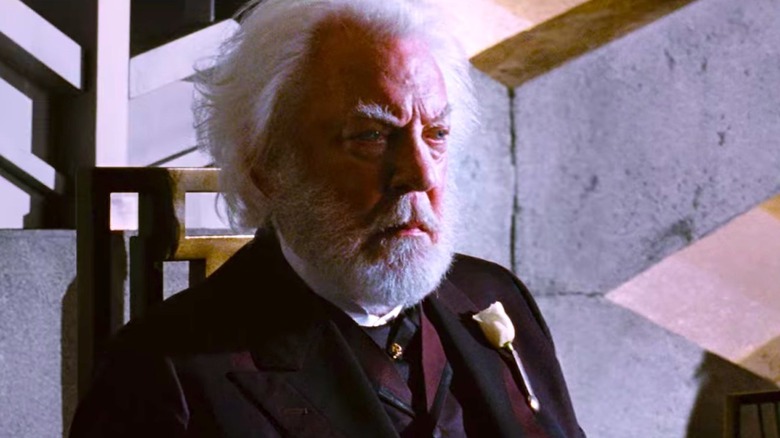 Lionsgate
"The Hunger Games" film franchise was a big deal when it came out. Not only was it based on the bestselling books by Suzanne Collins — meaning that it already had a built-in fan base — but it was also set to become the next big young adult franchise after "The Twilight Saga" and "Harry Potter." With that in mind, it makes sense that the franchise was able to bring in such big names to play supporting roles, such as Stanley Tucci as Caesar Flickerman, Woody Harrelson as Haymitch Abernathy, Elizabeth Banks as Effie Trinket, and Lenny Kravitz as Cinna.
Additionally, veteran actor Donald Sutherland signed on to play President Coriolanus Snow. However, as it turns out, Sutherland didn't sign on because he knew how much of a phenomenon the series would become. Rather, the actor told Variety in 2014, ahead of the release of "The Hunger Games: Mockingjay – Part 1," that he was impressed with the script even though the original iteration only had one scene for President Snow (after meeting with director Gary Ross, the role was expanded). So it came as a bit of a surprise to the actor when his dermatologist got extremely excited when he told her his next project was "The Hunger Games."
Sutherland told Variety, "She gasped and started calling everyone into the room, and they all came running. That was my first inkling it might be something big."
The Hunger Games introduced Sutherland to younger audiences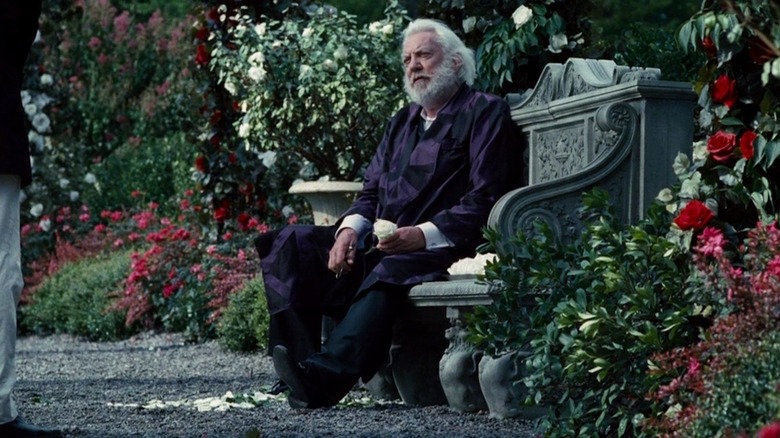 Lionsgate
Donald Sutherland hadn't heard of the book series when he read the script for "The Hunger Games," which is why it took him by surprise when his dermatologist got so excited. But, of course, his dermatologist's reaction mirrored that of many, many moviegoers around the world and the film series became a hit. The film's success brought on something unexpected for Sutherland: younger fans.
During the Variety interview, Sutherland explained that he started getting stopped in public by teen girls who wanted a picture with him — and, because the actor is 6'2", they often had to stand on a chair to be more level with the actor. Sutherland continued, "Usually right before the picture is taken, the young woman will say, 'Why do you look so mean?'"
Of course, the mean persona may be what the fan is looking for, seeing how it aligns with President Snow's villain status — even if Sutherland doesn't see him as a clear-cut villain. Describing his approach to the character, Sutherland said, "He doesn't kill anyone ... unless it's essential. He maintains a tight control, but he's not a war criminal like so many presidents and people throughout the world who have killed millions."