Marvel's Florence Pugh Is Still Grieving Black Widow Amid Thunderbolts Return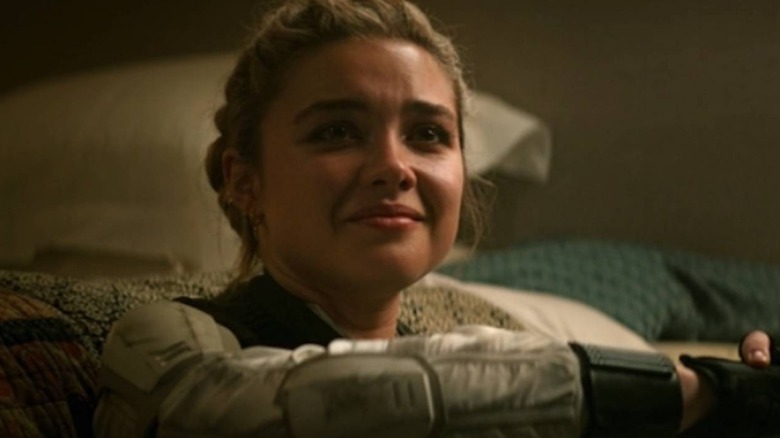 Marvel Studios/Disney
Florence Pugh's star has been steadily on the rise for a while now. In 2023 alone, in addition to starring in "A Good Person," which received a limited theatrical release on March 24, she'll also pop up in the highly-anticipated "Oppenheimer" as well as "Dune: Part Two." But to really cement her role in the zeitgeist, she joined the Marvel Cinematic Universe in 2021 as Yelena Belova in "Black Widow." She'd reprise the role for the Disney+ series, "Hawkeye," and she's set to return yet again for "Thunderbolts," where she'll be part of a team of nefarious ne'er-do-wells.
Even though the prospect of being part of a villainous team-up in "Thunderbolts" is exciting for Pugh, she admits there was something she missed. Pugh appeared on the "Happy Sad Confused" podcast to look at her career, and when discussing "Thunderbolts," she talked about how much she missed working with Scarlett Johansson, who played Black Widow in the MCU.
She explained, "I'm already feeling sad about it ... It's so weird because I did a movie with her when her character obviously had already passed [in 'Avengers: Endgame'], and so it's like false hope, really. I just got pulled in, and then it was like, 'Nope! You're never gonna do that again.'" But there's at least a bright spot to "Thunderbolts" for the actress.
Florence Pugh is glad to be reunited with David Harbour for Thunderbolts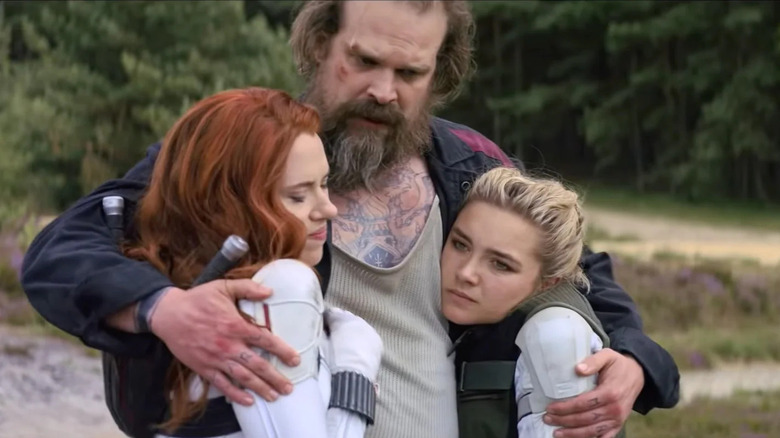 Marvel Studios/Disney
Scarlett Johansson's Black Widow was already on borrowed time when her self-titled movie came out in 2021, having sacrificed her life in "Avengers: Endgame." Still, it sounds as though she made quite the impression on Pugh, who's playing a significant role in the MCU moving forward. But while her time acting alongside Johansson is done (for the time being, at least), she has a whole new set of co-stars to work with, including David Harbour, who played Red Guardian in "Black Widow."
While "Thunderbolts" brings together various villains and vigilantes from disparate Marvel properties, Pugh and Harbour have a history together, and she enjoyed getting to see him again. She also mentioned, "I'm just so grateful to be a part of that family. And I said that when 'Black Widow' came out, I was so grateful to be a part of that family, and the reception was just insane. But more so now, just that I'm continuing the story is a huge, huge privilege. It's a huge privilege. And I get to be back with my daddy!"
It's unclear where the band of misfits will end up by the conclusion of "Thunderbolts," but it's not difficult to see a scenario where Pugh continues popping up here and there throughout the MCU, perhaps even joining up with some heroes in "Avengers: The Kang Dynasty" and "Avengers: Secret Wars." Anything's possible in the franchise, and with Pugh only growing in popularity, Marvel would be wise to utilize her.